We were incredibly fortunate to purchase a new-build as our family home. Being the first and only owners wasn't only exciting, but it gave us confidence that we wouldn't need to Google "plumbing in Pittsburgh" for at least a couple of years! Friends of ours had moved into their new digs only to experience busted pipes or a leaky roof within the first week of home ownership. GAH!
That's not to say every aesthetic aspect of our new place delighted me. Two words: carpeted bathrooms. We lived in comfort and made upgrades as we could, but a good tens years went by before my husband and I paid any attention to our master bedroom. I shared the following "champagne problem" on my Facebook page: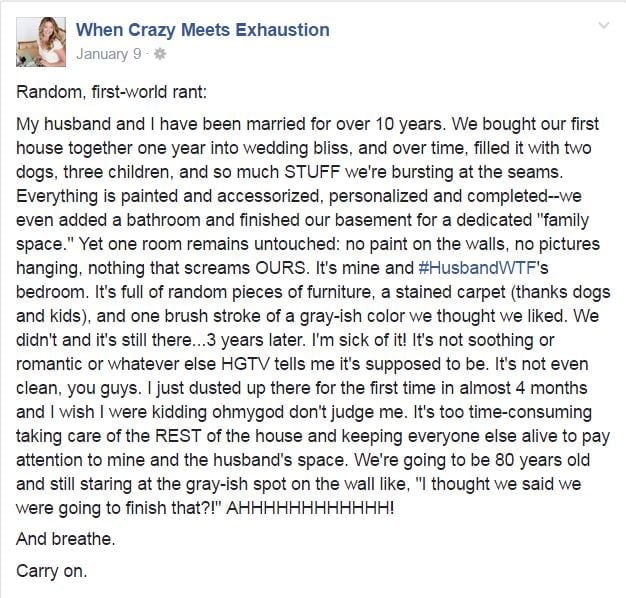 Almost 20,000 people interacted with that Facebook post, leading me to believe our master bedroom wasn't the only hot mess out there! Then, to my extraordinary delight, a lovely lady from IKEA Pittsburgh contacted me and was like, "Hey, let's work together." Marketing whiz Jennifer, AKA: my new best friend, offered to furnish our bedroom in exchange for a little literary love for their incredible products.
Ummm…lemme think about that YES OMG YES PLEASE AND THANK YOU!!!
No more stained carpets, never-came-to-fruition projects, or box springs holding up our mattress. IKEA transformed what was once a cluttered eye sore into a calm retreat complete with classic pieces of furniture and accessories. My husband and I now have a space just for us. Maybe in another ten years we'll reclaim our bathtub, but for now dolls and duckies are still taking up residence in there. Baby steps, right?
Without further ado, I give you:
Disgusting before pictures (the carpet ewwwww)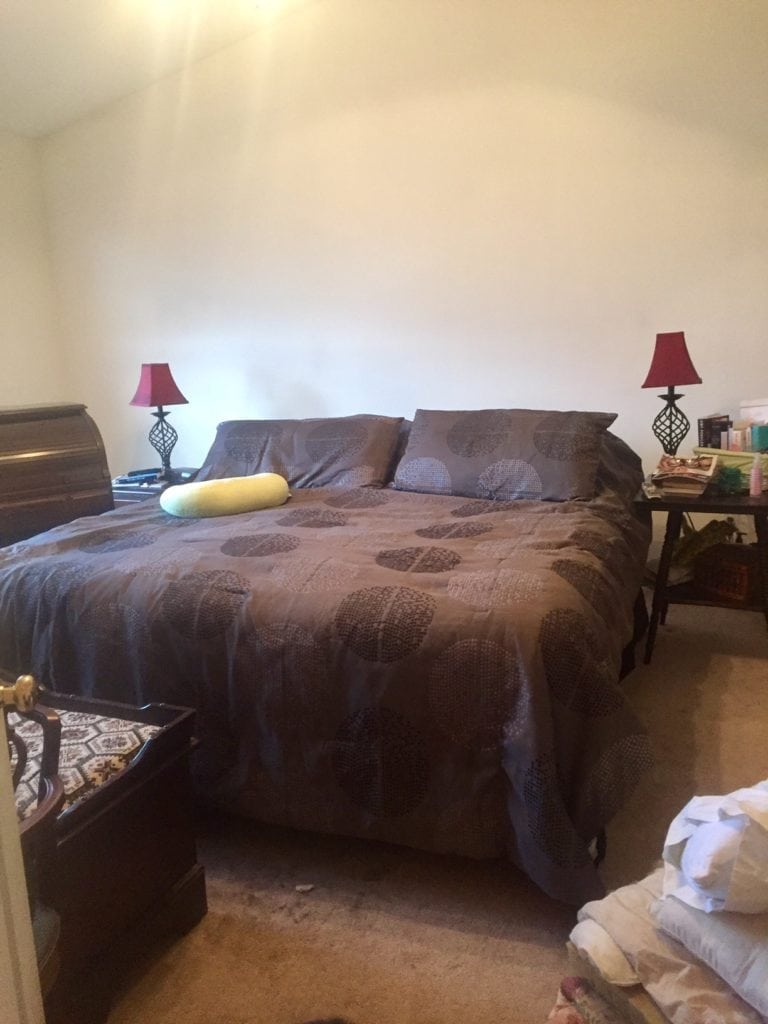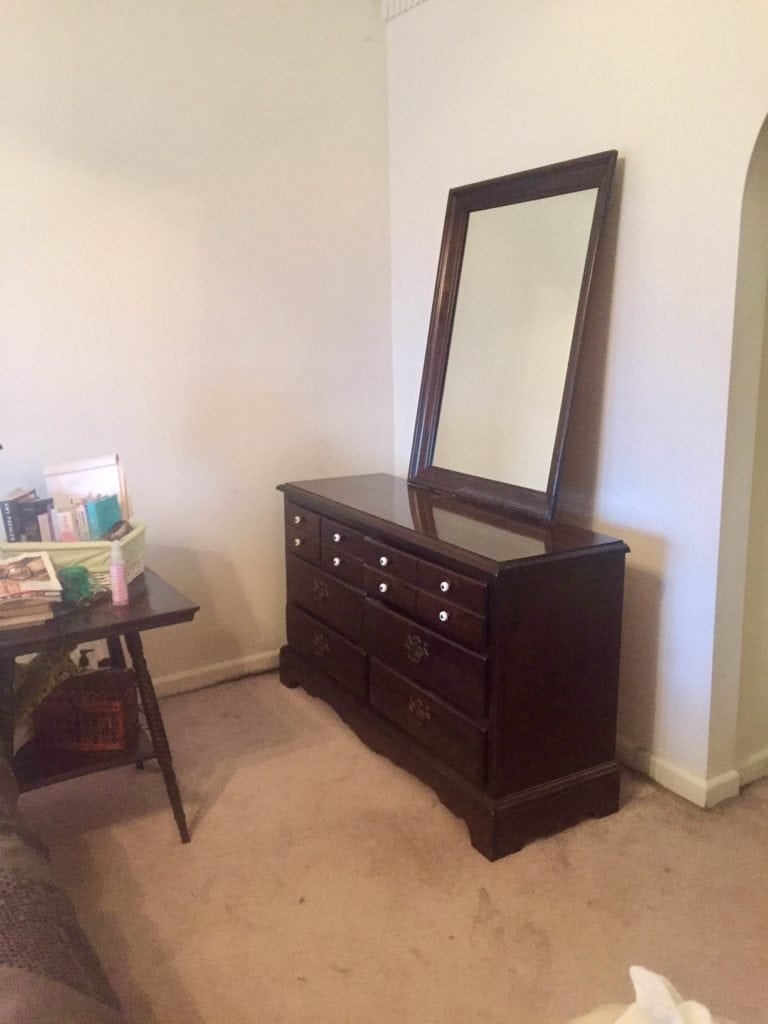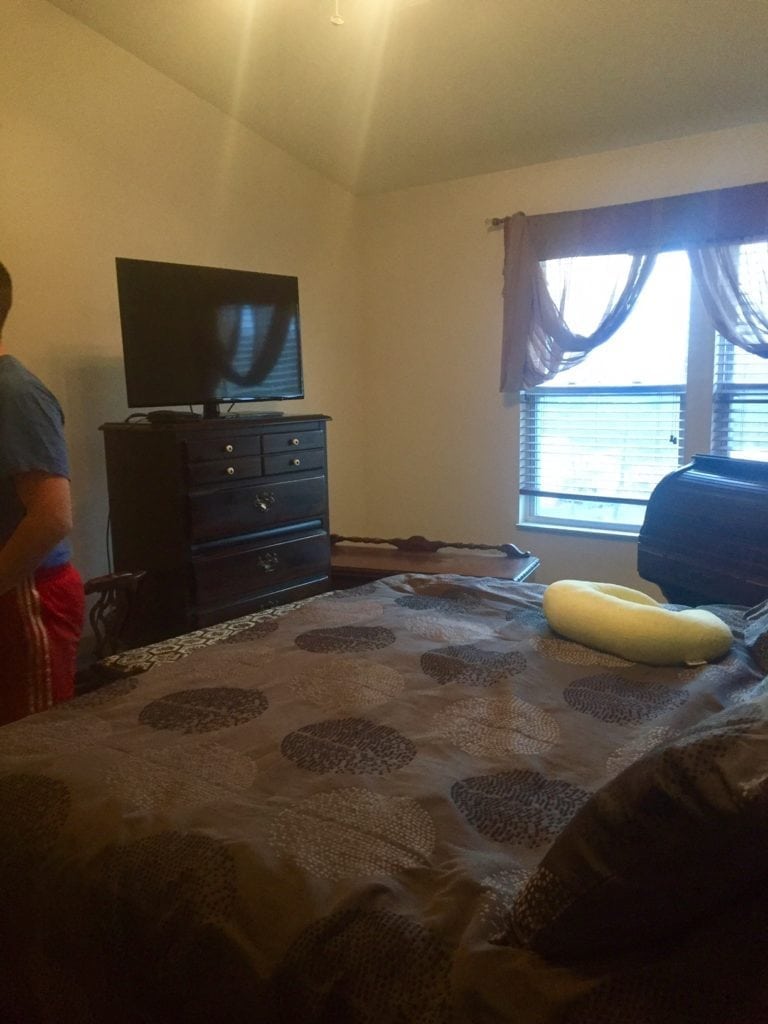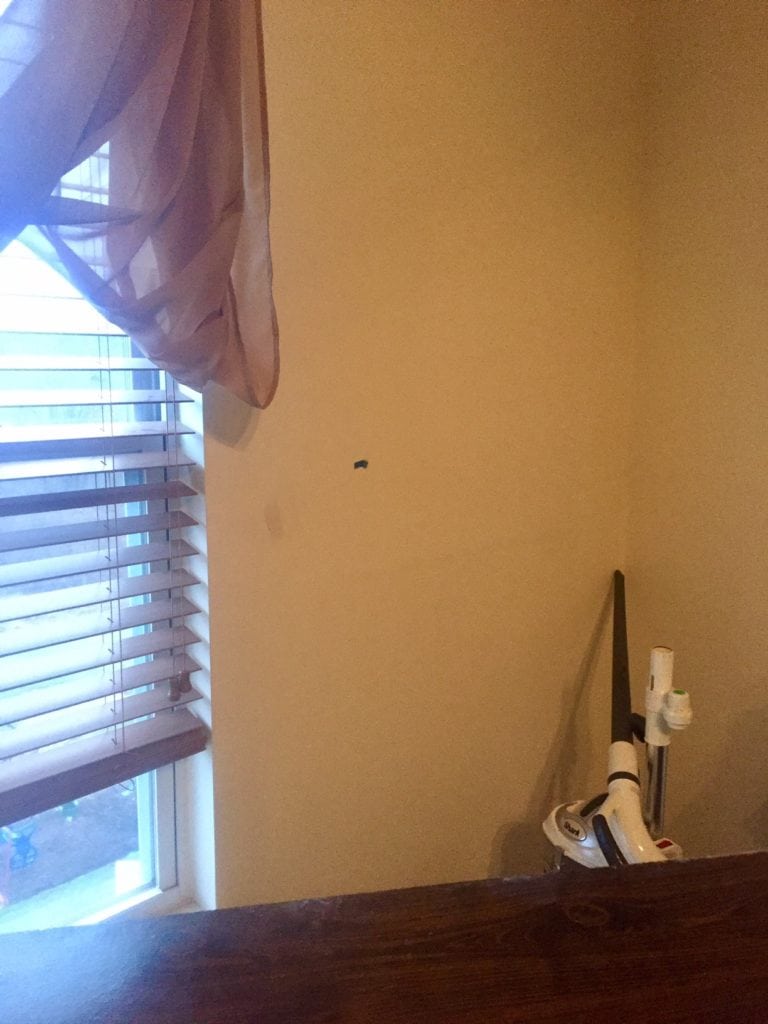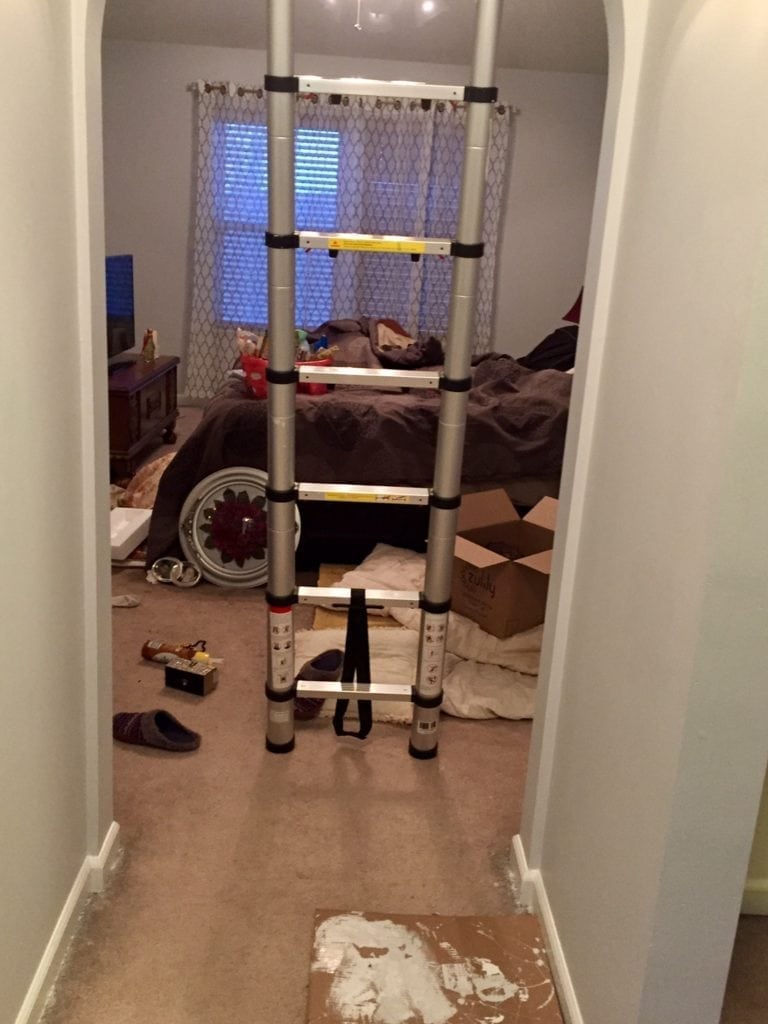 Then it was time to put the room back together.
Off to IKEA we went! Weeeeeee! (P.S. Were you aware there is something called Smaland at IKEA? You drop off your kids at this little magical forest while you shop. BRILLIANT!) Proof: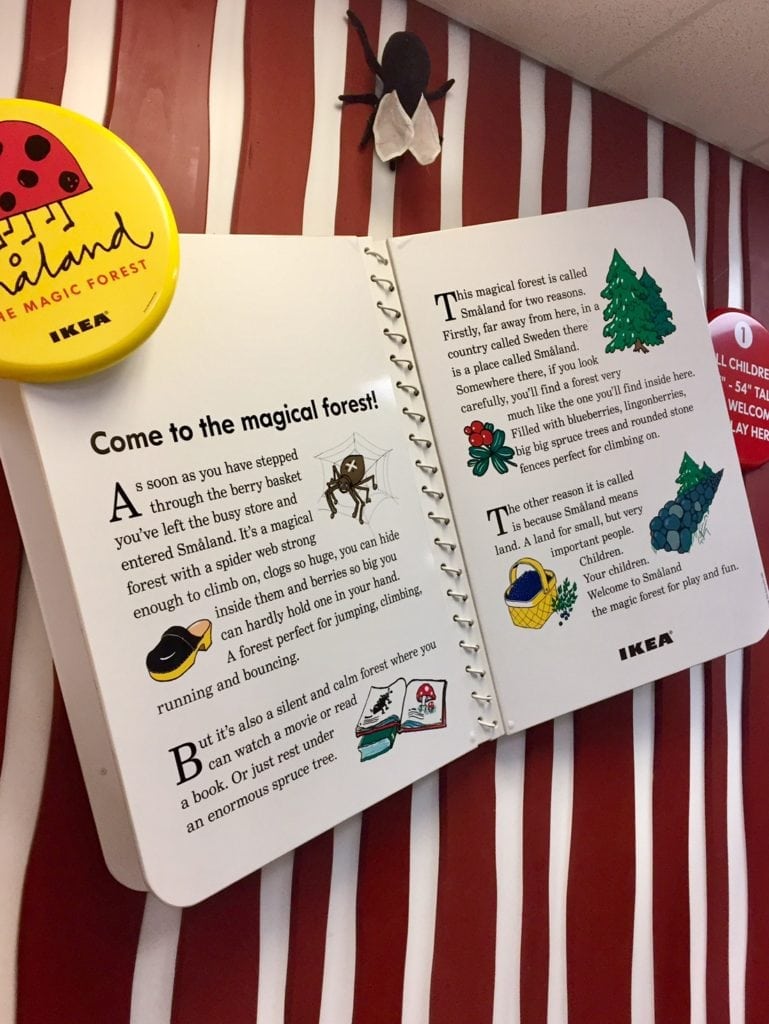 After resisting the urge to jump in the ball pit, we met up with BFF Jennifer and admitted we had no idea what the hell we wanted. She patiently walked us around, showing off the bedroom collections and accessories, and I gotta say I was pleasantly surprised. I used to think IKEA was mostly for the starving artist type or college students, but NO! We opted for the UNDREDAL series which is as classic and grown-up as they come. The simple detail is what caught my eye, and unexpected high-end finishes had me all WHOA!! This is our finished product…
Our IKEA Master Bedroom Makeover
Our bedroom has a vaulted ceiling, so we knew we wanted some height in there. Enter: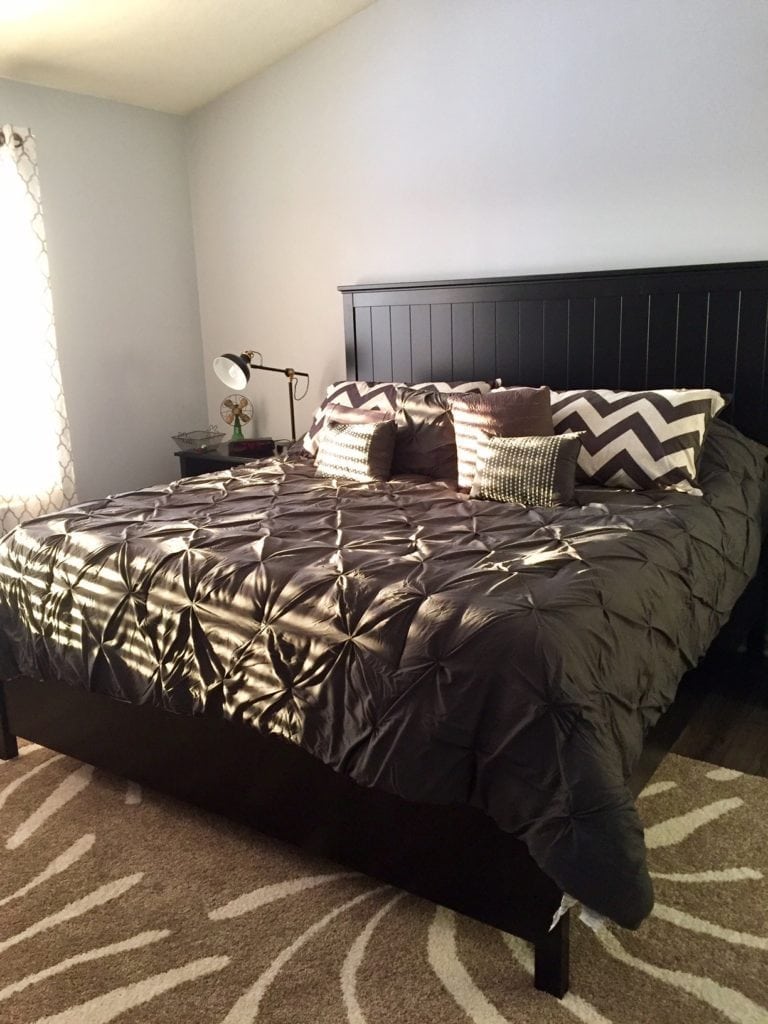 The simple bead board accent on the bed frame–LOVE!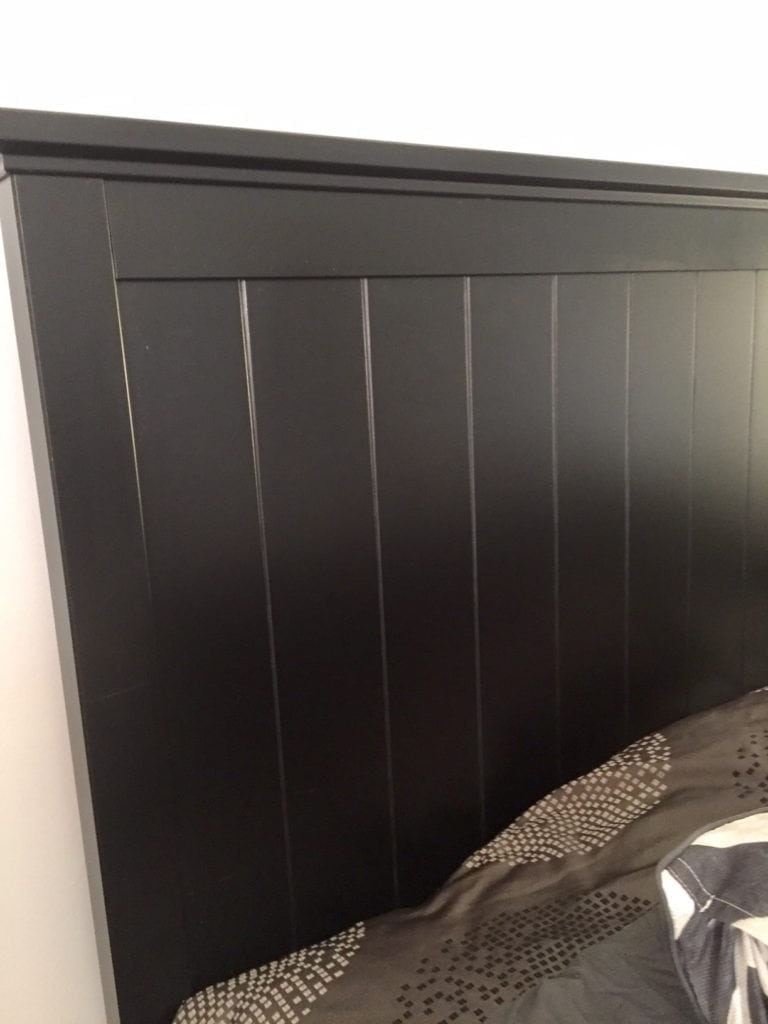 The best part of that bed may just be the fact that our existing mattress fits like a glove. Another huge misconception about IKEA is their beds only accommodate weird, non-standard sizes. No es verdad. That's Spanish for WRONG! (don't look it up) Our mattress fits IKEA's bed frames and IKEA mattresses fit all standard size beds. Their foam and spring mattresses are on sale right now, but they're always super affordable, ranging from $199-$999 for queen size. And did you know many of them are roll packed so you can get them home and up your stairs easily?! I WILL MARRY YOU, IKEA!
*takes a hit off inhaler*
Moving on. Matching nightstands were a must because I need a place to store all of my books, and my husband has to put his ginormous 1980s alarm clock somewhere. I loved the simple detail in these. The soft, old gold hardware, pretty lining and soft-closing drawers will stand the test of time.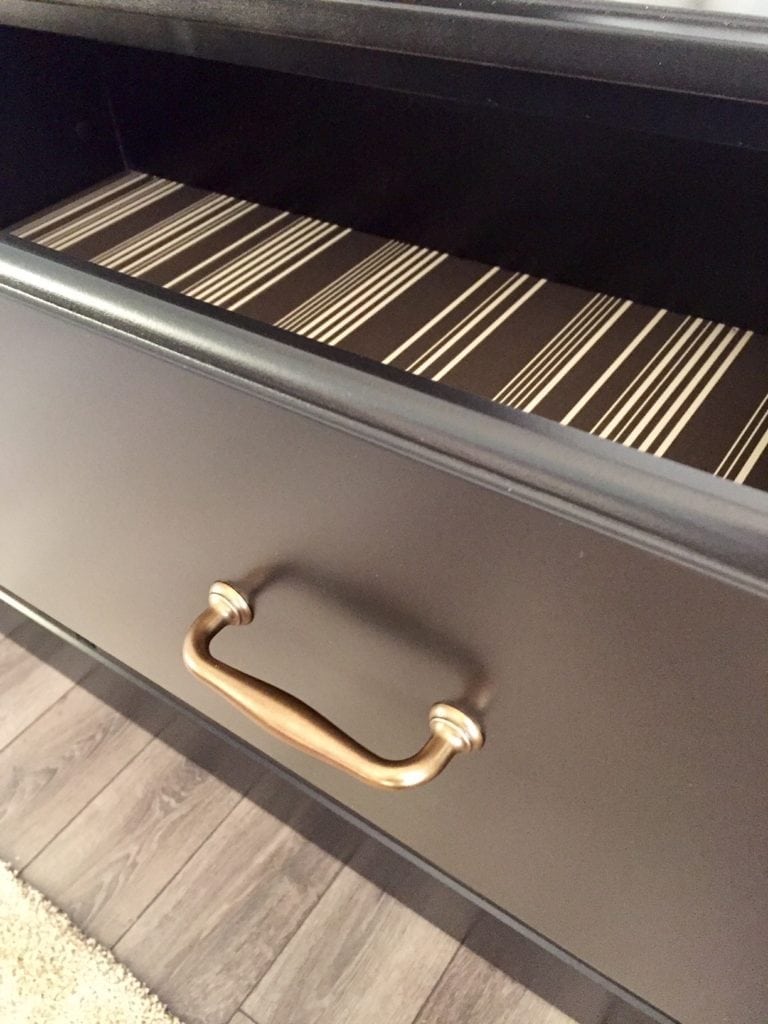 All the furniture is solid, including this 6-drawer dresser. It has the same lining and soft-close features as the nightstands.
I actually have to buy more clothes just to fill up all six drawers. *avoids eye contact with husband*
The dark furniture is accented nicely by this light, high-pile, super soft NÄRUM rug: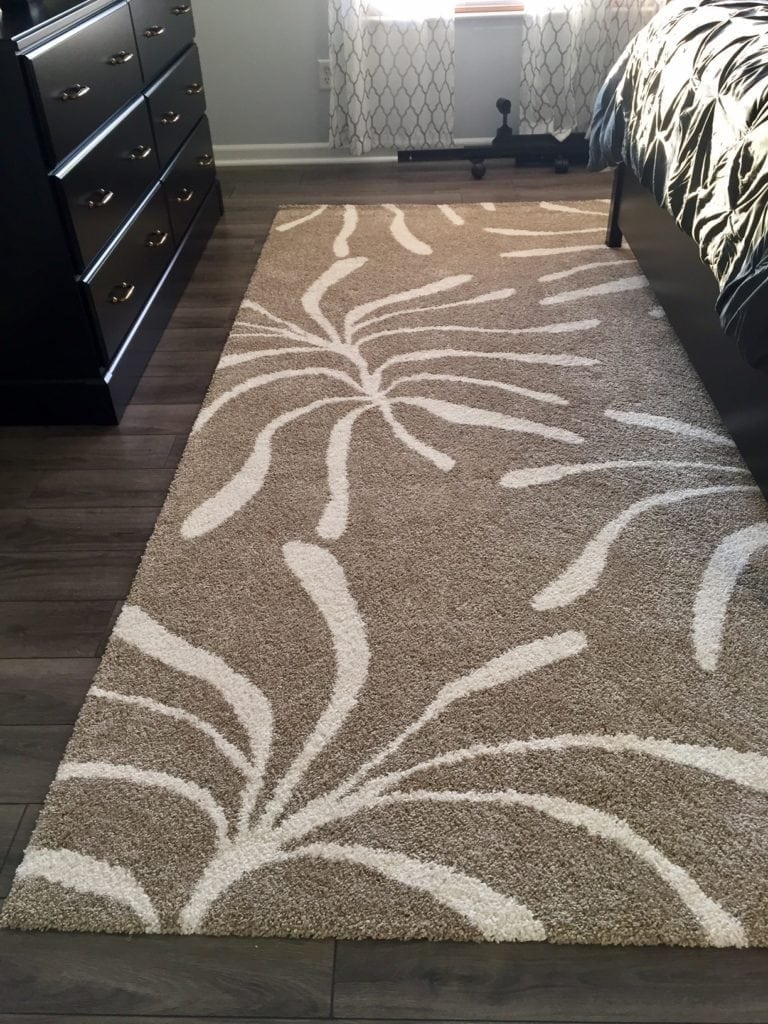 About those books I mentioned earlier–I love them. And I enjoy reading them before bed, but the dinky lamps we had didn't provide enough light. So we got smart and opted for fully adjustable lamps. The RANARP series made me happy because they're "reminiscent of the past, crafted with details like the steel joints and striped textile cord. The floor and work lamps are heavy and very stable, yet fully adjustable." The striped cord is actually an awesome and completely underrated feature; I don't have to hide these cords like I would their ugly cousins! They're kinda funky and I want them on display. The lamps themselves are no joke. IKEA is right when they describe them as heavy and stable–those puppies are for life. A little traditional, a little industrial, and a lot GIVE ME ALL THE BOOKS BEFORE BED.
Ever since I was a little girl, I've always wanted a dedicated reading nook. As a child, I envisioned it as a window seat with overstuffed pillows and natural light spilling in. As an adult, the desire for the space never changed, but the seating area did. A non-IKEA purchase, this little lady is named Sweetie and she reclines. Instead of overstuffed pillows, I got me an over-sized floor lamp from the RANARP series…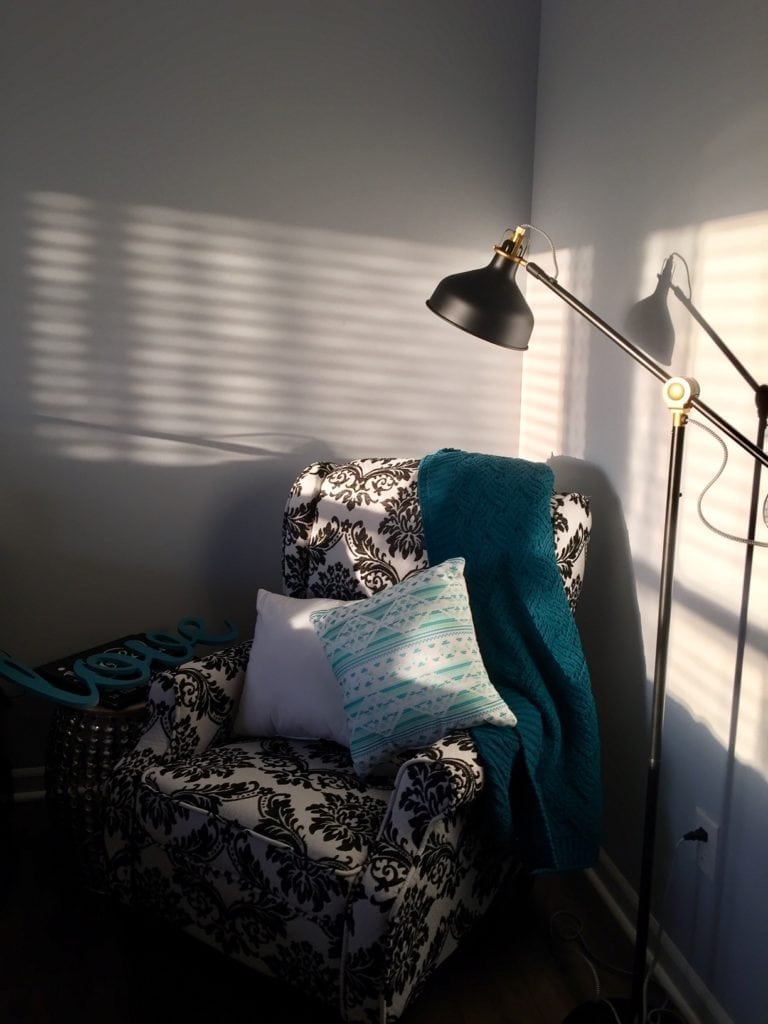 We're still working on personalizing the room with accessories and pops of color, but I'm amazed at what we accomplished in only a month. Speaking of a month, that's how long you have to take advantage of IKEA's mattress and bed frame sale.
Use your IKEA FAMILY card now through February 28th, and score 15% off mattresses and bed frames, free haul-away of your old mattress when a new one is delivered, AND if you tell them I sent you, you'll get FREE premium coffee drinks (I'm talkin' lattes, cappuccinos, espressos and Café Americanos!).
Even if you don't tell them I sent you, you still get all that free stuff with your FAMILY card because IKEA is a giver. So here's what I suggest: drop the kidlets at Smaland, enjoy unlimited lattes and free WiFi in the cafe, then when you're well caffeinated, get your shop on. You won't have enough hands to drag the littles and your purchases out to the car, so simply give the cashier a list of items you want, and IKEA will deliver it all to your house! ALL YOU HAVE TO CARRY IS A PIECE OF PAPER TO THE CHECKOUT!
Mind. Blown.
And there you have it, pals. Our new master bedroom, courtesy of IKEA. Special thanks to my Dad for helping paint, and a standing ovation to my husband who literally did everything else. An important piece of advice for anyone still searching for their soulmate: he who builds IKEA for you, truly loves you. My husband assembled every piece of furniture with nary an eye roll or complaint. Even when I put a nightstand together wrong and he had to undo the whole thing and then rebuild it and I was supposed to be helping but fell asleep in that super comfortable bed, he didn't even sigh at me. He's pretty amazing and I'm extremely thankful to share this new space with him.