Allow me to introduce you to Pittsburgh, Pennsylvania: gritty city, full of heart and and pride, and while most of our collars are blue, the rest of the place is draped in black and gold. Da 'burgh, as it's affectionately called by its inhabitants, boasts 90 different neighborhoods. My brother-in-law and his beautiful wife actually dedicated an entire blog to those neighborhoods; creatively dubbed 90 Proof Pittsburgh, you can find it HERE.
Our great city is home to the arts, sports teams, and some of the most unique and scrumptious foods to ever tempt my taste buds. I give you, the "almost famous" Primanti Bros. sandwich:
 Cole slaw, fries, and all the fixin's right on the sandwich? Yes, please.
In addition to artery-clogging goodness, Pittsburgh's own dialect has grown in popularity due to my brother making fun of my dad's "Pittsburghese," but probably more so because of Pittsburgh Dad, "An online sitcom that captures the funny phrases, nostalgia, and frustrations of growing up with a blue collar 'everyman' father."
Allow me to school you: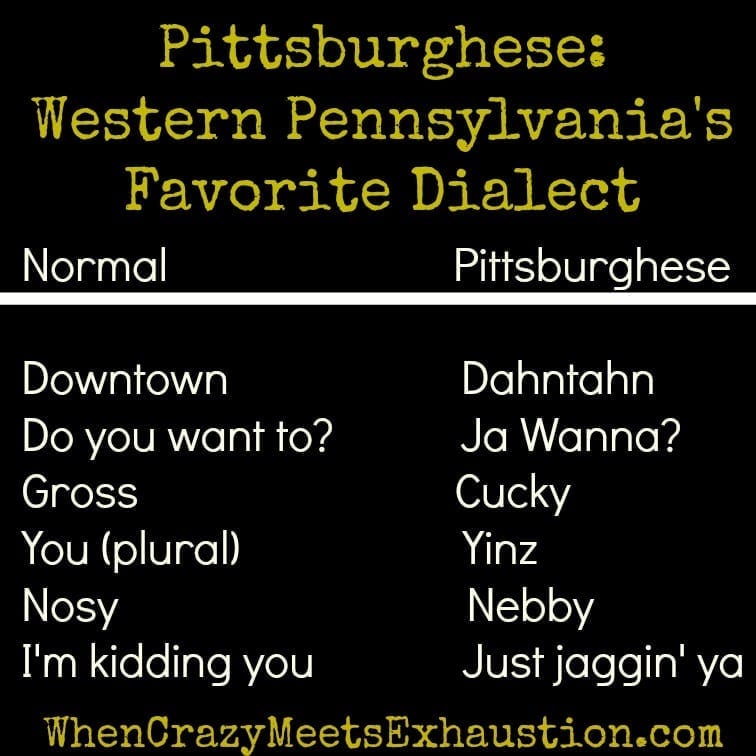 There is so much to love about Pittsburgh, and I was thrilled when new parents Ashley and Ben contacted me about their business, Map My State, and offered to make a special shirt for my son:
Map My State sells prints, mugs and apparel featuring unique map-themed designs.  They have created designs for all 50 states, dozens of countries (including the USA), some cities—and their collection is constantly expanding.  They've been selling their prints and mugs for 3 years, but have just recently added apparel to their shop.  One thing that sets Map My State apart from many other designers is that they offer customizations at no additional charge—they can print a city in a color to make it stand out, include a city that's not already listed, add text above or below the design…the possibilities are endless!
The customization on my main man's t-shirt is a great example of what Ashley and Ben can do for free:
We rocked this shirt at a local birthday party and it was a HUGE hit. Think of what makes your city special and then contact my fabulous sponsors to have them slap it on a shirt, coffee mug, or even a print you can frame as a unique gift. Because I love you (and because Ashley and Ben offered…), you can get 20% off of your order when you mention the coupon code: "crazy." Go! Shop!
To see the merchandise and follow Map My State on social media, check them out on:
 If you are a blogger or business hoping to gain a wider audience for your site/product, check out my advertising options HERE!