This time of the year always finds me extra sentimental and nostalgic. Thank you, Mom, for passing down these stellar traits. Pay no attention to the woman sobbing in Target; holiday weeping is hereditary and she can't help it. Whether I'm reminiscing about the good ol' days over dinner with friends, or I'm sitting quietly by the Christmas tree remembering my grandparents who are no longer here, there's something about this season that tugs at my heartstrings. So it was no surprise that a bike got me all teary-eyed.
Shut up.
You may remember this little nugget and her array of developmental issues: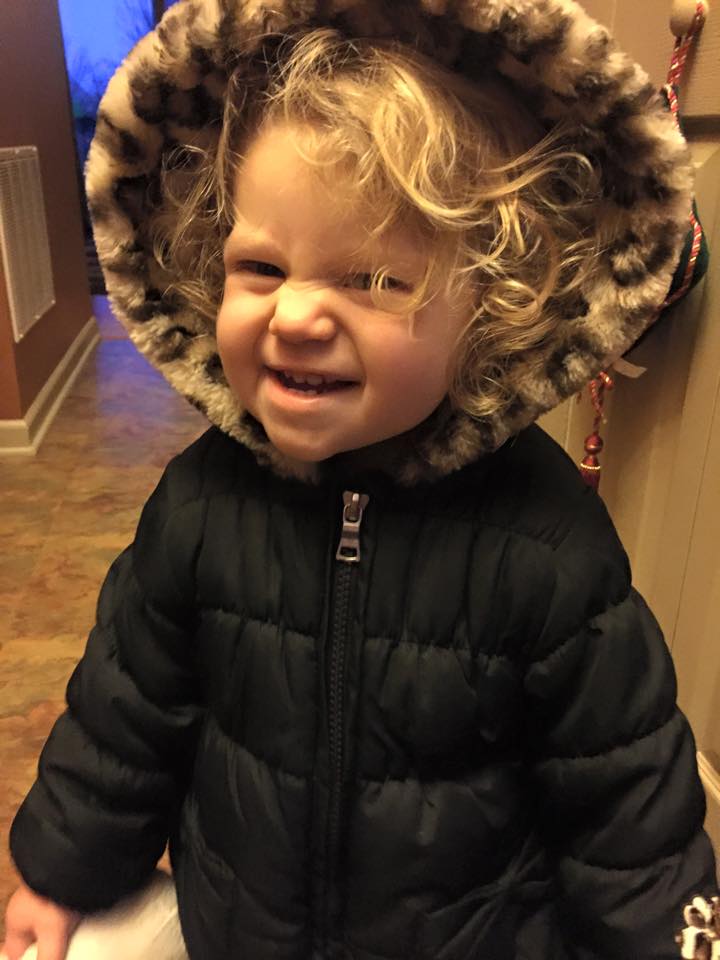 She wouldn't eat, wouldn't drink, had physical delays that interfered with her walking. We had sleepovers at Children's Hospital, IV treatments, therapists come to the house multiple times a week, and a million and one ways to "cure her." It was the most difficult thing I've ever done, handing over my child–my baby–to strangers and trusting them to help her. She screamed, she lunged for me, she begged me not to let her go. Yet, I did. I passed her off and said a prayer because what else does a Mom do?
She sobs in the next room, that's what.
Thankfully, those days are behind us. Our little blondie now eats everything (and I mean everything–we usually have to cut her off), her favorite drink is water, and OMG when those stubby legs break out in a run I can feel my heart grow two sizes. But it's always in the back of my mind: did she spit out that broccoli because she doesn't like it or because it's starting again? Should her Christmas gifts be developmentally appropriate and challenge her…or can I chill out and just buy that ugly baby doll she wants? Call it crazy or call it mothering, it's me.
So when my husband sent me this picture of those chubby cheeks sitting on a new bike, I was like YASSSSSS! And then someone started cutting onions because WHY ARE MY EYES FILLING UP?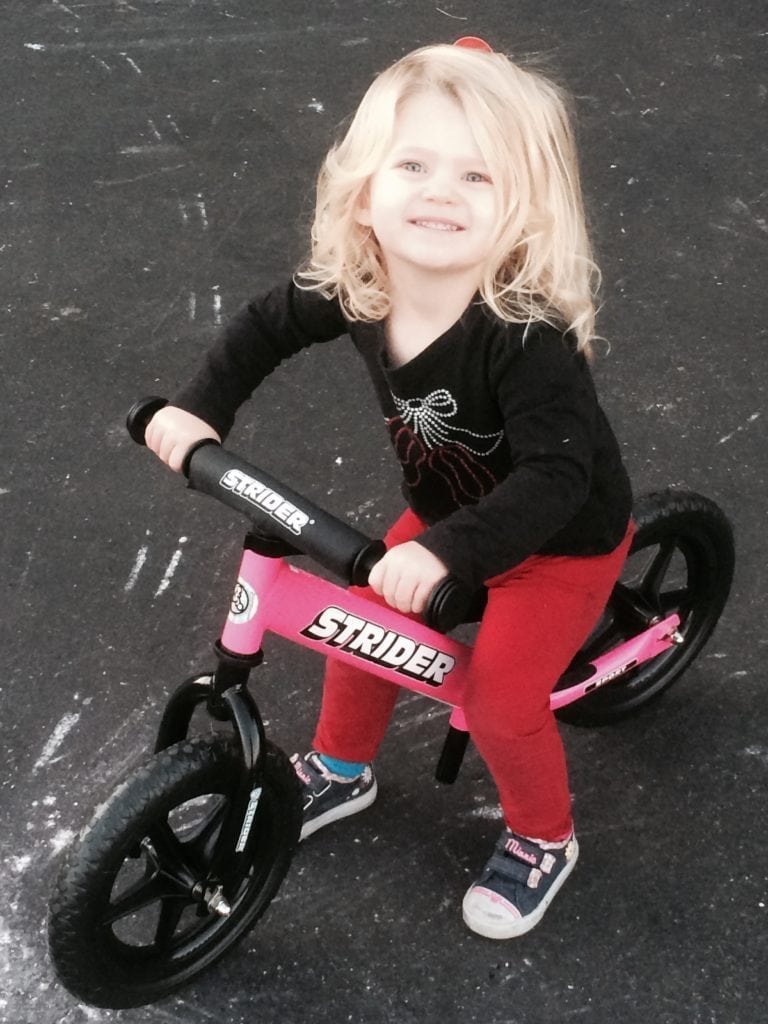 Strider Bikes are notorious for tricking kids into thinking they're having fun while they're actually working on important physical development skills like balance and coordination. There are no pedals, so the kiddos can focus on feeling confident and learning to ride. They use their little bodies to take bends and turns by leaning into them. No pedals or chains to scrape sweet legs, Strider Bikes make the perfect first bike, and transition nicely into the "big boy and girl" variety down the road. You can even get a base that turns the bike into a stationary rocker–perfect for wee ones!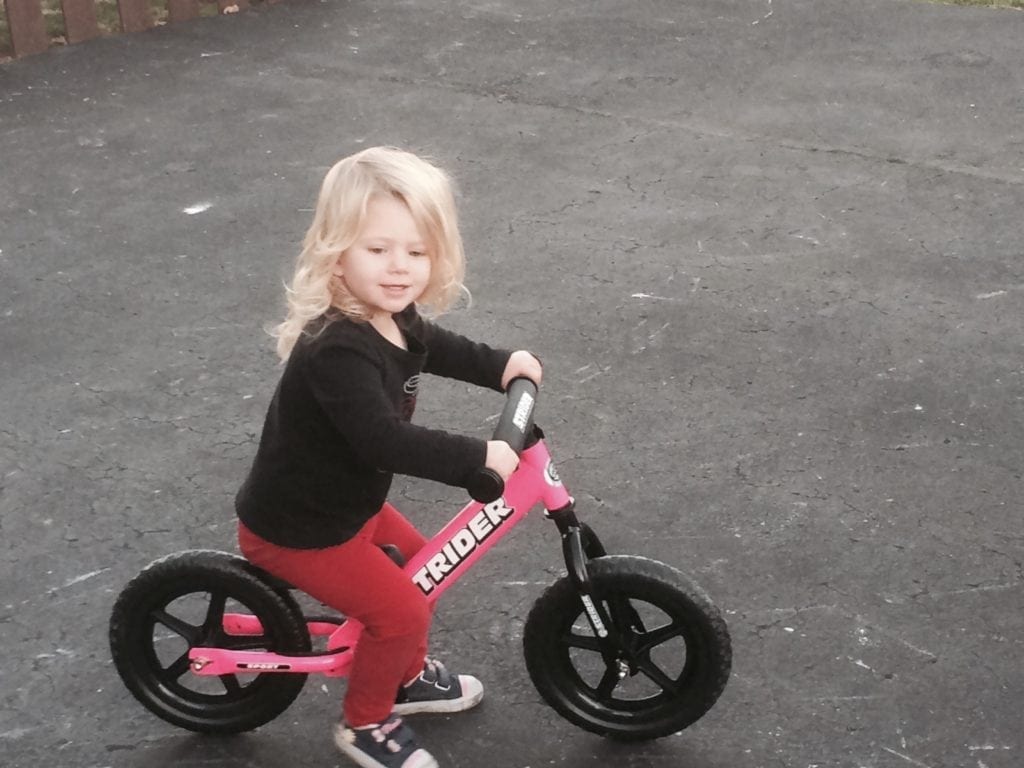 My goal is to get her enough practice that she'll be a true competitor in Pittsburgh's 2017 Strider Cup: National Race Series for Toddlers. On Saturday, May 27, toddlers on Strider Bikes will take over Southside Works and I can't think of a more adorable competition. Ooooh! Unless we put kittens and puppies in baskets on the front of the bikes! OVERLOAD!
Focus, Stephanie.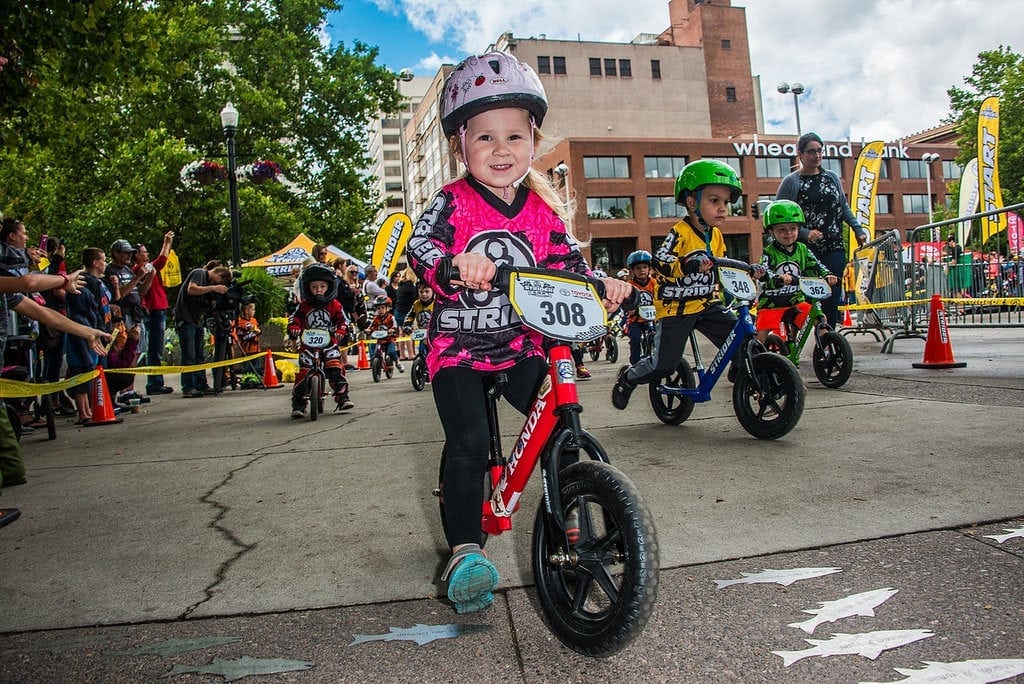 Go get your Strider Bike HERE.
Enter Pittsburgh's race HERE.
Look at how stinkin' cute that kid is on her bike down there: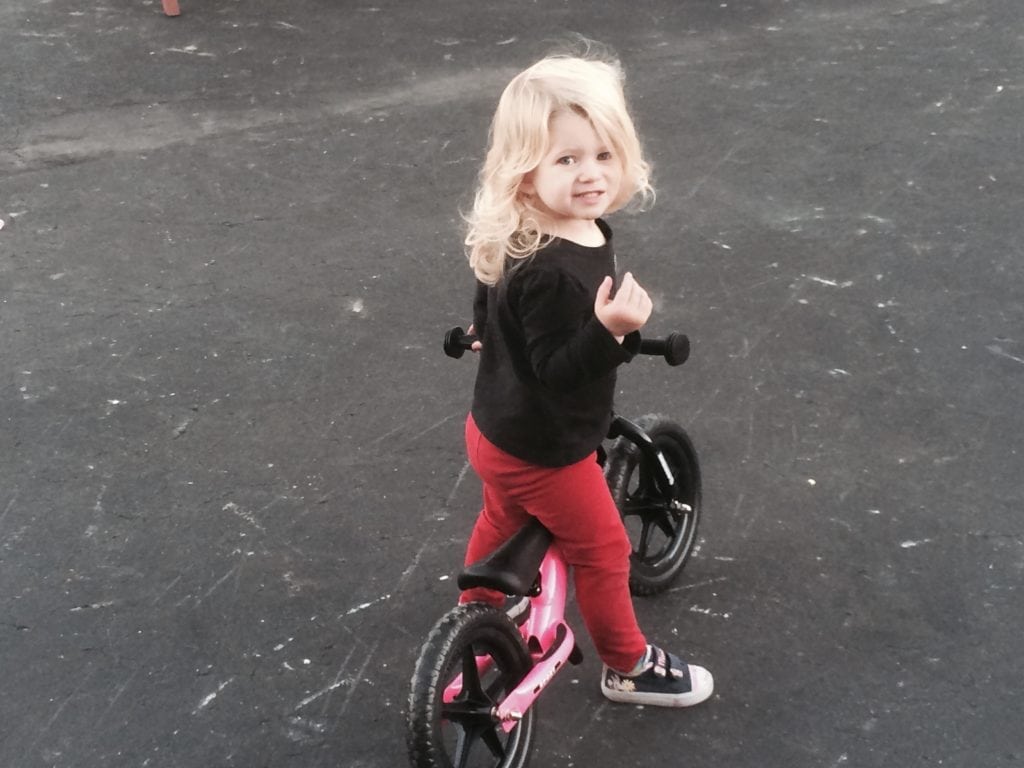 I was compensated to share my opinions, but rest assured they are my own.