Last year, more than 3 in 4 educators (77%) dedicated at least seven "extra" hours to their jobs above and beyond the required work week.
If you're a teacher, you're nodding your head in solidarity.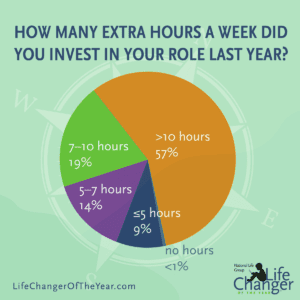 Also, 66% of millennial educators identified personal finances as their number one source of stress, whereas 36% of educators over 40 said the same.
Here's another statistic for ya: educators have confessed to increasingly prioritizing self-care strategies like reading, exercising, and family time as methods to handle stress.
It's also true that 74% of educators named "preparation for the new school year" as one of their top summer activities.
So when National Life Group's LifeChanger of the Year program surveyed 420 educators and school employees this past July, they basically learned we're working long hours, not compensated accordingly, and stressed to the max.
Accurate AF.
I see those stats first-hand every day.
My husband, affectionately known as #HusbandWTF on social media, and I are both educators. While I've made the leap to virtual education, he's still in the classroom, and I watch him bend over backwards trying to be the best teacher he can be. Must be why he has won Teacher of the Year more times than I can count. I don't share that to brag (okay, maybe a little), but to let you know why the man is so deserving of this honor:
He simply doesn't stand for mediocrity.
This is true for his students' efforts as well as his own. He understands the recipe for greatness can be light on talent and heavy on hard work, and he encourages everyone around him to achieve at the highest levels possible. He integrates new technology in his classroom, making learning accessible from many vantage points and on different platforms. He updates lessons every year so they're fresh and exciting, despite the fact the content hasn't changed. He aches over his craft and always has an end goal in mind. I can't tell you how many students have visited after graduation just to say, "I used our Stats binder in my college class," or "You never let me give up, and I appreciate that."
Isn't that what every educator dreams of?!
We all know at least one teacher or school district employee who, like my husband, inspires us, who goes above and beyond for their students. It could be an educator who started a nonprofit to teach students about art and music, an administrator who visits the homes of students in need, or a maintenance worker who supports the school's fundraising efforts. These people are invaluable in our schools and communities; some would call them LifeChangers.
I'm proud to partner with LifeChanger of the Year, an annual program recognizing K-12 educators and school employees across the country, to honor these amazing people. The program celebrates those who are making a significant difference in the lives of students by exemplifying excellence, positive influence and leadership.
Nominations for the 2018-2019 LifeChanger of the Year Program are now open. Please take a minute to nominate someone you feel is worthy of the accolade. Think about all the pieces of the school day puzzle and how many people it takes to complete it; anyone who contributes to making your school or community a better place is eligible for a nomination.
Click the graphic below to have unicorns magically transport you to the nomination page. I'd love it so much if you'd share who you nominated, or at least why, in the comments here or on social media. Everyone wants good news–let's give them some!