Welcome to class, students. Today I'm going to drop some knowledge on you about National Poetry Month. <— There it is. Read it.
Throughout the month of April, I am going to revise some of my favorite poems and dedicate them to the people in my life. Today's piece is inspired by the incomparable Maya Angelou's "Still I Rise," and has been re-written for the father of my children. He is also my husband which works out well because I don't have enough time to write two poems.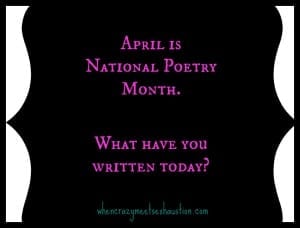 <Clearing my throat>
I burp like a dude
Don't close the door when I pee
Impossible when I'm in a mood
Still, you love me.
Silverware in the dishwasher must be organized
You know I am 50 shades of crazy
PMS leaves us both traumatized
Still, you love me.
I live on my laptop
You're kind to just let me be
Once I start, I just can't stop
Still, you love me.
Dark circles under my eyes
Not as vibrant as when I was twenty
Jiggly thighs
Still, you love me.
Don't like the word no
Sometimes speak critically
I can be a real shit show
Still, you love me.
Me and cooking, not so much
Kids and work can consume me
With just a sweet touch, I know
Still, you love me.
I forget to water plants
Been slacking on the laundry
Never got around to ironing your pants
Still, you love me.
Can't always put us first
You understand whole-heartedly
Don't make me feel like I'm the worst
Still, you love me.
I won't pick up the dog poo
I tell jokes only I think are funny
You hold me to our "I do's"
Still, you love me.