For the past 2 weeks, I've tried to put my best foot forward and not let on that I'm on the brink of madness. Between two rounds of the flu and the general craziness of life, it has been tense 'round these parts. I wear my heart (and attitude) on my sleeve, so it's no surprise when I'm overwhelmed or in a mood. I find that to be one of my better qualities: I don't pull any punches. What you see is what you get and my friggin' husband should be grateful for that, RIGHT?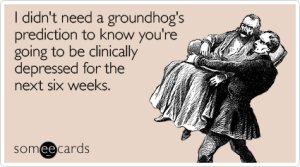 So when he came home the other day and announced that I looked miserable and have been acting like I hate life, I resisted the urge to karate chop him square in his voice box and instead, calmly, ran down the list of things I've had to handle because, well, because I'm the Mom:
Sick kids + sick babysitters = sick kids at home all day, every day with me.
Sick me + sick babysitters = kids full of piss and vinegar running the house into the ground while I try to meet deadlines at work while trying not to die.
Nighttime fun such as terrors, vomiting, bathroom visits, requests for water/more blankets/a sucker to offer various bedside services while a small person falls asleep–that's all mine. And it's all mine each time it happens, regardless if it's once a night or, like last night, five times. *shudder* I don't know how my better half sleeps through all the action, but he sure does. Like a baby. No, scratch that. Babies don't sleep. Obviously.
So, when he said I looked miserable, I was offended. I looked tired. I looked sick. Because I'm both of those things for the aforementioned List of Shit Only Mom Can Handle. He can counter with he teaches all day and then coaches or works a sporting event or insert-another-activity here. When he rattles off a list of crap he's got to do, all I hear is "I'm leaving the house! It's a vacation! Weee!"
I shared my thoughts with him today in a passive aggressive e-mail and his response was:
I realize that being home with the kids and trying to work is very difficult, especially when they are sick or not being cooperative.  I also realize that you do deserve a break.   So take one.  Thursday evening – go do something by yourself.  Shop, exercise, go have a glass of wine and read a book, get your nails done…plan something and do it for a few hours.
It's no secret my husband is a great guy (despite sleeping through everything that happens between the hours of midnight and 4am). I've written sappy crap about him before, so I should have appreciated his kind words and offer to give me some time to myself. Except I didn't. The suggestion to exercise really pissed me off. He knows I only run if something rabid is chasing me. AND I know there's an ulterior motive. He's going to choose golf over me this weekend, I guarantee it.
What makes it worse is that today when I was talking with a colleague about how I will be institutionalized by week's end, she proceeded to  brag that she's caught up with work, her kids haven't even had colds, today she's making homemade soup, playing with her son, cleaning her oven, etc. I NEEDED HER TO HATE LIFE WITH ME TODAY. If she wasn't up for the challenge, she should have let me know before I wasted precious negativity on her.
Sad to say but I am not one of those mothers who will be celebrated for never complaining. You know the kind. She's usually the focus of a Home Makeover episode; she's faced horrid conditions and circumstances that make mine seem like a cake walk. Not only has she done everything with a smile on her face, but she makes dinner from scratch every night. Well that ain't me, kids. Sometimes I wish it were, but most days, I just want to call Taylor Swift and have her turn my rants into millions.
In my defense, I've got a wicked cold and each time a series of sneezes hits me, I tinkle a little. Oh the residual joys of childbirth. So it's not like I had any choice but to don my pissy pants. What are you wearing today?