Happy Friday, pals!
If you're lookin' to link up with the More Than Mommies mixer, you've come to the right place. Scroll to the bottom of the post to link up your blog, Facebook page, Google+ profile, Twitter handle, Pinterest board, or social security number. That last one is a joke; please don't give out your digits. Duh.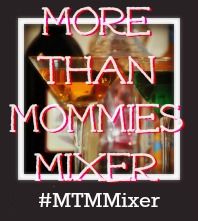 Back to our regularly scheduled programming…
The rain was relentless, forcing us to stay indoors. I had pulled out all the stops trying to entertain the kids with painting projects and Playdoh picnics, countless games of Hide and Seek and Candyland. I was exhausted by noon, but since only the girl child naps these days, there was no reprieve in sight. That was okay by me especially because on this particular afternoon, my little man readily shared his deep preschool thoughts:
What if it rained on the sun? Would the sun still be so hot?
If I keep growing, will my head go through the roof?
Will a black crayon show up on brown paper?
Don't you think everyone should be three?
He was on to something with that last question. What if three-year-olds ran the world?
…there would be fewer grudges. You ever seen preschoolers upset about the same thing for more than 2 minutes?
…we would appreciate the simplicity of life. Blowing a dandelion weed brings nothing but joy.
…there is zero responsibility. Less stress, less sickness, more productivity. BOOM! Just fixed our economy.
…there would be no prejudice. The only animosity would be predicated on a person's actions, and if someone messes up my sidewalk chalk masterpiece, shit will get real.
…laughter would be in abundance.
…humility what? Quick, everyone take off your pants and burp as loudly as you can. No one is judging our thighs or lack of table manners.
…we would be able to eat nonstop and throw tantrums all in the name of "she's growing."
…our faith would dictate our behavior which would create a more peaceful world. You tellin' me Santa won't come if I bite this other kid? Well, hell, put away the nuclear weapons. I need me that LeapPad.
…all of us would believe we are the center of the universe so no one could call the other selfish or narcissistic.
…we would produce enough energy to heat every home in America by just being awake. Saving the environment one kid at a time.
Granted, no one would be able to drive or drink coffee or have sex, and chocolate would be limited, but I guess that's a small price to pay. No wine either.
Screw that, put the kids back in preschool and kindly step aside so we adults can continue to ruin the environment and hate one another as we wish.
************************
Here are the "rules" for the Mixer!
(Don't make us post bouncers at the door.)
Follow your Hostesses – Christine and Janene from More Than Mommies

Follow our Co-Hostess – Stephanie at When Crazy Meets Exhaustion

Follow the Life of The Party – Melissa at Home on Deranged –  We will choose our Next LOTHP from those who link up their twitter handle. Use our hashtag #MTMmixer when tweeting so we can keep up with you there!  We would still TOTALLY appreciate a shout out on Twitter if you don't mind!

Follow our Mixologists – This week our Mixologist is Jessica at School of Smock – Every week we will choose one participant to get our party started at the #4 slot.  All you have to do is link up under the first Linky (and follow the "rules") to be considered!

Follow the person directly BEFORE you on the hop!

Finally, we ask that you post one (or both!) of the following buttons in either a post or on your sidebar to let other people know where you are partying today!
Enter your Blog URL here – for RSS, Bloglovin', etc. –
Click here to enter your link and view this Linky Tools list…
Enter your Facebook Pages here –
Click here to enter your link and view this Linky Tools list…
Enter your Twitter Handles here – 
Click here to enter your link and view this Linky Tools list…
Enter your Pinterest Boards here-
Click here to enter your link and view this Linky Tools list…
Enter your G+ Profile here –
Click here to enter your link and view this Linky Tools list…