T-minus seven days until we're done with school 'round these parts! My brood cannot wait for lazy days in the pool and back yards full of neighbor pals. Personally, I'm excited to not have every second of the day scheduled with another to-do, but remind me I said that when I'm losing my ever loving mind in a month.
If you ask my kids, they'll tell you nothing says SUMMER! like Idlewild Park & SoakZone. Located just outside of Ligonier, PA, Idlewild has been named "Best Kids Park in the World" by Amusement Today, "Best Park for Families" by the National Amusement Park Historical Association, and "I Want To Live There" by my 5-year-old!
With 18 major rides, 14 kiddie rides, a large water park, shows, and unique attractions like Story Book Forest and Jumpin' Jungle, Idlewild & SoakZone strikes the perfect balance between traditional and modern-day amusement.
Speaking of Story Book Forest, this year is its 60th anniversary and to celebrate, the park has opened a new enchanted castle. It doesn't serves mojitos–I asked–but the kids will absolutely adore it:
Guests visiting the castle will have the pleasure of meeting the beautiful Princess Lily and the loveable Duke the Dragon. In the castle courtyard, young and old, can try their hand at removing the famed sword in the stone, Excalibur. It is said that whosoever removeth the sword is destined for royalty!
Smell those Instagram-worthy photo opps!
Schedule your trip around the special character events (below), or just take advantage of the huge discount available HERE and head to Idlewild & Soakzone whenever the mood strikes. Your little ones will not be disappointed, and they'll probably thank you with a perfect night's sleep.*
*Idlewild does not endorse my loose lips and broken promises
CHARACTER EVENTS
June 14 -16: Maisy
July 5 – 7: Caillou (ohmygod)
July 11 – 15: Daniel Tiger Neighbor
July 19 – 21: Garfield & Odie
July 26 – 28: Princesses in the Park
August 2 – 4: Ella the Elephant
August 9 – 11: The Little Nutbrown Hare
Click the graphic below to be magically transported to the discount and save yourself $13/ticket! YAY FOR SAVING MONEY!!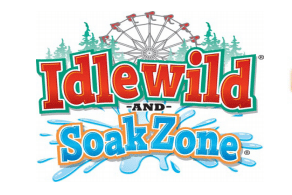 I was compensated for this post to the tune of a free day at Idlewild Park & SoakZone for my fam. I hope the fine people of the park never catch on that we'd go even if we had to pay…SHHHHHH!