Remember how I was super annoying begging for votes so I would win the Scary Mommy contest? Well, it paid off because, friends, WE WON! Jill Smokler is officially coming to the Steel City (Pittsburgh, duh) on Saturday, June 29th. She's holding a public meet and greet/book signing at The Sheraton in Station Square from 4-6pm and if I were any more excited I would be a bunny in heat. If you're local or willing to travel for Scary Mommy, please join us!
Because it's physically impossible for me to hug each and every one of you in thanks for your support and votes, I'm just going to give you stuff.
I have a dear friend who created an awesome app for kids called Picnic in the Park. You may have noticed his button under "Sponsor Love" in the left sidebar here on my blog. Click it. Learn about the app. Notice that the app was created by an educator. The app is perfect for iPhone and iPad fun for preschoolers through 8-year-olds. Now fall in love with the app. Go on. So, you want that app? Okay, it's yours.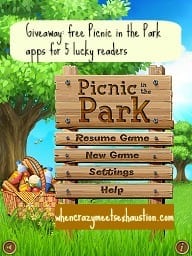 All you have to do is leave a comment on this post and my pal, the app creator, will choose FIVE of you to win the free game! And it's a really cool game; no violence, no confusing instructions or requirements that force your child to ask you 224234 questions whilst playing, and the best part? You'll get the WHOLE game. It's not like one of those downloads that gives you the first few levels and then your kid is coaxed into buying more dragons. Or whatever. This is legit. If you don't have a kiddo, you can still enter and just gift your winnings to your nephew, your granddaughter, your neighbor's cousin's husband's kid. So, yeah, leave a comment below and you're automatically entered. Winners will be announced one week from today.
Speaking of sponsors, the second listed in the side bar is a woman I've come to know through blogging,  Ms. Leah Vidal (you may know her as Little Miss Wordy), who has recently published a book called Red Circle Days. You'll be hearing more about her and her book in a couple of weeks, but I wanted to give her a proper shout-out for being an awesome sponsor and a ridiculously talented writer. She also home schools her kids!! RIGHT?!
I'll continue my girl crush on Leah later. For now, I have to pack my bags because I'm off to the SITS Girls Bloggy Bootcamp tomorrow! My pals Christine and Janene from More Than Mommies and Amanda of Questionable Choices in Parenting and I are headed to Charlotte to learn some things, drink some things, and share beds. It's like college all over again!!
And I've got a fantabulous guest blogger all lined up to regale you with tales of neon gone wrong tomorrow.
Scary Mommy.
My pal the app creator.
Leah the Lovely.
Christine, Janene, and Amanda–oh, my!
Guest blogger.
See what I mean? I got people. I got good people.