It all began with the clown light on the ceiling of my nursery. Even as a wee one in my crib, I vividly remember that clown's crazy eyes and light bulb nose. I eventually threw something at the light and broke it because I'm a problem-solver, that's why.
But then, my mom dressed me as a clown for Halloween. Or maybe it was Raggedy Ann, my recall is foggy at this point. All I know is there was a yarn wig, everything itched, and my mother forced me to walk in a parade where perfect strangers stared into my soul.
As if that wasn't bad enough, the year after the Raggedy clown costume or whatever, the woman dressed me as a California Raisin. Remember those things? Here, allow me to grace you with a blast of 1987's past:
Perhaps you're wondering why a mother would dress her only daughter as a turd in white gloves. I often wonder the same.
Suffice it to say, I've never been a fan of Halloween. And yes, I do blame my mom thank you for asking! Even as a kid, aside from the copious amounts of chocolate, I thought Halloween was the pits. Then I had my own kids and they–*shutter*–freaking love Halloween, so what's a mom to do?! I'll tell you what she does: She learns nothing from her own childhood, shoves her children into themed costumes (our Wizard of Oz Year was epic!), and steals all their Reese's when they're asleep.
She also learns how to tolerate Halloween juuuust enough so everyone enjoys themselves.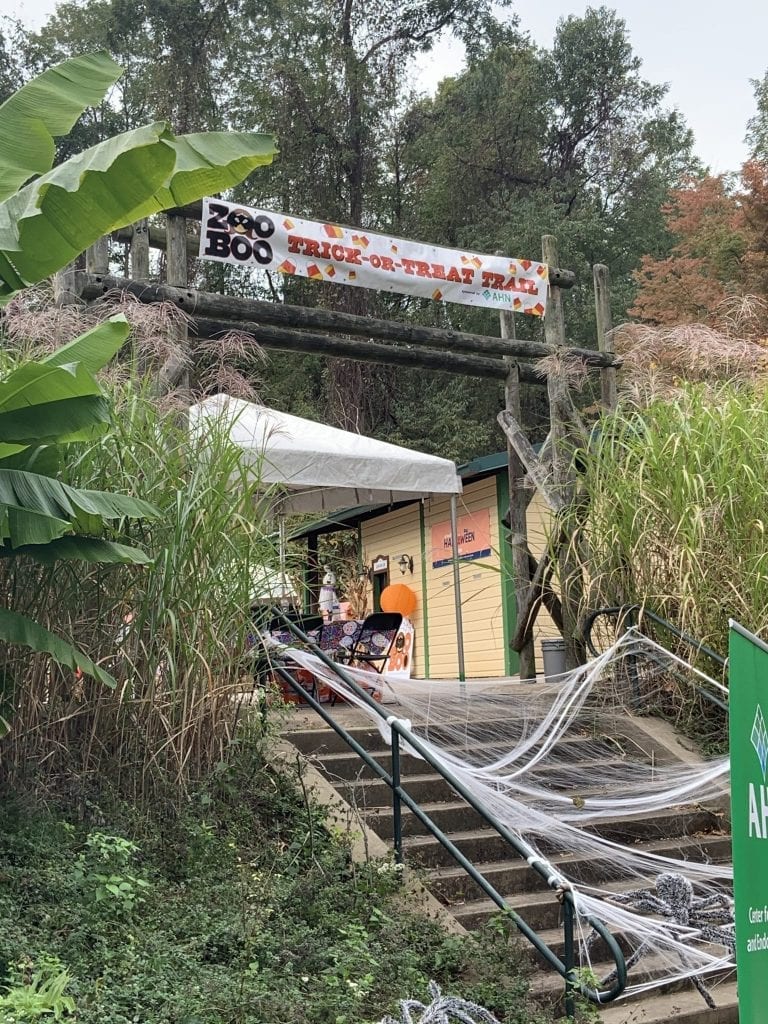 How? With these three tips:
Go to the Pittsburgh Zoo and Aquarium's ZooBoo. This year's festivities are from 10am – 3pm on October 19, 20, 26, and 27.
Let the kids choose their own costumes because it's Halloween and parenting expectations are minimal. From Trick-or-Treating throughout the zoo, enjoying not-so-spooky haunted houses, crafts, a magic show, and general Halloween-ish activities, there's no time to judge the parent whose kid is wearing shorts in late October. GO WITH IT.

 Watch your kids. I mean, really watch them. Watch how their face lights up when they run into Moana and Maui. Look how they dance like nobody's watching during the Monster Mash Dance Party. Memorize the wonderment in their eyes at the sight of a lynx kitten playing with a pumpkin. Feel the feels as they swat at bubbles like they did when they were toddlers. You…okay, I…may not enjoy Halloween, but is there really anything better than the happiness it brings kids? Besides the Reese's, of course.
The Pittsburgh Zoo's ZooBoo is really a fantastic event with so many great people ensuring the kids have a great time. Things to keep in mind when attending ZooBoo this year:
Go green this Halloween and bring your reusable tote for the Trick-or-Treat Trail (there are yummies and non-candy items like stickers and tattoos).
I suggest getting there as early as possible, better for parking and less crowded
ZooBoo activities are included with general admission
Zoo Members receive free admission during ZooBoo and do not require a ticket
This is a rain or shine shindig with multiple indoor venues
You may even get the chance to take a photo with an elephant! FYI: check the morning of the event to ensure the photos will be taking place.
Even though ZooBoo is over at 3 p.m., your ticket includes general admission for the whole day so stay late!
And as always, send your Reese's to me. Happy Halloween? Whatever.