Hey there Mixies!
So, I took one for the team, and by "took one" I mean I made a complete fool of myself, and by "the team" I mean Janene and Christine of More Than Mommies. See, they had this idea that we should create a vlog, and they gave us questions so we didn't ramble like idiots. Unfortunately, their direction was lost on me. To keep up appearances, I'm coming to you straight from my morning pee: teeth unbrushed, face sans make-up, and hair untouched. What you're seeing is what my husband gets every morning. Lucky, lucky man.
You have been warned:
Here are the "rules"
(Don't make us post bouncers at the door.)
Follow your Hostesses – More Than Mommies (the team)
Follow our Co-Hostess – When Crazy Meets Exhaustion (the village idiot)
Follow the Life of The Party is Vegan Mama Eco Baby
We will choose our Next LOTHP from those who link up their twitter handle. Use our hashtag #MTMmixer when tweeting so we can keep up with you there! We would still TOTALLY appreciate a shout out on Twitter if you don't mind!
Follow our Mixologists – This week our Mixologist is Mrs. AOK
Every week we will choose one participant to get our party started at the #4 slot. All you have to do is link up under the first Linky (and follow the "rules") to be considered!
Add your Post/Twitter ID/Blog URL to the Linky it belongs in.
Follow the person directly BEFORE you on the hop!
Comment on any Mommy TMI Posts you visit! We all love comments so SPREAD THE LOVE!
Finally, we ask that you post one (or both) of our buttons in either a post or on your sidebar to let other people know where you are partying today!
Here is the code for buttons with grab boxes (so your readers can get the buttons)–again just copy and paste the codes into your post where you want the buttons to appear:
MIXER BUTTON with Grab Box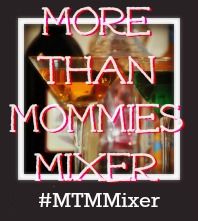 SUNDAY IS FOR COFFEE BUTTON with Grab Box: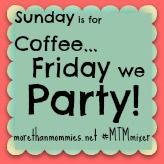 Here is the code for the Linky Copy and Paste all of this in the HTML at the bottom of your post:
If using WordPress:
Link up your Blogs Here:
Powered by Linky Tools
Click here to enter your link and view this Linky Tools list…
Link up your Twitter Handles Here:
Powered by Linky Tools
Click here to enter your link and view this Linky Tools list…
Link up your Mommy TMI Posts Here:
Powered by Linky Tools
Click here to enter your link and view this Linky Tools list…