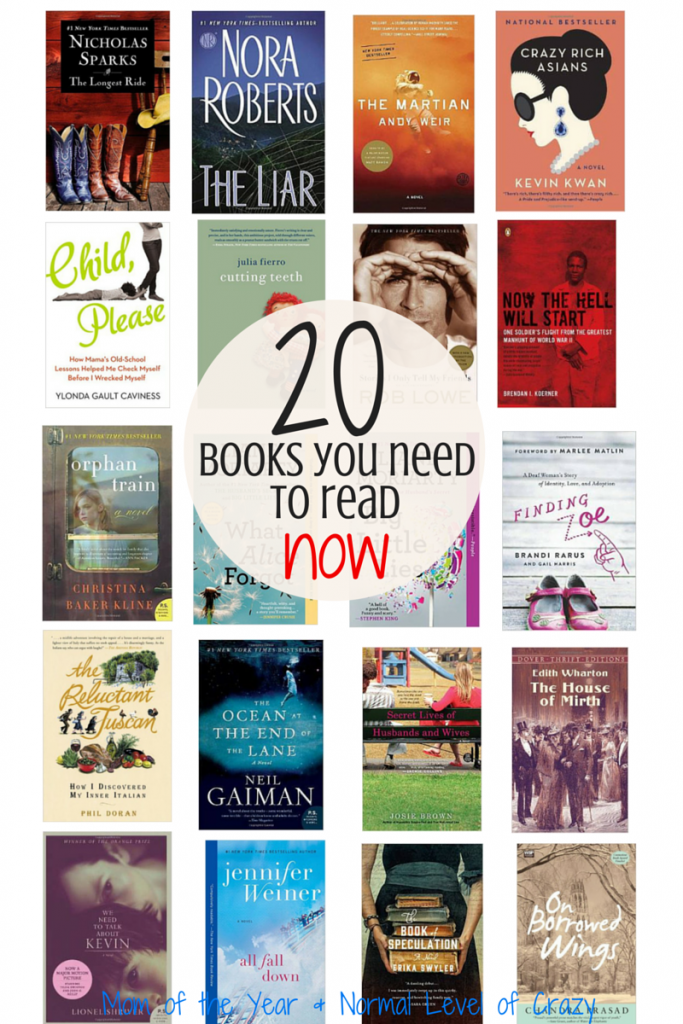 Hey, want a bunch of new books on someone else's dime?
Free stuff! Now I've got your attention, huh?
I've teamed up with a bunch of my blogging buddies and asked the question: what book would you recommend for a last-blast at summer reading? What book would you love to share with others? Every month, The Mom of the Year and Normal Level of Crazy meet through a virtual book club* and this time around, a ton of us suggested our favorites.
Now we want to throw one of you avid readers a $225 Amazon gift card and a bunch of the titles on this list! You will be in a reader's heaven and this English teacher couldn't be happier to be a part of such a worthwhile giveaway that she has unofficially dubbed: Get Your Read On.
Enter to big the big weener of the gift card and hard copies of the books below. You've gotta get your entry in before 8/14/15 at 5:30am ET through the Rafflecopter, and as long as you are resident of the continental U.S. and 18 yrs. or older, you are eligible to win!
Curious about what's on the list of recommended books and which bloggers picked'em? Read on…
The Longest Ride by Nicholas Sparks (Jessica of Herd Management)–Possibly the best Sparks' book I've ever read. Two couples in completely different time periods paths cross and the end result is amazing. Tear-jerking romance is enfolded within the pages of the characters' captivating challenges. Plus, I can't resist a cowboy. Read this before you see the movie!
Crazy Rich Asians by Kevin Kwan (Courtney of Our Small Moments)– How would you feel if the one you loved turned out to be from one of the richest families? Crazy Rich Asians shows the complexity of that situation.
The Liar by Nora Roberts (MamaRabia of The Lieber Family)–What would you do if you found out that your recently deceased husband was not only a liar and a thief, but possibly worse? Shelby Pomeroy decides to take back her life by clearing her name and fighting to make a better life for herself and her young daughter. But her dead husband still has some surprises in store for her!
Orphan Train by Christina Baker Kline (Jennifer of Real Life Parenting)–The primary female characters in this historical fiction are strong, feisty, and full of heart and personality. The way their lives in time are so far apart, their connections are close and poignant. I loved the blending of history with modern day happenings! A quick read because you just don't want to put it down.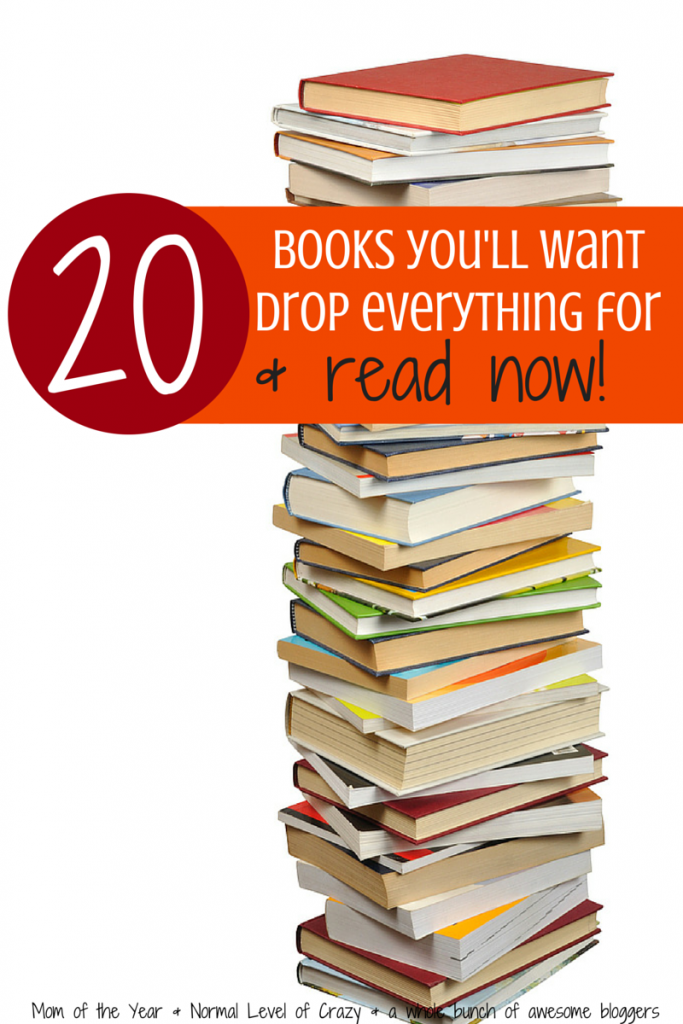 Child, Please, How Mama's Old-School Lessons Helped Me Check Myself Before I Wrecked Myself by Ylonda Gault Caviness (Stacey of One Funny Motha)–Maybe I like this book because I'm old-school myself. Or it could be the author's funny, lively, entirely personable voice that makes reading it feel as though you're talking to a friend. Or it could be that I write about similar issues myself and found much to agree with in the author's perspective. Whatever the case, this memoir is a throughly enjoyable read of one woman's straight-talking journey through motherhood and was selected by Ebony as 1 of the top 4 must-reads of the summer.
Big Little Lies by Liane Moriarty (Alyson of The Shitastrophy)–Was the most amazing read for me. After having walked away from reading for pleasure for some time due to work commitments I selected this book to read on an airplane. I couldn't put the book down and finished it within 2 days. The story winds and weaves through three friends lives together. The ending was something I didn't see coming and was suiting to see how justice can come to fruition, even when not done judicially. I have gone on to read the rest of her books available and none have disappointed.
Now the Hell Will Start by Brendan I. Koerner (Femme of FemmeFrugality)–Part history, part thriller, all non-fiction. Now the Hell Will Start is the story of Herman Perry, a WWII American soldier on the run in Burma after shooting his commanding officer. Not only does it expose a massive part of WWII history we never learn about in school, it also follows his incredible run from the law, including marrying into a local, headhunting tribe.
The Reluctant Tuscan by Phil Doran (Alicia of Sadler House)–Many writers have extolled the virtues of Italy's countryside, but no other story of Italian transplants is quite like this one. This witty memoir recounts how an award-winning Hollywood comedy producer finds himself renovating a 300-year-old house in Tuscany, where escapism gives way to real-life hilarity.
The Ocean at The End of The Lane by Neil Gaiman (Janene of More than Mommies)–We all have those reader friends who we want to be like. You know . . . the ones who are always reading WAY cooler books than we are reading? Well, this book came HIGHLY recommended by my reader friend who I have reader envy of, so, I think we should ALL read it and discuss! (I'm planning on reading it in August . . . so if you pick this one to read I'd love to hear your thoughts!)
Secrets of Husbands and Wives by Josie Brown (Dani of Cloudy, With a Chance of Wine)–My BFF sent me Secrets of Husbands and Wives by Josie Brown for my birthday in March and I absolutely COULD NOT put it down. I only ever trust her book recommendations, and she was spot on with this one. It's the perfect late summer / back-to-school read, and will not disappoint!
House of Mirth by Edith Wharton (Norine of Science of Parenthood)–Though it reads like a Downton Abbey-esque drawing room drama, behind the mansions and manners and horse-drawn carriages, Edith Wharton's House of Mirth is a fierce social commentary on the proscribed roles for American women in the 1880s. Wharton is a social commentator bar none. And Lily Bart, whose story this is, is my favorite tragic heroine. Every time I read this book, I root for Lily to emerge victorious … and am heartbroken all over again when she falters.
On Borrowed Wings by Chandra Prasad (Amy of Funny is Family)–On Borrowed Wings is the story of a girl who disguises herself as a boy to attend Yale University in the 1930s, before women were allowed to enroll. It's a fantastic read that weaves well-researched historical details and the strong desire of a girl to break away from her predetermined life path.
All Fall Down by Jennifer Weiner (Meredith of Meredith to Mommy)–This book really struck me. Well-off, suburban, mom blogger who is trying to do it all winds up addicted to pain meds. This constant monologue of "I can fix this myself. I have a plan. I don't REALLY have a problem." as she falls deeper and deeper into addiction made me choke up at how easy it is to lose control and wind up in a hole that you have no hope of clawing yourself out of alone, while still keeping up a strong facade as someone who has it all. I've read it multiple times, and find myself just as drawn in as I was the first.
Stories I Only Tell My Friends by Rob Lowe (Kimberly of Red Shutters)–Did you love Rob Lowe in "The Outsiders" and "St. Elmo's Fire" as much as I did? Then, you'd love this memoir in which Lowe pulls back the curtain on his life in Hollywood, from 19-year-old heartthrob to award-winning actor, sharing life wisdom along the way. I enjoyed the audio version of this book, which Lowe narrates himself, complete with impressions of Christopher Walken, Francis Ford Coppola, and other film industry luminaries.
The Martian by Andy Weir (Kim of Let Me Start By Saying)–A man gets left on Mars by accident and his personality, smarts, creativity, and sense of humor carve a place in your heart for him as he tries to figure a way to survive–and eventually leave–his new home in space. What is happening back on Earth and in the ship that left him will have you cranking through the pages, itching to know what will happen next, because this book is full of surprises, laughs, details that make you feel right there.
We Need To Talk About Kevin by Lionel Shriver (ME! ME! Stephanie of When Crazy Meets Exhaustion)–A thought-provoking punch to the gut that, unfortunately, mimics reality a little too closely. I read it before I had kids, then again after I had my three, and I think a parent's perspective is far more frightening. In the novel, a sociopath "kid" commits the darkest of sins and turns a town–and his family–upside down. *Shivers*
Finding Zoe by Brandi Rarus (Stephanie of Binkies and Briefcases)–the story of a deaf mother and how she came to find herself raising an adopted daughter who is also deaf, as well as her biological children. As an adoptive mom myself, it can be hard to find other stories that relate to my own journey mothering a child with special needs who joined us out of foster care, and this book certainly does that. More than that, Finding Zoe also gave me a glimpse into deaf culture (which was neat for me because before my grandmother passed away she volunteered as a sign language interpreter) and was full of cool trivia, like the author being cast as Marlee Matlin's understudy in a play, but it was also real and relatable on a human level. I think any mom will be able to relate to this memoir.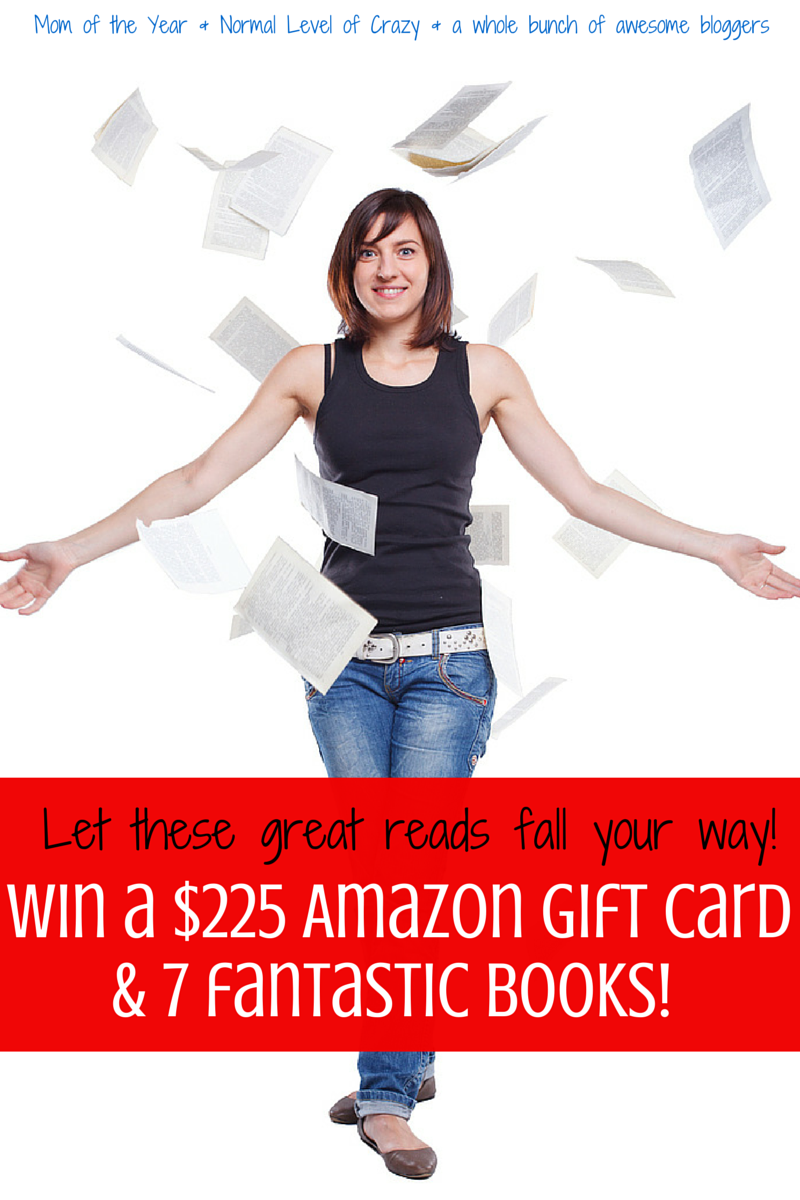 What Alice Forgot by Liane Moriarty (Melanie of Not So Super Mom)– I like it for summer reading because it's not too heavy of a story but it does make us think a bit about our own lives, the expectations we had when we were younger and how changing priorities can set our lives on a different course than we imagined. What a difference a decade makes, right?
Dark Places by Gillian Flynn (Ellen and Erin of Sisterhood of the Sensible Moms)–Stop looking to other authors to give you the next Gone Girl and just read Flynn's earlier work. Dark Places is told in a captivating flashback format, with Libby–complicated and damaged from a horrific tragedy in her childhood–narrating the present-day chapters in first person, while the flashback chapters, told in third person, describe the actions of several key characters on that one winter's day in 1985.
The plot is gripping and complex enough to have you guessing how the puzzle really fits together until the very end. I only wish the story had been longer because it was the type of read you just want to binge on, but are sorry when it's over.
Cutting Teeth by Julia Fierro (Carrie of Normal Level of Crazy and Meredith of The Mom of the Year)–With raw and heartwarming honesty, Fierro's debut captures the sacrifices we make in order to seek understanding, compassion, and love.
Now that you have the whole list of our recommendations, it's time to grab up these titles and enter the Rafflecopter below for a super sweet $225 Amazon gift card AND seven of these books! Go get your read on!
We are thrilled to have you reading with us in this last blast to summertime!
A huge thank you to the publishing houses that offered copies of the books included in our giveaway! All the books were chosen because we genuinely think they are fantastic. We love reading and we so appreciate working with you, Grand Central Publishing, St. Martin's Press, Penguin Random House, BenBella Books, The Crown Publishing Group, and Penguin Press.
* Note to our dedicated book club fans: We WILL be discussing Judy Blume's In the Unlikely Event as promised, but in the interest of this ginormous giveaway and recommendation list post, we've decided to table this discussion until September. Check in on the first Friday of the month, 9/4/15 to catch our thoughts on this book and snag our pick for the next month! We love having you read with us!
Second image credit: depositphotos.com, Image ID:73432021, Copyright:Wavebreakmedia
Third image credit: depositphotos.com, Image ID:1884440, copyright:phodopus
Fourth image credit: depositphotos.com, Image ID:7214753, Copyright:mac_sim