"I participated in an Influencer Activation on behalf of Influence Central for GB. I received a product sample to facilitate my review and to thank me for my participation."
Hey, know what's fun? When your husband accidentally backs over important stuff. Like your baby's stroller. Your chubby-thighed, full o' rolls, can't carry her through the mall one more time baby's stroller.
Know what's even MORE fun? When that stroller belongs to dear friends who were kind enough to loan it to you.
Ahh, yes. We are Those People. The people you hesitate to say yes to when we ask, "Do you mind if I use that for a minute?!" or "Can I give that insert-something-expensive-here a try?!"
I was mortified, and also out of luck. Our friends took the news well, but that still left us stroller-less. And that chubby-thighed, full o' rolls baby needs a stroller! She's getting so big that it's difficult to lug her around in the carseat, which, by the way, was part of the stroller travel system that fell victim to my husband and his Chevy S-1o.
So to recap: my baby is heavy, I have no stroller, and the carseat I have no longer fits into the stroller I no longer have.
Excellent.
Then the fine people at Mom Central were like, "Here, try this GB Asana35 AP," and I was like, "I don't need a space shuttle; I just need something to push my baby in while I'm shopping for cotton under-things." Mom Central laughed and explained that the GB Asana35 AP is, in fact, a carseat, and one that would make me so, so happy. And not just me, but my husband, AKA: the sucka who had to install it.
Not many things ruffle my husband's feathers, but carseat installation (un-installation and reinstallation in this case!) really drives him crazy. It doesn't affect me as much, since I'm watching with a bowl of popcorn and my camera, but my entertainment was short-lived with the GB Asana35 AP. This here is a direct quote from my husband, the carseat installer:
It was EASY! I didn't even need to prop it up with an old bath towel–there's an incline and decline latch system thing that TOLD me when it was at the appropriate angle! I was done in less than 5 minutes! Can you grab me a beer?
Husband is referring to the FirmFit System (and a Rolling Rock). This bad boy has three main security features which gives parents three times the peace of mind FirmFit:
Load Leg: Not only does this feature support the baby's noggin, neck and spine, but it's very convenient in that it's height adjustable which means it fits anywhere in the car, even in that pesky center back seat.
Arm: You know how when the driver has to slam on the brakes and instinctively throws an arm in front of his passenger to absorb impact? That's what the FirmFit Arm is: security in the form 20 extra pounds of additional force. I can feel the extra weight when I'm carrying my chubby gal in the carseat, but it's small price to pay for the better, tighter, and ultimately safer fit.
Harness: Quite possibly the best feature of this infant seat is the harness. The harness exists in bigger carseats for bigger kids, but in past infant seats I've had, adjusting the straps as baby grows or wears different clothing (think winter coat vs. summer romper) required me to put the carseat in a scissor hold and use many curse words. This just works better. Follow along: pull the front strap to make the harness snug. THE END.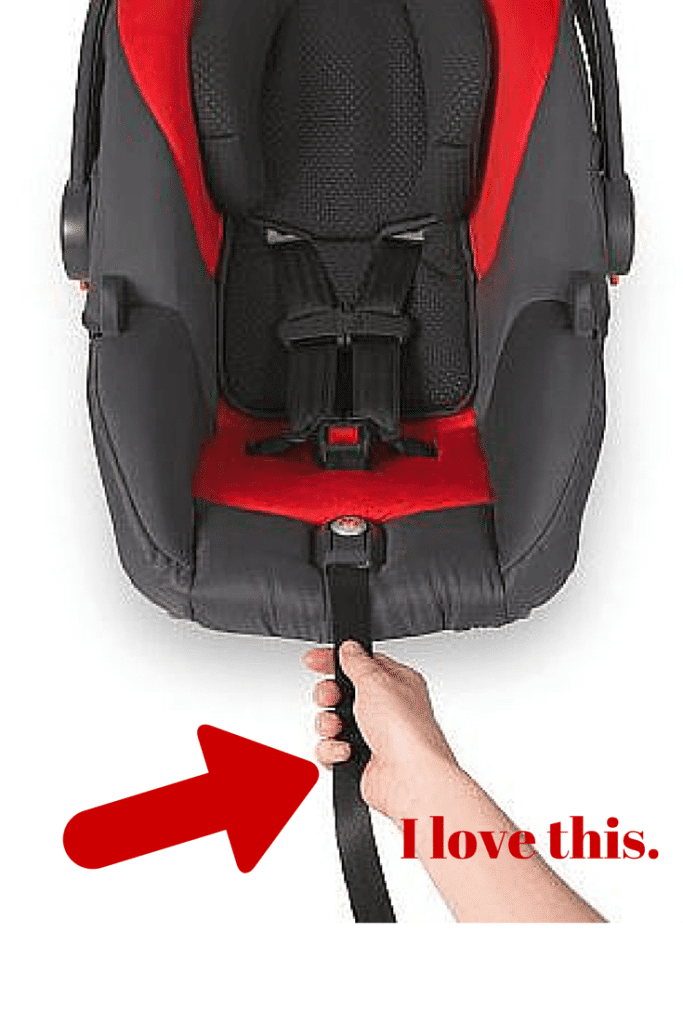 If you don't believe me, check out the demo HERE!
In addition to the security features, which are obviously my number one priority, I do have to say that I like the looks of my GB Asana35 AP. It looks high-end, which I am not, so I get to play pretend until someone sees my husband's Chevy S-1o. Speaking of the husband, here's another direct quote from the man:
I like that the handle isn't as wide as it was on the other carseat. I don't sling it over my arm like you women-folk; we men hold it down at our sides and this handle is narrower which allows me to get a better grip. That's important because people shouldn't drop babies.
And there you have it. The GB Asana35 AP is not only safe, functional, and purty, but it helps husbands not drop babies. Could you really ask for anything else in a carseat? How about how it fosters sibling love…
 *heart melts*