What used to be a few times a year, has become a weekly occurrence. No longer for kindness and charity, it has morphed into a gruesome beast whose singular purpose is to keep a king in his throne. I'm talking fundraising, people. And it's outta control!
The days of simply shelling out for Girl Scout cookies free of caloric regret are slowly disappearing. Seems like every time I turn around, someone new has his hand in my pocket.
Before you decide to hate me, hear me out. I don't mind donating my money or time to worthy causes. In fact, I'm pretty generous. If you don't believe me, ask my parents about the time I got my first job and started shipping part of my paychecks to Guatelayoureasucka to feed and clothe a little boy named Arie. I was 16 and thought I was helping an adorable little kid whose picture was taped to the back of my bedroom door. In hindsight, probably not how my $12.50/month was being spent. Meh, live and learn.
Sadly, there are so many people and causes in need, that we realistically can't help them all. And saying no is very difficult. I always try my best to buy whatever the kid knocking on my front door is selling, but if a grown woman who has boldly stated she wants to "stay out of the workforce" comes a'peddling her homemade clay pottery that she crafts in her one-car garage while listening to Pink Floyd, I'm not interested.
There is a fine line between fundraising and asking for handouts these days. Is it really someone else's job to buy your kid's tuba for the marching band? It's totally okay to tell Junior he'll have to play a less expensive instrument. It is not okay to put others on the spot asking us to help pay for it. Let's be honest, he'll toot the thing for maybe a year, then trade it in for a girlfriend who requires all of his time. And I'll want a refund.
I once worked a shoe drive where families were asked to donate a new pair of kicks for underprivileged basketball players, and the idiots in charge of the drive requested Air Jordans only, please! Ummm, no. That's not a donation; that's a shakedown!
And let me just state for the record: the next person requesting donations to pawn off responsibility via her Go Fund Me page is going to be directed to my Go F**k Yourself page. I will buy hoagies from you; not a new car for you. I will donate to a worthy cause, not to your tropical island honeymoon destination.
Whatever happened to personal pride?! I'm very sorry that you ignored your plumber's suggestion to buy a new hot water tank and it has since flooded your basement. Being a homeowner is expensive, yo, and I feel your pain, but making a Go Fund Me page hoping that other people will pay for what you should have been saving for? Ludicrous. Living in a $200,000 home in a nice neighborhood, going on family vacations that you Instagram to death means you can afford the hot water tank.
I know, I know. I'm a terrible person. I won't understand until it happens to me. Blahblahblah. Here's the difference between me and those with their hand out expecting someone else to fill it: I have common sense. Like Big Foot or the Loch Ness Monster, many claim common sense is but a myth. But I've seen it, friends. I've witnessed common sense in action when people recognize the difference between wants and needs, between entitlement and charity. I'll help you, neighbor, but you've gotta help yourself first. And if you're not willing to work for your family, why should I? Sell me some Samoas and be on your way.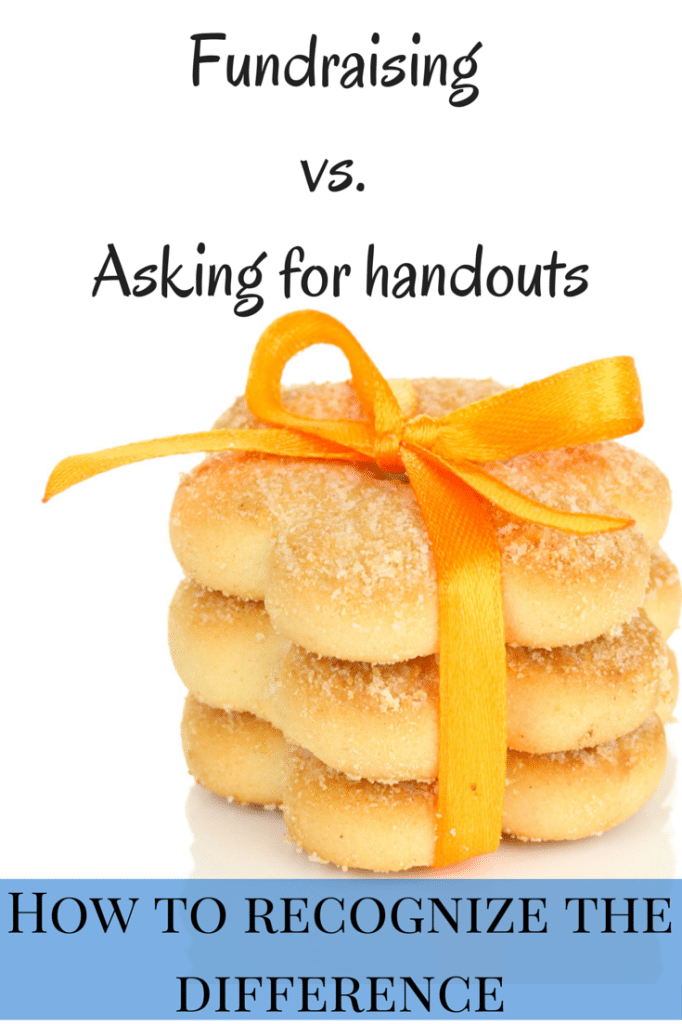 Photo credit: belchonock