You know how when you marry a person, you also marry that person's quirks and passions and annoying habits? Like I'm completely incapable of having a conversation before 7am, yet my husband put a ring on it. Bless his heart.
And I willingly said "I do" to a baseball nut. In the dramatic throes of our earlier fights, I would often come out swinging with, "I wish you paid half as much attention to me as you do those dumb baseball games!" Yep, he put a ring on that, too…
Truth be told, baseball is my husband's first true love and I've since come to terms with that. From playing to coaching, from eating, sleeping, and breathing the game, baseball has been a part of the man's life for as long as he could walk. And as it's becoming a huge part of our son's life, I'm preparing as best I can. So when he and two of his friends had the opportunity to own and operate the annual Pennsylvania Baseball & Softball Coaches Clinic in Pittsburgh, I knew he couldn't resist.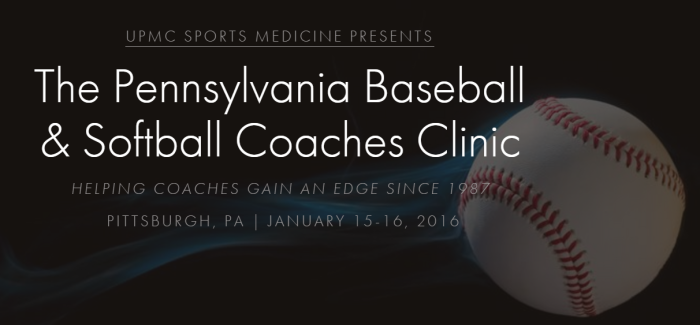 The Clinic provides unlimited opportunities for coaches to improve coaching skills, implement refreshing ideas into practices, and build long-lasting relationships with fellow coaches and exhibitors. As someone who has attended some pretty awesome writing conferences, I appreciate the sense of community and opportunities to network and grow as a professional these kinds of events offer.
Over the years, the Pennsylvania Baseball & Softball Coaches Clinic has had well-respected clinicians that cover numerous topics on virtually every aspect of baseball and softball, as well as dozens of exhibitors from the industry's leading companies who showcase their products and services. Because I believe in my husband's passion and am constantly in awe of the time and effort he and his partners put into each clinic, I wanted to give all the softball and baseball coaches (or fans!) out there a chance to attend this year's event for free. Or if you're like, "Yeah, I have yet to buy my husband a Christmas gift," I'VE GOT YOU COVERED.
Oh and did I mention Pittsburgh Pirates legendary former coach Jim Leyland is one of this year's speakers? No big deal, right?!
*Pirates fans everywhere squee*
It's winter in Pittsburgh–how else are you going to get your baseball fix?!