Mahatma Gandhi once said, "The best way to find yourself is to lose yourself in the service of others." In short: whenever you need a gratitude check, focus on bettering the people of your community.
Many of my family's service activities are an extension of my daughter's incredible Girl Scout troop. We collect warm coats for community members in need, participate in Operation Christmas Child, and just last week visited our local food bank where the girls delivered, counted, weighed, sorted, and shelved the hundreds of items they donated just in time for Thanksgiving.
The pride was evident on every Girl Scouts' face when their total (almost 140 pounds of food!) was read aloud. They felt empowered as "helpers," as my five-year-old says, and there are now more families in our community who will be eating a hot Thanksgiving dinner because this Love Thy Neighbor stuff? It's the real deal.
I am beyond humbled to help spread the incredible news of Penn Hill's very own Free Store. Inspired by Free Stores in Braddock and Wilkinsburg, my pal Heather Hopson, along with past and present Penn Hills residents, is opening a consignment store without price tags for neighbors in need. Free Store Penn Hills is a response to the rising poverty rates in suburban areas.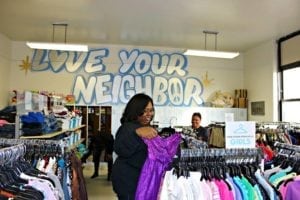 Yes, you read that correctly. Suburban. Not everyone has a white picket fence and a Subaru.
The store's grand opening is Saturday, November 19th at 10 a.m. at its permanent location: Lincoln Park Community Center, 7300 Ridgeview Avenue, Penn Hills, PA 15235. Shoppers from across Allegheny County and elsewhere are welcome.
From that day, Free Store Penn Hills will be open to shoppers and donors on Mondays and Saturdays from 10am to 2pm, hours that are aligned with the center's food pantry schedule, which operates twice a month. Courtesy of At Home's over the top generous contributions, there is an interactive mural, floor pillows for lounging and reading, and arts & crafts. This space is where, every Saturday, the store will host the Confident Kids Craft Club and interactive and educational workshops for families, such as financial literacy programs and breastfeeding information sessions. Interested facilitators can contact Heather Hopson at dearmomdiary@gmail.com.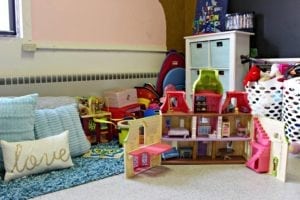 After the November 19th unveiling of the warm, welcoming space designed by interior design consultant Luca Paganico Designs and sponsored by the good people of At Home, community members will enjoy deliciousness by The Cupcake Crew and Frankstown Road Giant Eagle. The Consumer Health Coalition and Healthy Together Mascot Enroll-o-bot will be on site to help families enroll in quality, affordable health insurance. Children's activities include arts & crafts, a face painter, and stories with books provided by Reading is Fundamental (RIF).
Look at all these people loving on their neighbor and making a difference! You can make a difference, too: interested donors can please buy something on the Free Store Penn Hills's Amazon Wish List or contribute the following:
book bags & supplies
school uniforms
clothing & books
home décor
luggage/purses
toiletries & diapers
toys & games.
Due to safety concerns, Free Store Penn Hills is unable to accept cribs, car seats, furniture or other items subject to a recall. Personal items, including bedding, pajamas, toiletries and undergarments, must be in new packaging.
Sharing is caring, so please share your time and gently-loved items with the Free Store Penn Hills. It's such a worthy cause and a fantastic way to show our children how to care about our neighbors. Thank you to all of the donors and generous contributors for loving this store as much as our community does!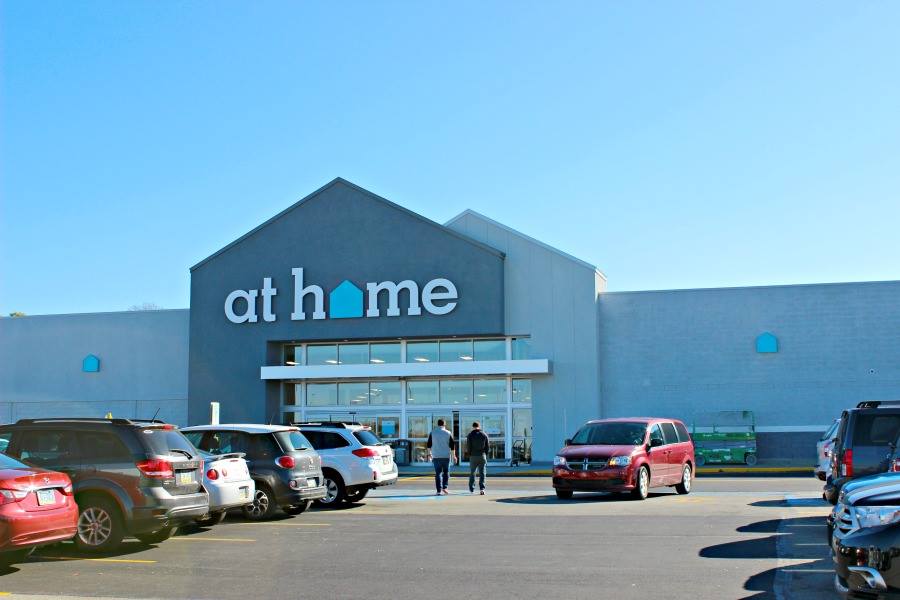 I'm proud to partner with At Home; although I was compensated to write this post, all opinions are my own.