July 2014 marked 8 years of wedded bliss for me and the husband. Every July 29, I force him to pose for The Anniversary Picture that proves we still like each other: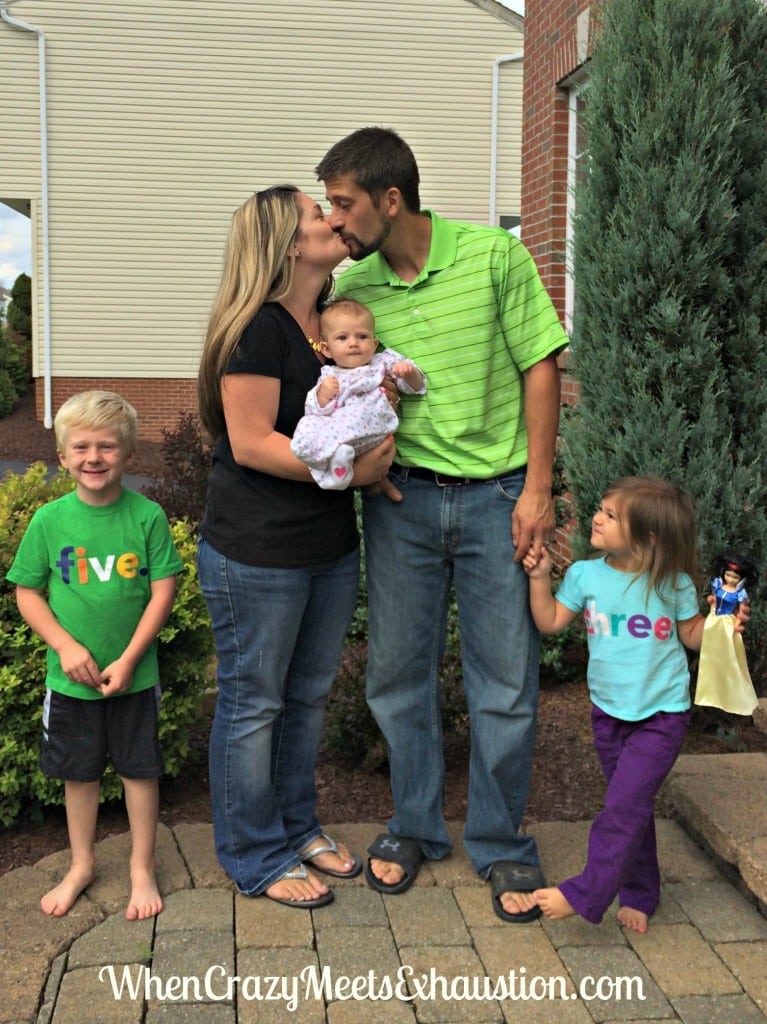 In years past, we've held a sign that reads how many years we've been married (thank you, Pinterest), but 2014 worked out that the ages of our kids (5, 3, 0!) added up to 8, so I swapped the sign for fancy Old Navy shirts to signify the milestone, and for the last July anniversary picture ever, I held a baby in my arms. A warm, snuggly, chubby-legged, gurgly, toothless-grinning, sweet baby girl.
I love this picture because it's one of the few of all five of us, and my Facebook friends deftly pointed out that my husband looks less than enthused to have posed, yet again, for my adorable annual photo. Asking the man to take a picture is as difficult as suggesting the Kardashians make good choices or asking my three-year-old to use her inside voice.
Nearly impossible.
Anyway, after the forced photo opp, husband and I went to dinner where I gave him his anniversary card. I wrote some sappy stuff and then, at the bottom, included:
P.S. I'm pregnant.
To be clear, my intention was to glean a final conclusion of where he stands on the "one more baby" front; it was not to piss him off or lie to him. Stroll with me down memory lane and you may recall the episode of Friends where Phoebe tells Rachel her pregnancy test is negative, and in a moment of clarity and truth, Rachel is sad because she realizes she really does want a baby, then Phoebe is all, "Just kidding–your ego is prego!" and then everyone rejoices because Phoebe's little joke reveals RACHEL REALLY DID WANT A BABY!
Oh, the emotions! The happy tears! The JOY!
Yeah, that didn't happen for us.
Our truth was revealed. Husband saw through my joke and made it perfectly clear that he was done with the baby-making. And by perfectly clear I mean he offered to give himself the big V while we waited for our appetizers.
He then made a point that I still don't want to agree with, but alas, he was right (don't tell him I said that): "We'll have four kids and you'll want five! We'll have five and you'll want six! You're never going to feel DONE!"
And there you have it. I will never feel done.
I want to feel done, I really do. Feeling done would mean this sinking sensation in my postpartum gut would finally go away. That I wouldn't ache for a baby's movement from within, or for another bulging belly that makes it difficult to tie my own shoes. If I felt done, I probably wouldn't stare at strangers' bumps, filled with envy and excitement and just a little bit of sadness. Okay, a lot of sadness. Maybe I wouldn't spend so many daydreams wrapped in memory of the sweet anticipation of labor, or how I vividly remember feeling LIKE A BOSS each time I brought a tiny human into this world. Push, breathe, bear down. I know that. I love that. And now it just means I'm a touch constipated. So unfair.
But my husband is right; even if we did have "just one more," I would be writing this same post with four little ankle biters at my feet instead of three.
Is that normal? Is it a "thing?" I have a small handful of friends who empathize with my plight; mostly, though, everyone stares at me, mouth agape, like I just punched a puppy.
And then there are the people who call me ungrateful because I have three kids; don't I appreciate them?! I've had the chance, where many have not, to carry beautiful babies and take them home and care for them. Once, a feisty little Internet troll even blamed me for the population explosion and overcrowding in the U.S. Teehee.
I am not ungrateful, at least I don't think I am. I count my blessings daily, but it doesn't change the fact that I'm still sad that I will never be pregnant again. Emotions are valid regardless of the reason or if others understand them, but I was nonetheless relieved when my OBGYN suggested I take time to mourn the end of my child-bearing days like I would the loss of a loved one. It was then that I realized this is, in fact, "a thing," and I am not alone.
Each of my baby's firsts, is my last. Her first step, first word, first flinging of prunes onto the wall–all my lasts. She refused to continue nursing right around 7 months, and the withdrawal (for me) was scary in how hard and fast it was. I keep telling myself it's silly to think these days would never come; I just wasn't prepared for the heaviness that comes along with them.
My body, never to house another living soul, seems purposeless right now. I KNOW it's not, but instead of wanting my belly to get smaller and tighter as most postpartum Mamas do, I'm missing the awesome swell of pregnancy. For six years, I've been touching the soft middle of my tummy, anticipating its next inhabitant, quietly excusing the extra jiggle in my wiggle because it's a baby house, dammit! Now that all residents have been evicted, with no promise for another, I'm struggling, man. I actually love my body more when I'm growing a human being; I feel sexy and powerful and feminine all at the same time. But it's time to come to terms with the fact that my body is now only for me. On one hand, I'm like, "FINALLY!", but on the other hand and both feet, I'm like, "This bites."
Maybe once I give myself time to mourn the end of this era, I'll feel better. Maybe I won't. The last firsts sting with a bitter sweetness I'm not used to; I'm losing the wrestling match with finality. But hey, that's life. Another stepping stone that reminds us of the inevitability of the changing of the guard. Someday, I hope to look forward to stealing back slivers of freedom that Moms of older kids enjoy, like only zippering my own coat or not cutting peas in half. Most of all, though, I hope to eventually put a hand on my tummy and feel done.