The second Sunday of March.
Every second Sunday of March.
We set our clocks ahead by an hour and "lose" some shut-eye. My kids find it a little difficult to cope, and their normal sleeping routine takes a temporary hit. We readjust, enjoy the longer days, and eventually fall back into step with the rest of America (not including the brilliant people in Arizona and Hawaii).
Then November rolls around. Oh, November, you bittersweet temptress. With your fall foliage comes my birthday (read: cake) and Thanksgiving (read: sweet potatoes). But alas, you aren't all sugary goodness; in fact, you are the antithesis of all things good when, on your first Sunday, we set our clocks back by one hour, supposedly gaining sleep, when in reality all you have done is begun another cycle of disruption.
November, I know it's not your fault, it's that bitch Daylight Savings, but how does it make you feel to know that the world becomes a darker place on your watch? Because of you, my daughter has been awakening at 5:15 in the morning. I had hopes she would improve, maybe adjust to the change; but every day after her 5:15 wake-up call, she has crawled into my bed at 6:22 am on the nose, poked me in the boob, and announced, "I done seepin'!" I am not amused. Neither is my boob.
This isn't horrible. It could be worse. She could be up all hours of the night poking things, but listen to me carefully: I love sleep. I need sleep. And, November Daylight Savings Time? I'm sure you're not aware that I wake up forty six times in the middle of the night because a dog sneezed or the weight of my growing belly put my hip to sleep or I suddenly realize I'm committing a huge pregnancy no-no and snoozing on my back. I jolt upright so quickly I scare myself. And then I have to venture to the bathroom a handful of times, as is to be expected in my state. I get it. You don't know these things, so how could you possibly understand what you're doing to me. That's why I just wanted to make it clear: the nighttime sleep ain't happening for me, so the early morning sleep must.
Oh! Have I mentioned that my adorable little ball of daughter is also boycotting her naps these days? Turns out, she can karate chop the child safety mechanism right off of her door knob, giving herself free reign of the house. And then this happens:
Sure, she's cute, but do you want her climbing into your bed ALL BY HERSELF before the sun is up? I didn't think so.
You see, what we have is a simple failure to communicate. Sweet November Daylight Savings Time, if you could just go ahead and assure me that your cooler temperatures and Tryptophan turkey will get my gal back to normal, we could be friends again. I will celebrate you with fall walks, kids' art work featuring your colorful leaves, and maybe I'll even share my birthday cake. Let's be real, I doubt that last one will happen, but if you don't make it so my kid starts sleeping her normal 12 hour nights again, I will cut you. CUT YOU.
Or, I'll deliver this right to your doorstep.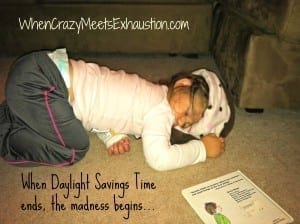 This is what happens when a child wakes too early, doesn't nap, and then has no energy left in the evening. She falls asleep right after dinner and you can only imagine what kind of early morning that makes.
CUT YOU.