When I was in a senior in high school, I took a class called Independent Living. I figured since I was leaving for college in a few short months, it was smart to prepare to manage on my own.
Only years later did I realize college isn't quite "independent living" what with the cafeteria or take-out doing my cooking, no pressure to keep the place clean, or worries to pay the bills.
So when I finally did step foot into Adulting, I was like, "Ummm…what do you mean the world  wakes up before 10:30?" Needless to say, it was at that moment I began to draw from the ol' Independent Living class. All of a sudden I was kind of sort of cooking for myself, dusting, and keeping track of my money. It took some getting used to the new concept called Not Spending All of My Paycheck on Fun.
Mind. Blown.
Today's Independent Living classes, or whatever these young whippersnappers call it, should absolutely incorporate the "Earn Your Future" Digital Lab, an interactive curricula designed to empower young minds with financial and economic knowledge. In short, it helps them avoid the shell shock of paying for stuff on their own.
The "Earn Your Future" Digital Lab is a comprehensive financial literacy program geared toward students in grades 3-12. Students work at their own pace learning about and practicing financial literacy concepts. Custom videos, animations, and interactive activities simulate real-life experience for the students, and teachers use embedded student assessment tools with real-time feedback, "Level Handbooks" and "Module Planning & Resource Guides" to track student progress. Teachers will appreciate that the content is already aligned with Council for Economic Educators standards.
Using the Digital Lab
1. Sign in and create a FREE profile HERE
2. Personalize your FREE profile as much or as little as you want
3. Check out your FREE homepage; there are 3 levels (beginner's–available this fall; intermediate for grades 6-8; advanced for 9-12th graders)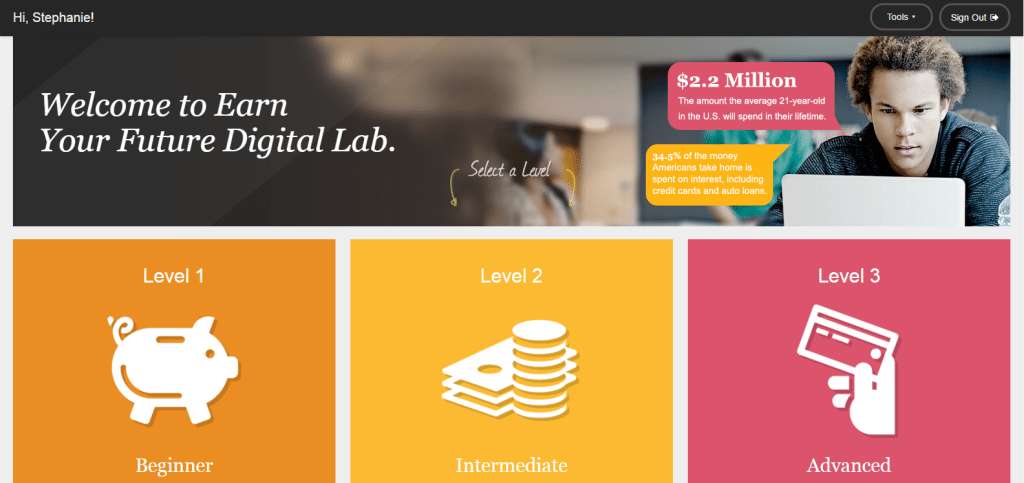 4. Browse the extensive FREE selection of financial literacy lessons and delight in how current and relevant they are! This little ditty is for our middle schoolers who JUST HAVE TO HAVE AN iPHONE, MOOOOM!
5. Get started for FREE! Hey, did you notice this is free?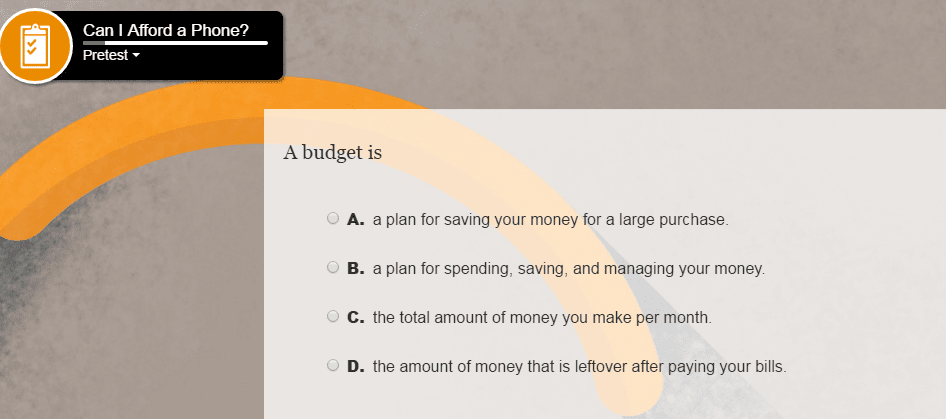 And there you have it: the very simple how-to instructions for the "Earn Your Future" Digital Lab. As my four-year-old says: easy peasy Japanesey.
Right now, there are 7 different lessons for middle school learners (and their families!), and 8 lessons for high schoolers. All lessons work to teach age-appropriate, real world financial literacy. The lessons mature right along with the students, so rather than an 18-year-old focusing on affording a cellphone, the Advanced level offers financial guidance on things like applying for a credit card, the real cost and risk of driving, and other pertinent issues that certain ages and stages find themselves grappling with daily. The "Earn Your Future" Digital Lab is a fantastic resource to use by itself, or to supplement a lesson in economics, independent living, mathematics, or a filler as the year winds down and testing is over. Teachers, keep this ace in your back pocket! Parents, don't underestimate the power of knowledge: when your 16-year-olds want to start driving, have them complete the Cost of Risk lesson! You can tell them it was my idea so they know where to direct their eye rolls.
This is a sponsored post. The PwC Charitable Foundation supports the people of PricewaterhouseCoopers in times of need and invests in emerging solutions to society's greatest challenges in education and humanitarianism.