She had a lot of friends, guys thought she was pretty. She earned good grades which kept her parents off her back, and like most other 16-year-old's, was looking forward to the day Dad handed over the keys to the Toyota with a "be careful" and a smile. She wasn't thinking about college yet; that was a lifetime away. Her thoughts were on a friend's Oktoberfest bonfire that night, and how she would become the life of the party. She imagined everyone laughing at her jokes, the flickering light from the fire hitting her new lip gloss just so, finally catching the attention of the junior boy she had been hoping would talk to her. She would make it happen at the party, but she needed something to help calm her nerves.
Getting drunk wasn't an option; it was too obvious and her parents would smell it on her breath. At least that's what everyone at school had warned her about. Instead, they had said, try cough medicine.
Capable and curious is sometimes enough. Away to the medicine cabinet she crept, quietly depositing the whole bottle of cough syrup in her bag. With a wave and a promise to be home by curfew, she was out the door. Monday morning at school would be epic! Everyone would be talking about her; she would be like a goddess among civilians as she sauntered down the halls. The underclassmen would look up to her and the upperclassmen would notice her.
When the first school bell rang on Monday, she wasn't there to hear it. She was lying on her back staring up at the hospital ceiling, avoiding her parents' disapproving and frightened eyes. Had her Dad's hair always been that white? And when did her Mom get those lines by her eyes? They had refused to believe even though she swore it was her first time "dexing," which is what the doctors told them teens call it when they get high on cough medicine with dextromethorphan in it.
Is that what she had done? She hadn't meant to drink almost an entire bottle. And besides, it's medicine! How can medicine hurt? Now her parents think she's a drug addict, and no matter what she says, they don't believe her. There goes the drivers' license, any chance of leaving the house this century, and as for her new cool reputation at school, that's shot. Kids will be talking about how she vomited on herself, on that one kid's brand new Jordans, and how she had been *thisclose* to falling in the fire pit. When her parents showed up, one of her eyebrows was actually singed off.
She looked ridiculous and felt like an idiot. While her parents talked about rehab, she thought about cyber school. There was no way she was facing her teachers or the other students ever again. She couldn't imagine ever living this down; everyone was talking about it on Snapchat and Twitter, and someone actually had the nerve to post a picture on Instagram of her twirling around with drool running out the side of her mouth. Her eyes were rolled back in her head, and the other kids in the picture were laughing.
They were laughing at her.
None of that was supposed to happen. When she left for the party that night wanting to be the center of attention, that is not the kind of attention she meant.
They were laughing at her.
Thanks to StopMedicineAbuse.org, cough medicine abuse is on the decline, but it's still something parents need to talk about with their kids. Teens who learn a lot about the risks of drugs from their parents are 50 percent less likely to use drugs. BUT some kids don't rely on their parents for information, and why would they when they can ask their friends? Teenagers are almost three times as likely to trust their friends as a source of information than their family (including their brothers or sisters). And when a kid is curious about DXM, they turn to another friend: Google.
Online search for DXM peaks during two times of year, aligning with back-to-school time: September/October and January/February.
Teens look to YouTube, social media, and online discussion forums like Erowid.com to get more information as they progress toward trial.
Teen searches for DXM information most often fall into two main buckets – "What is it like?" and "How do I do it?"
So what will these fence-sitters, teens who are curious but haven't tried "dexing" yet, find when they search it online? Thanks to Consumer Healthcare Products Association (CHPA) and StopMedicineAbuse.org, teens will find the award-winning effort WhatisDXM.com.  Real-life testimonials, games, apps, and bait-and-switch videos interrupt teens' searches and change their perceptions of cough medicine abuse. Today, teen abuse of OTC cough medicine is at an all-time low.[1]
Because teens often care more about their image than they do their reality, social media platforms play an integral part in their lives. The last thing a 16-year-old wants is to be laughed at, made fun of, or viewed as "uncool." WhatisDXM.com shows the unfavorable gross side of cough medicine abuse: sloppy teenagers annoying their friends by acting stupid, saying dumb things, and even throwing up on themselves. None of that is good for someone with critical friends and a fragile ego. WhatisDXM.com uses the negative perception of DXM abuse and teens' fear of social disapproval to make DXM more undesirable.
And it's working.
How many fence-sitter teens have we reached since 2012?
Teens have been exposed to the integrated campaign in the digital space 525 million times.
Teens have directly engaged with our content online (viewed, shared, clicked, commented) more than 21 million times.
Teens have visited the website one million times.
Our apps have been downloaded almost 300,000 times.
Parents, have a conversation with your kids NOW. Fantastic resources are below.
Teenagers, don't ruin your reputation, make yourself sick, or lose your parents' trust. Check out the links to this stuff and see for yourself.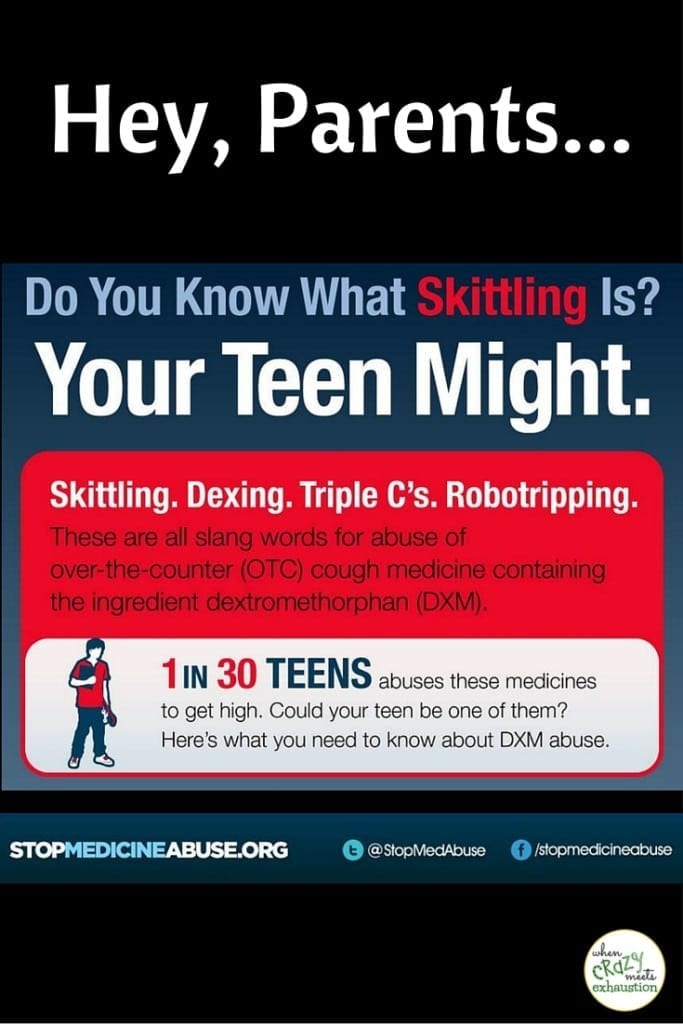 Resources

:

Stop Medicine Abuse on Pinterest

Stop Medicine Abuse on Facebook

Stop Medicine Abuse on Twitter @StopMedAbuse #StopMedAbuse

Main website: http://www.whatisdxm.com/

YouTube channel with all videos – including teen perspective: https://www.youtube.com/user/DXMstrs

Facebook app (2.5 minute experience that scrapes your Facebook page for a simulated real-world experience, must log in via your Facebook page): http://sipitup.me/

Trailer for mobile app DXM Labworks: https://www.youtube.com/watch?v=-boIyNwaV-Q
[1] Monitoring the Future, the average prevalence of teen-reported abuse between 8th, 10th and 12th graders went from 5.4% in 2006 to 3.2% in 2015. The next report will be issued in December 2015.
This post is sponsored by the CHPA educational foundation,KnowYourOTCs.org but all opinions are my own.