My newly minted three-year-old takes after her big sister in a lot of ways. She rocks a mean pair of sunglasses, has a fantastic imagination, and has begun telling me something "sissy" always says: "Mama, I don't yike you, I YUVE you!" As the recipient of this sweetness, I am expected to feign dramatic disappointment at the first line. Then, like sunshine bursting through the clouds, my face lights up in a made-for-stage kind of way as she delivers the punchline. Then, giggles and lots of hugging.
The "I don't yike it, I yuve it" has since been extended to grandparents, all episodes of Bubble Guppies, and certain foods, namely ice cream.
I'd personally never used the phrase until I came across Cookie Couture Clothing. I'm not one for frills and big bows, which is why I was immediately drawn to the monochromatic, edgy unisex themed pieces. A toddler rocking a Rolling Stones tee? Yes please! A blonde curl-head playing outside in a jet black tutu…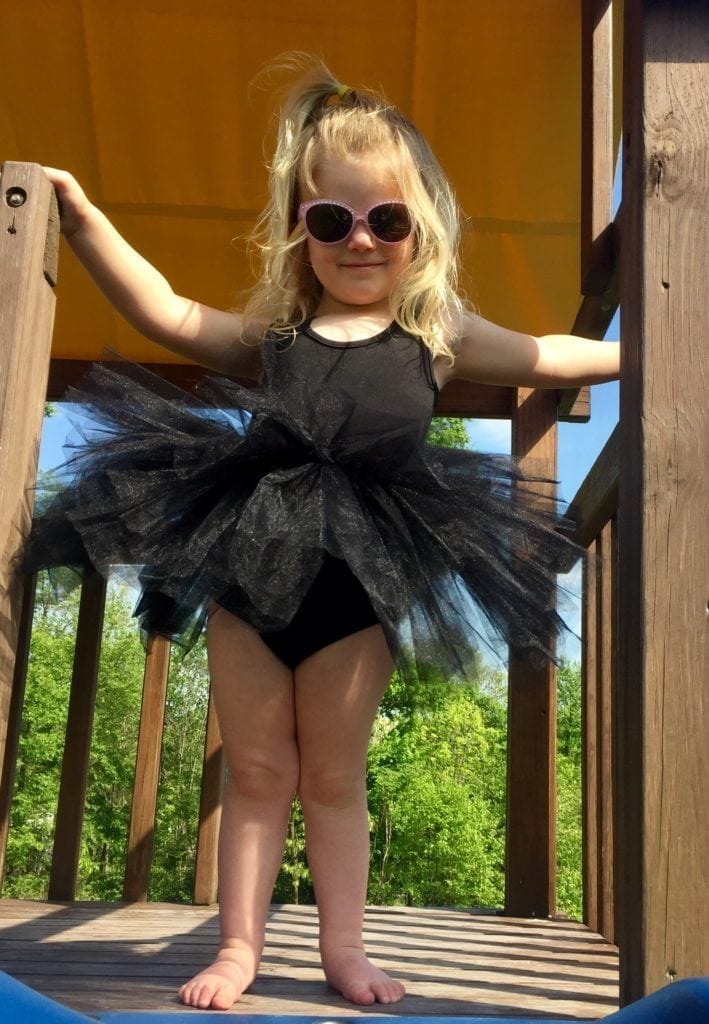 I don't like it, I LOVE IT!
Brandi Kennedy, Pittsburgh-native and wife of former Penguins hockey player Tyler Kennedy, has always loved fashion. She birthed her own little curl-head babe, Cookie, and when Tyler retired from the NHL, he and Brandi were like NOW WHAT? (OMG I just referred to Tyler Kennedy as TYLER. Like we're pals! I mean, we could be. Our girls are the same age, we're in the 'burgh, Brandi and I are obviously new best friends! Playdate, you guys?!)
Ahem.
Focus, Stephanie.
So as Brandi was mixing and matching her favorite brands to style her little rock star, people started noticing. They'd ask where she got that shirt, or where they could find those amazing baby moto boots (answer: HERE). Eventually Brandi decided to put all her favorites in one place and became a brand curator, so to speak. Cookie Couture Clothing was born. And so was a diva:
What's up now, Gwen Stefani's kids?! I'm lookin' at you, JLo! Brandi carries a brand from Israel that's basically a celebrity kid favorite. So I'll thank you to call me Jennifer Garner as I style my cutie in the same high-quality, super soft material. And side-note about the smell: I don't know what this brand puts in its clothing, but the smell is almost akin to sniffing a newborn's head. You gotta get you some of this.
A fan of global fashion, Brandi gets her pieces from all over the world: LA, NYC,
Canada
,
Australia
, the
Netherlands
! So I can be like, "Yeah, my daughter's all-organic cotton,
GOTS certified
tee is from Australia," and no one ever has to know I never left my couch.
If you snag
a vintage tee or onesie from the LA brand
, next to no one else will be wearing it; these pieces are all one-season wonders, never to be repeated again. Which makes them awesome gifts, cough cough baby shower season is upon us.
I love Brandi's story because I recognize myself in it. We're yinzers, which means we're not afraid of getting our hands dirty. We're both work-from-home Mamas, juggling professional and personal responsibilities. Just like my daughters and son watch me, Cookie witnesses Brandi paving her own way, modeling what a strong, smart lady with unlimited ambition looks like. And it just so happens she looks fabulous.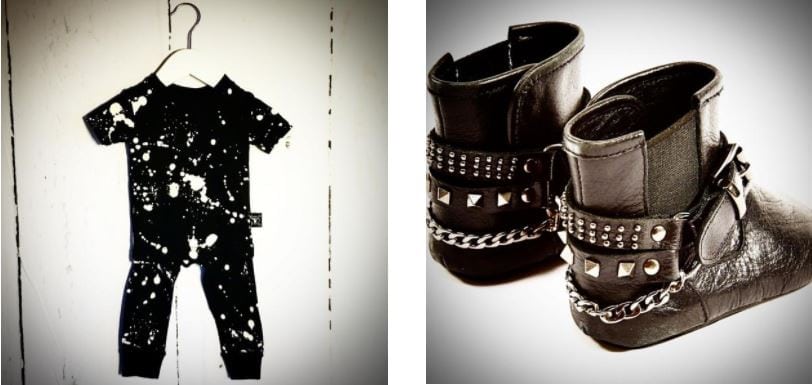 Fun fact: Cookie Couture Clothing's  trendy, European-influenced pieces actually help a baby's development! The stark black and white contrasts stimulate baby's vision! I can't help myself: I'm a teacher; educating is what I do.
And now the giveaway*. All you have to do is enter your email address RIGHT HERE for a chance to win a tee of your choice and $25 Cookie Couture Clothing store credit. Seriously, that's it. Browse around to see what tickles your fancy, and be sure to check out the adorable little models on Facebook and Instagram!
Special thanks to my fantastic neighbor, Rylie Celo, for extending her photography talents and limitless patience! We appreciate you!
*Giveaway open until June 12th; winner will be chosen randomly by Brandi and notified via email*
I was compensated to advertise these ridiculously adorable clothes–how lucky am I?!
UPDATE: OUR WINNER IS Jeannette B! CONGRATS!