I see all these fashionable ladies with their beautiful jewelry walking around in their knee-high boots that would come up to my crotch, and I ask myself, "Why are you so afraid to accessorize?!"
It's not my fault I'm barely 5'1 and these adorable fall boots swallow me whole. But the jewelry thing? I could rock that, right? I self-consciously finger the tiny diamond studs I've been wearing since high school. Whenever I take them out, they're crustified and smell of death.
Why are you so afraid to accessorize? And clean?
Truth be told, because I don't know how (to accessorize. I know how to clean, I just prefer to do it sparingly). Those big bulbous necklaces that look gorg on most gals leave me lookin' like Mr. T.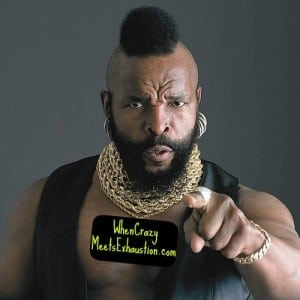 Those little studs are my safe zone, my assurance that I don't let myself out of the house resembling an angry black man with gold chains.
What?
Anyway, so I ran into this girl who used to be my student and who would now be my co-worker if I still taught at the same high school (spoiler alert: I'm getting old), and she's all, "Hey, my mom started making her own jewelry if you're interested."
At first, I wasn't interested. I was exhausted at the idea of having to even think about taking off my simple cross necklace and replacing it with something that would shout, "HEY YOU GUYS, I TRIED! DID I NAIL IT OR DID I FAIL?!"
And then I saw some of her mom's work online and I was like, hmmm…that's kinda nice. It was more than kinda nice, so I contacted the lovely Michelle Pujol with an offer she couldn't refuse. I mean, she could have refused, but I would have cried and ain't nobody want to be on a hormonal pregnant lady's bad side.
Just kidding. I'm very pleasant, right Michelle???
I wanted to get mother and daughter necklaces for me and, duh, my daughter. With the holidays coming up, I thought we could jazz up our outfits and take the focus off of my second trimester nose. When Michelle told me I could essentially build my own necklace, I shat in my pants with glory and took to the www to find a style I loved. Was she really going to let me design stuff?! Was she crazy to give me this kind of creative control? Or just super talented and secure in her abilities to make whatever eff-ed up piece I found look really pretty?
Turns out it was the talent thing: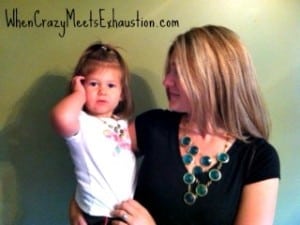 I love the length, color, and style of my necklace. Michelle hit a homerun with that bad boy. And with my daughter's miniature piece…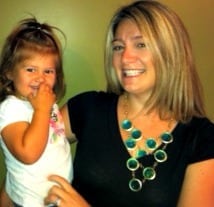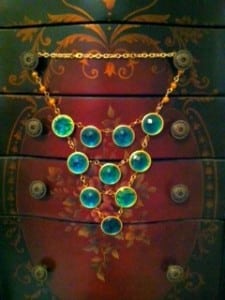 Michelle Pujol owns one husband, two grown children, and two dogs. And her business, Michelle's Mark. In her own words,
I have been crafting something or another since childhood, but started really making jewelry about two years ago when I saw a bracelet in an expensive catalog and decided I could make it for WAY less. Which I did. (Editor's note: when I chose the necklace design I wanted Michelle to make for me, it was from a well-known jewelry company with a ticket price of EIGHTY DOLLARS. Good lawd, that's alotta money!) I found (making jewelry) a very relaxing hobby and found myself designing and making several pieces. My husband and daughter decided that I should go into business, and so this is my attempt.
One of my favorite things about Michelle's work is that she doesn't shy away from non-traditional materials. She's willing to experiment to make a one-of-a-kind piece for me…well, and you. I guess.
I love all the colors and different materials from glass to semi precious stones, metals and other materials and so enjoy making something that makes someone happy. Love seeing people wear my pieces. I love creating, but have also found that I enjoy special requests for customers' special occasion needs. (Editor's note: I had no special occasion, unless you count my ploy to distract family at holiday dinners from my fourth helping of turkey, and allow them to focus instead on the beauty around my neck. Which I do.)
Wondering where Michelle got the name for her business?
The name Michelle's Mark of course includes my name and the concept of a traditional Jeweler's Mark, but also pays homage to my baby brother Mark who we lost much too soon.
So, she's talented, she's a family-oriented Mama, and she's realistic:
My business goals are modest, I don't expect to become rich with this. I just hope to make some nice jewelry that people enjoy wearing and save them a bit of money over the high prices they would pay elsewhere.
You like? You want? Well, okay! Michelle was kind enough to offer ANY of her pieces, valued at $30 or less, to the lucky winner. Remember: Hannukkah is a'comin', as is Christmas. As is my birthday. Just throwin' that one out there for good measure.
All's ya gotta do is enter the Rafflecopter giveaway below, AND peruse
Michelle's Mark Etsy store
to decide which piece you want to take home if you're the big wiener. You don't have much time; the giveaway ends next Thursday and the winner will be announced on Friday, October 25th.
While you're waiting, I'm sure Michelle would appreciate some Facebook love. If you're feeling super enthusiastic, you could share
Michelle's Mark Facebook page
with your pals because that's a nice thing to do.
Enter the giveaway here!!