It's early but I don't care:
let's talk about Christmas!!
Each December, #HusbandWTF and I celebrate each day leading up to the 25th with a fun Christmas Countdown for the kids. Some days we go big: visiting new places, experiencing new things. Other days are simple and we opt for popcorn on the couch and our annual viewing of Elf. Last year we went to Dennison, Ohio where the kids were awed by the magic that is the Polar Express. Highly recommend that trip!
Watching little ones' faces light up is the ultimate goal of our Christmas Countdown, and in effort to spread some early holiday cheer and offset the crazy omg what is happening to our world?!, I'm sharing our ideas below. Use some, ignore some, make some your own. But whatever you do, make it special because our kids are only little once.
I'm not crying you are. Shut up and read.
Broadway Comes to Pittsburgh
Celebrate the holidays with the show The New York Times calls "100 times better than any bedside story!" How the Grinch Stole Christmas is coming to Heinz Hall December 20 – 24th!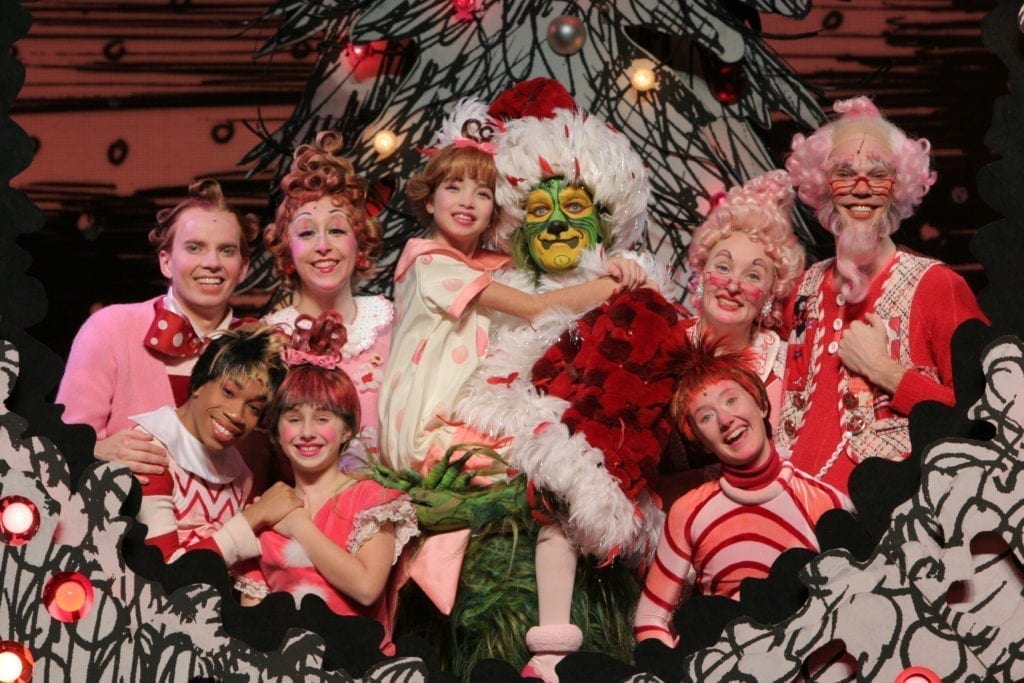 Gingerbread House & Train Display
Don't miss this magnificent display of delicious dwellings created by area individuals, organizations, senior citizens, students and chefs at PPG Place. There is no charge for admission. Donations are collected in the PPG Place Wintergarden for the Children's Hospital of Pittsburgh's Free Care Fund.
Hard Rock Cafe Santa Fun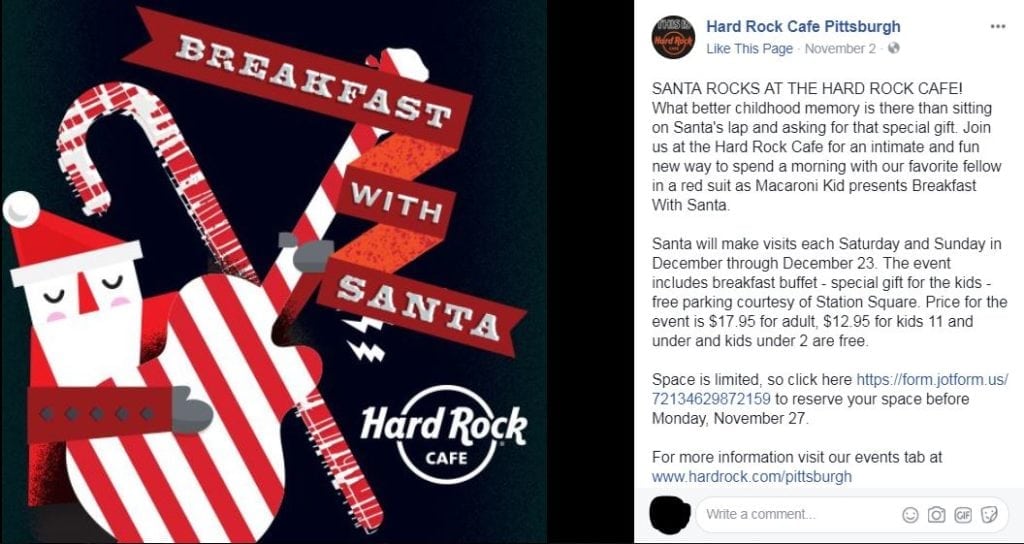 Lights!
I adore Christmas lights displays, but I do not adore the throngs of people or cold temperatures that are a direct result of said lights displays. Next best thing? Bundle into the car–don't forget your thermos of hot chocolate–and drive around neighboring towns to check out their decor. Leechburg Lights, a synchronized lights and music display, is always on our Countdown list because the kind soul behind the display does it just to bring others joy. What a concept, eh?
Outdoor Fun
Ice skating at PPG Place, sledding, snowball fights, building snowmen–anything that gets the kids outside and into the snow is a huge Countdown hit. A fun spin on playing in the fluffy stuff is to do it after dark. Granted, it's colder and this Mama is usually quietly miserable, but the kids can't get enough of the sparkling snowflakes, aglow beneath a blanket of stars. It really is beautiful even if I hate every second of it.
Look Local
Our high school always hosts a Breakfast with Santa complete with crafts, games, and prizes. My husband's golf club does the same. Businesses around the area usually celebrate the season with something festive, so keep your ears and eyes open for these often free or super cheap opportunities.
Simplify
A kid has a cold, you don't feel like getting a shower that day–whatever the reason, leaving the house isn't an option sometimes during the Countdown. No biggie! These ideas are still fun and don't require pants:
Snuggle up and watch holiday movies together
Let the kids open a gift
New winter PJs for everyone! (and a short photo shoot, of course)
Make a Christmas craft or bake cookies, then give them to someone who could use a smile
Blast the Christmas carols and commence a family dance party
Read a holiday-themed book
Give Back
One stipulation of our Christmas Countdown is that our kids have to give back in some capacity. In year's past, we've gathered clothes and boots that no longer fit and donated them to a local charity. We always donate food to the food bank and choose names off of our Angel Tree at church. It's important to ring in the season with love in our hearts, and there's no better way to do that than to share the love. Sharing is caring, after all.
Merry Early Christmas
&
Unseasonable Season's Greetings!