It was about 2am, and I was in the middle of one of those dreams so vivid you swear it's real life. Surround sound, bright colors, and voices so clear and articulate you wake up looking for the people who were just in your brain. The best part of that kind of dreaming is suspending reality for a brief moment and entering a world where anything can happen. The worst part is being awakened during the deepest part of that sweet sleep to the sounds of retching strawberry vomit all over your bedroom floor, and then jumping out of bed with zero foresight and stepping right in the fruity mess.
"MUMMMMMMMMY!"
My three-year-old.
She had been complaining of a belly ache earlier in the day, but we thought exhaustion was just doing its thing. Apparently that upset stomach was more than a sleepy gal because its contents now resided in the threads of our beige bedroom carpet.
Life gets nuts when the kids get sick. Washing bedding and changing clothes and sanitizing ALL THE THINGS and caring for the patient 24/7 can be overwhelming, especially when it's all being done on limited sleep. Splash some water in your face, parents, because a sick kid is a kid who needs Mom and Dad. We've got to be on our toes even in the middle of the night, and even if they're covered in barf.
The following tips from the KnowYourOTCs site will help avoid results like those reported in a 2014 study in the journal Pediatrics: every eight minutes, a child under the age of 6 experiences a medication error outside of the doctor's office or hospital.
Because I'm a huge dork, I like to name things and I'm very pleased with myself when they rhyme. I'm so simple. I give you: tips on being a Proper Dropper!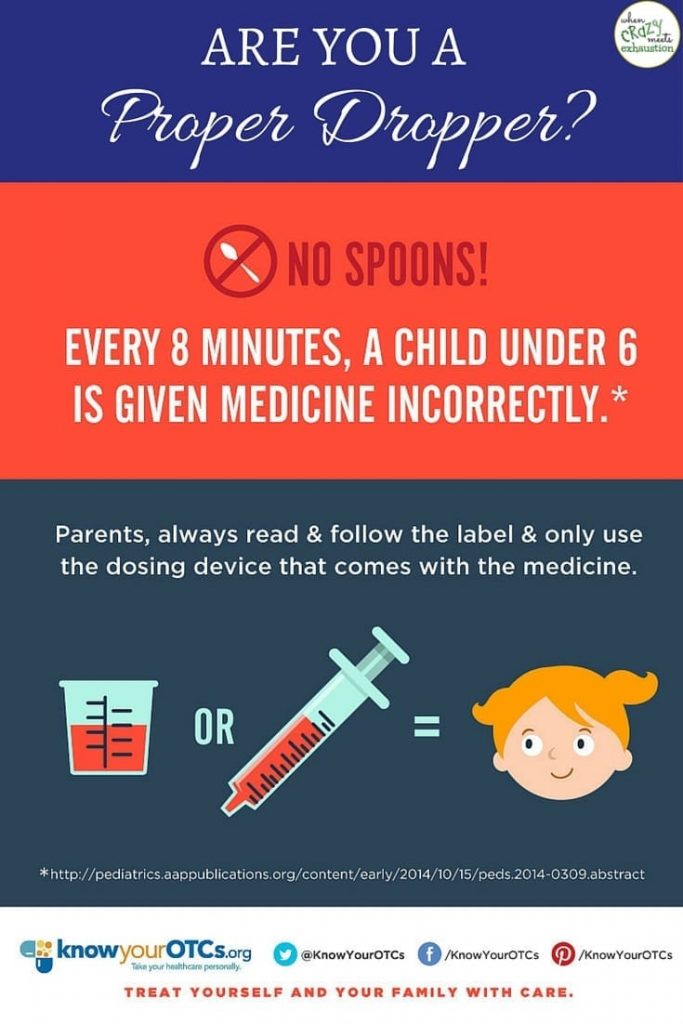 Always read and follow the label.
Always give the recommended dose and use the correct measuring device.
Only use the medicine that treats your child's specific symptoms.
Never give two medicines with any of the same active ingredients.
Never use cough, cold, or allergy medicines to sedate your child.
Never give aspirin-containing products to children and adolescents for cold or flu symptoms unless told to do so by a doctor.
Do not use oral cough and cold medicines in children under four.
Do not give a medicine only intended for adults to a child.
Stop use and contact your doctor immediately if your child develops any side effects or reactions that concern you.
Keep all medicines — and vitamins, too — up and away and out of your child's reach and sight.
Teach your child about using medicines safely. Tell your children what medicine is and why you must be the one to give it to them. Never tell children medicine is candy to get them to take it, even if your child does not like to take his or her medicine.
Being a Proper Dropper means you read and following the instructions on the medicine. Don't "eyeball" a dose, and don't assume you know the ingredients. Check yourself before you wreck yourself, fool!
Ok, I'm done listening to 90s hip-hop now.