When my husband and I first started dating, his sweet mother made an earnest attempt to get to know me. We shared many a'conversation over yummy dinners and hung out in the stands of countless baseball games. After an abundance of time together, she eventually smiled at me and said, "You're one of those feminists, huh?"
She got me, you guys.
I've given her two granddaughters and I hope she'll one day look at them with the same smile and say, "You girls are feminists, huh?" Because in our home, a feminist is a person who believes in equal rights for all women. And those rights unquestionably extend into the classroom because our ancestors didn't wear pants and fight the good fight for us to take our education for granted. With an education, anything is possible.
Society of Women Engineers (SWE) agrees and that's why they've spent the last six decades opening doors for females in the STEM fields, particularly in the engineering industry. One such door is about to open for girls in grades 6-8 right here in Pittsburgh.
SWENext DesignLab Pittsburgh 2017
When: Saturday, February 18, 2017
Where: Omni William Penn Hotel; Pittsburgh, PA
Time: 2:00 p.m. – 5:00 p.m. (Check-in opens at 1:30)
The SWENext DesignLab offers two concurrent programs: one is an awesome opportunity for young girls to get their feet wet in engineering; the other provides parents and educators with the information and tools they need to support their students.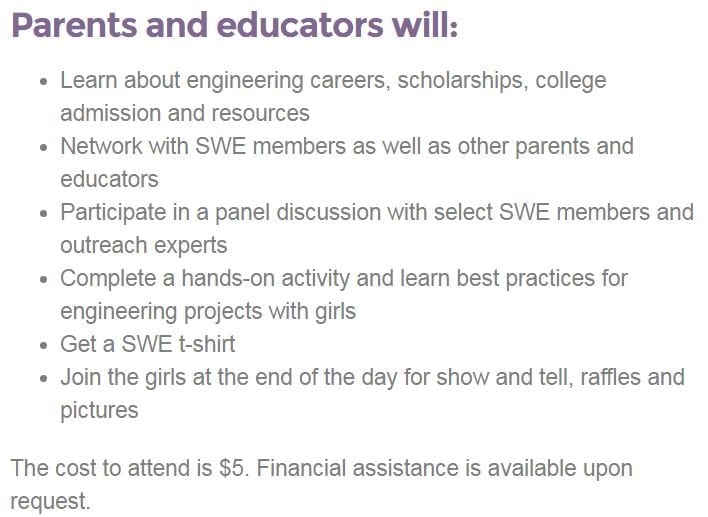 For more information, you can contact designlab(at)SWE.org
Imagine a room full of girls preparing to do what has historically been men's work. Did you get chills or was it just me?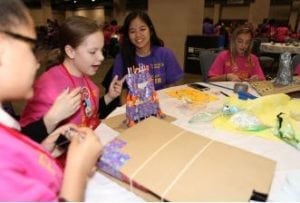 Learn more about the event HERE
Register HERE
Download the event flyer HERE
Oh and hey! If you know a junior or senior high school girl who is already interested in all things STEM, the SWENext Northrop Grumman High School Community Award Pittsburgh is a fantastic way for her to get involved. She'll explore the question:
How would you use STEM to improve Pittsburgh's infrastructure to benefit both the environment and the people?
But hurry–applications are due by the end of the day tomorrow, February 3, 2017!
For more information or to follow along on social media, use hashtags #WELocal and #Pittsburgh.
Go forth, girls–make us proud! And have a little fun while you're at it!
This is a sponsored post; it was my pleasure to collaborate with SWE