You ever pay attention to the search terms that result in people stumbling aimlessly upon your blog? I really haven't given them much thought…until today:
How to establish yourself as a rapper. 
Finally, Kanye West is reaching out for help! It's his lucky day because I wrote a post about writing a rap song a few months back. HERE, Kanye. Enjoy.
I was curious to see what else people are smacking off of their keyboards to inadvertently find me. Here are a few of the weirdest all-time search terms in no particular order of weirdness: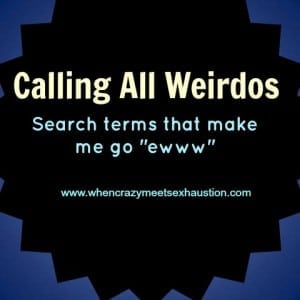 1. Eyebrow lady. I know I talk about my eyebrows a lot, but you don't understand what it takes to keep them under control. They grow together, up, down, and out. If I won the lottery tomorrow, I would pay someone to keep those sons of bitches in their seats for good.
2. I want to be size happy. This one was nice. But it made me wonder if the lost soul found THIS post I wrote after having my son almost four years ago. Warning: if you're not already aware of the ridiculous ways your life (and body…) will change after birthing someone, don't read this. Just go to Starbucks with your People magazine and do you.
3. One year old little boys just wearing diapers while dad rubs his privates between his legs. I'm not even commenting on this one.
4. Spanks. I'm pretty sure this person was looking for Spanx-related information. Otherwise, sorry to disappoint!
5. Crazy bloggers. Now this person has found the right place. Welcome!
6. Mom puts kid in scissorhold. I vaguely remember writing about this, but I'm too lazy to look for it. Please note that I only do this when cutting my kids' fingernails or using that booger-sucking contraption. Don't judge.
7. Solo touch sex with babysitter. Note to self: only let the grandparents babysit. Dani Ryan, if you're reading this, STOP!
Did I tell you that my goal is to put my March Madness (I've since renamed NaBloPoMo because it hurts my head to remember that) down in 15-minutes or less? It's like I'm back in high school doing a timed writing. I'm such a dork that it actually excites me.
Until tomorrow, pals! Happy Saturday!