I love my husband. I really do. Which is why I remind him. I beg him. I plead with him.
When that doesn't work, I am not ashamed to say I have resorted to threats.
I will leave you. I will not take the kids.
Despite my attempts, he continues to do it. Or, rather, not do it.
I groggily wipe the sleep from my eyes, saunter into the bathroom, and prepare for my first tinkle of the day. You know the one: shoulders relaxed, eyes water ever so slightly upon release, and a satisfying yawn passes through your body and is lost in the still, quiet air. And then…
I lift the lid to find the husband's morning BM staring back at me.
Serenity, NOW.
Each time this happens, I am filled with senseless rage. I have visions of myself jumping in the car, driving to his place of employment, and attacking him like a cougar pouncing a wounded zebra.
In an effort to control my blood pressure and avoid a prison sentence, I have created the following visual. It shall adorn the walls of my bathroom and serve as a gentle reminder that we are a family who flushes.
And, husband, I know you're reading this. Let's make this happen, mmmkay?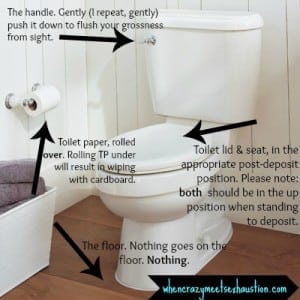 If anyone in your life requires a constant reminder to flush the mother effing toilet, please, feel free to print this, laminate it, have it made into wallpaper. Just know that I'm here for you, poor soul who is forced to lay eyes on another's horrendous dump. I feel your pain, and I am here to help.