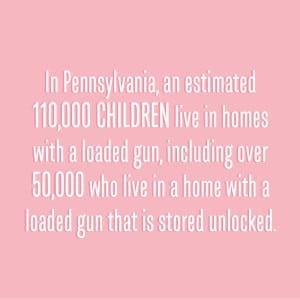 I used to play at a friend's house where her father's gun cabinet was the first thing we saw when we ran downstairs to her game room. Long rifles with thick straps were right there, at the base of the steps, staring at us. I remember feeling intimidated because my parents didn't own guns, my father didn't hunt. In fact, my family is a rare commodity in western Pennsylvania, as none of us hunt.
SHUN HER!!!
Okay, simmer down Pennsylvanians.
Despite my friend growing up with the gun cabinet permanently situated a floor below her bedroom, she never entertained the idea of opening it or "playing" with its contents. For one, the cabinet was locked. Also? Her dad put the fear of God into her and all of her friends who came into the house: you do not touch the guns.
I can't speak to whether or not the guns were loaded, but I know for sure they were inaccessible, out of reach behind wood and glass and metal, and had I so much as looked at them crooked, my ass would have been grass.
Unfortunately, that was not the case for Daniel*.
Daniel was a middle school boy, well-liked by teachers and other students. The constant smile on his face hid the struggle with his on-again, off-again girlfriend, and as far as friends could tell, he was dealing with her break-up/make-up routine fairly well. After all, it was middle school. Isn't that what boyfriends and girlfriends do in middle school?
You know what they don't do? They don't shoot themselves in the face in front of their best friend in a game room just like the one I used to play in.
I can't even begin to understand what Daniel was feeling as he planned to commit suicide over a girl. One so careless with his heart; technology made it all too easy for her malicious words to seep into Daniel's pores. Empathy vanishes when behind a keyboard.
How did Daniel get the gun that would end his life and shatter his family's?
Why wasn't the gun locked or unloaded?
Did Daniel's friend, whose innocence was destroyed upon witnessing the brutal scene unfold, even know there were guns in the house?
Did his parents?
I am not telling you this story as an anti-gun kind of gal. I share this with you because I am a pro-kid kind of gal. The kind who wants to save a life (or a trillion) by asking a simple question: are there unlocked firearms in your home?
If the answer to the above inquiry is yes, my children will not be playing at your house. If they do, I will be with them, on them, like flies on fresh crap because there is absolutely no way I am taking a chance that what happened to Daniel may happen to my kids. Or what happens to nine kiddos every day: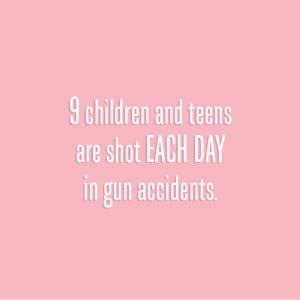 The risks too great; the stakes too high. Our children should not be an afterthought. They are our priority. And that is why the Center to Prevent Youth Violence has launched the ASK Campaign here in Pittsburgh, Pennsylvania.
ASK (Asking Saves Kids) is exactly what it claims to be: a simple question.
The ASK Campaign inspires parents to protect their children by asking, "Is there a gun where my child will play?" when arranging their children's playdates or visits to others' homes. 'Tis the season for visiting. Great Aunt Sally's fruit cake will beckon you to her house; Gramma and Pap's turkey and fixings will find you at theirs. Maybe your little one made a new friend at school and the break from class is the perfect time for them to hang out. Lots of places for our kids to go. Are they all safe? Food and friendship aside, ASK.
The ASK Campaign's initiative extends across Allegheny County, but that doesn't mean the question stops here. Be proactive. Be responsible. Be a life-saver. ASK.
So what comes after ASKing? You can certainly start by liking the ASK Facebook page. From there, I hope you will spread the word. Raise awareness. And seriously, ASK.
For more information on the ASK Campaign, check out an op-ed in the Post-Gazette and a news article in the Tribune.
*I changed Daniel's name for the sake of privacy. Feel free to replace Daniel with your child's name as this could be your story if you are not a responsible gun owner or if you don't ASK.