When I get a hankering for another baby, my husband runs from me. As a result, I'm left with no choice but to throw myself into a new project. Having developed a slight obsession with Home and Garden TV, namely the shows House Hunters, Property Brothers, and Fixer Upper, I've been leaning toward home improvement projects. Since neither Chip or Joanna has returned my calls, the projects have been of the DIY variety. So when I got the bright idea for a kitchen update, husband and I were on our own.
Let me clarify that: husband was on his own.
You see, I'm the idea lady. When it comes to the manual labor, a DIY-er I am not. OHMYGOD I JUST REALIZED I'M JOANNA AND MY HUSBAND IS CHIP!
Ahem. Excuse me. Where was I? Yes, I married a man who can learn stuff from YouTube, and it just so happens Patience is his middle name. So when I was all, "Hey, let's totally re-do our not-even-10-years-old kitchen cabinets!" he was at least willing to hear me out. But he did require a few things:
1. A realistic budget (less gets me more)
2. A realistic timeline (turns out asking your baseball coach husband to do anything during the season takes for-ev-er)
3. A realistic starting point (we are keeping our white appliances until they die. Or until I intentionally kill them. Shhh…)
To combat husband's first requirement, I contacted the fantastic people at Air Stone on the recommendation of true DIY-er, Stephanie Giese (you MUST check out her blog. She and her husband designed and built their dream home, and if they weren't the nicest people on earth, I would be dripping with envy).
Air Stone gifted us enough gorgeous Autumn Creek to wrap our boring kitchen island in rustic faux stone reminiscent of a Tuscan village. I'm just guessing on that one; I've never been, but I hear it's lovely. Since the Air Stone, our island has become a fantastic focal point of the room. It was incredibly simple to do, especially since wrap-around corner pieces are included–less measuring and cutting for us!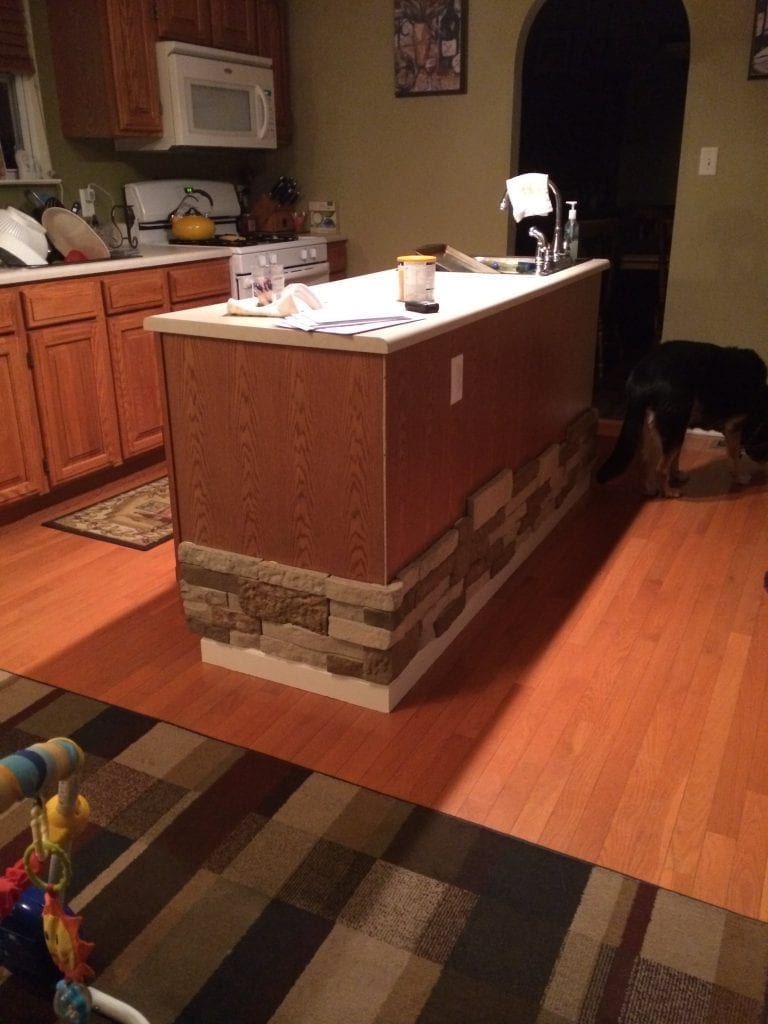 You'll see that the island, cabinets, drawers, and floor all matched. Blah. I wanted some pop to the room, and Air Stone did the trick: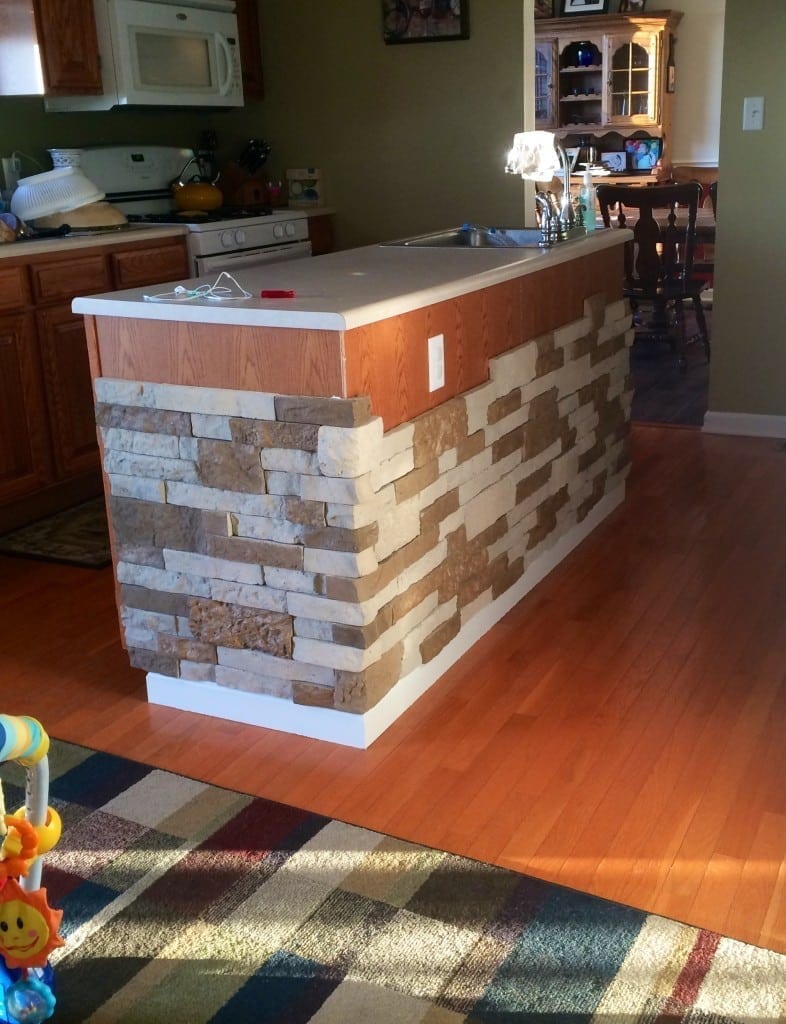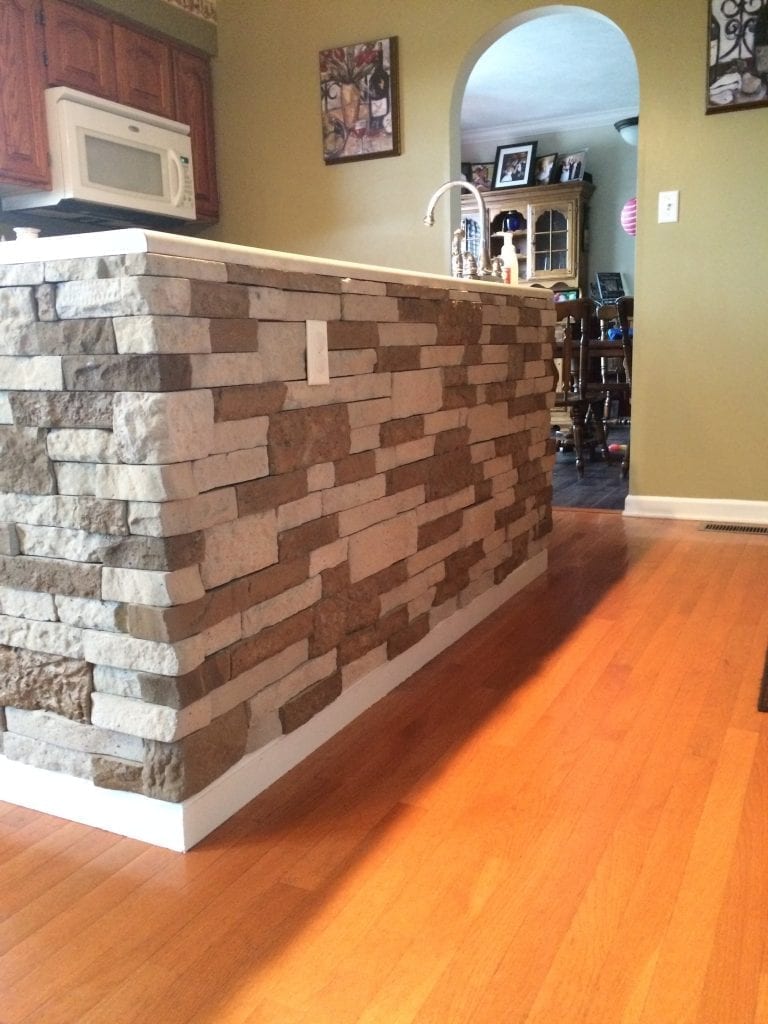 Here are important points to consider when using Air Stone, according to my husband:
1. The most difficult part of the application was cutting the smaller pieces toward the top; not only do you have to cut them vertically, but you also have to make precise cuts horizontally to ensure the stones are flush against the top of the counter.
2. Because Air Stone mimics natural stone, heights vary slightly. Trust me, it looks awesome, but it can mean dealing with various sized gaps between the stones. For instance, one stone might be 2 inches high and another 1 7/8 inches. To make up for the difference, use a level to ensure straight lines, and a toothpick or a piece of cardboard to "set" the stone while the glue is drying. They will serve as a guide for where to place the next stone since the goal is equidistant apart; this minimizes big gaps above or below the stones.
3. You'll see that we have an electrical outlet there in the stone (above photo). While we had a few options when dealing with it, we ultimately decided to extend the outlet rather than build around it. This is because it would have been introverted and difficult to access, which means we wouldn't have been able to plug in a big adapter if needed. Also, it would've looked a little silly.
4. Despite this being an interior project, we used exterior adhesive. Air Stone suggests exterior when gluing onto wood or anything that might get wet. We have a sink in our island and three small kids, so wet? Yes.
For other installation tips, check out Air Stone's printable guide HERE.
The other side of the island is home to our dishwasher, drawers, and cupboards. So we opted not to Stone that side. Instead, I had a brainstorm to paint all the things WHITE.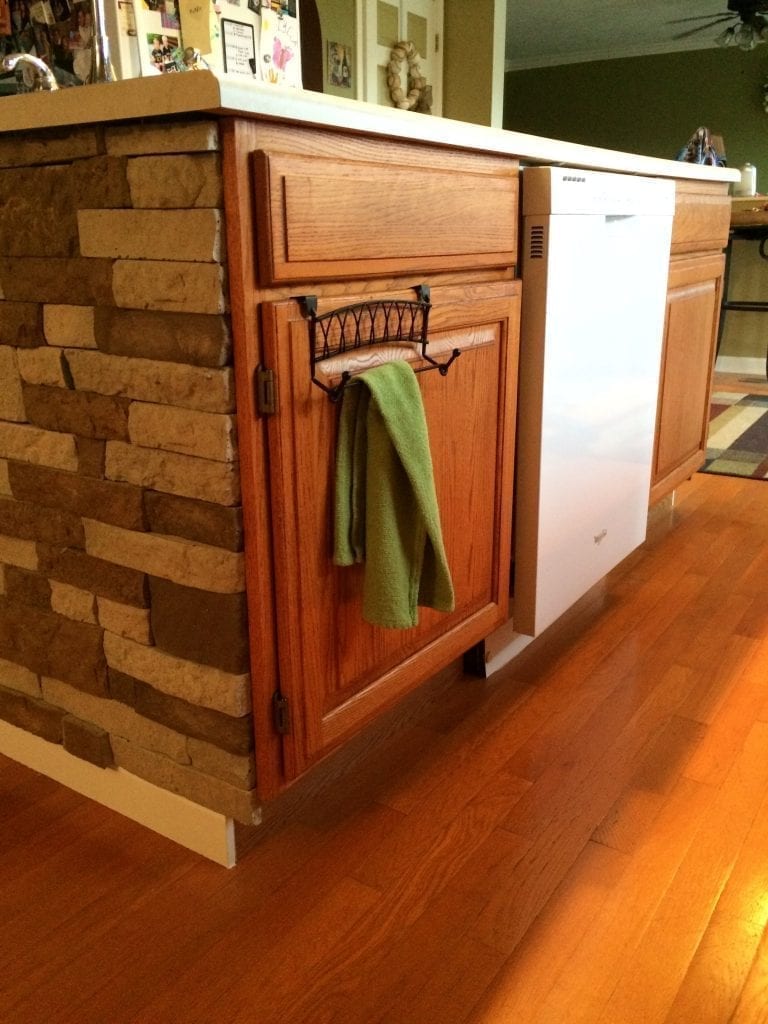 I'm not really a fan of the wooden cupboards against the wooden floor with a wooden island, and though the Air Stone definitely gave the room some character, I still wanted to lighten the place up. Husband was on the same page, so, a'painting we did go.
Correction again: a'painting my husband and our handy neighbor did go. Since it wasn't baseball season and because they dedicated two full days to the project, my kitchen turned from wood to white in less than 48-hours. LOVE!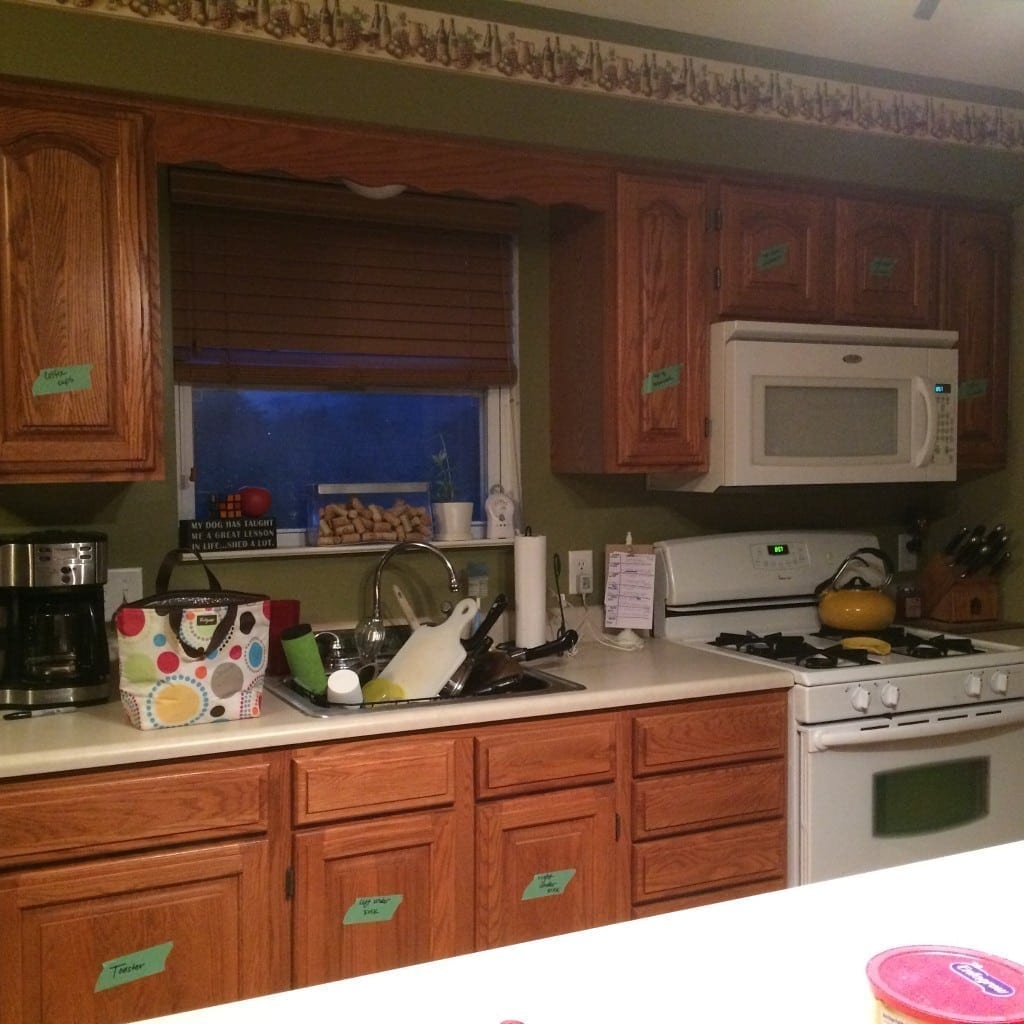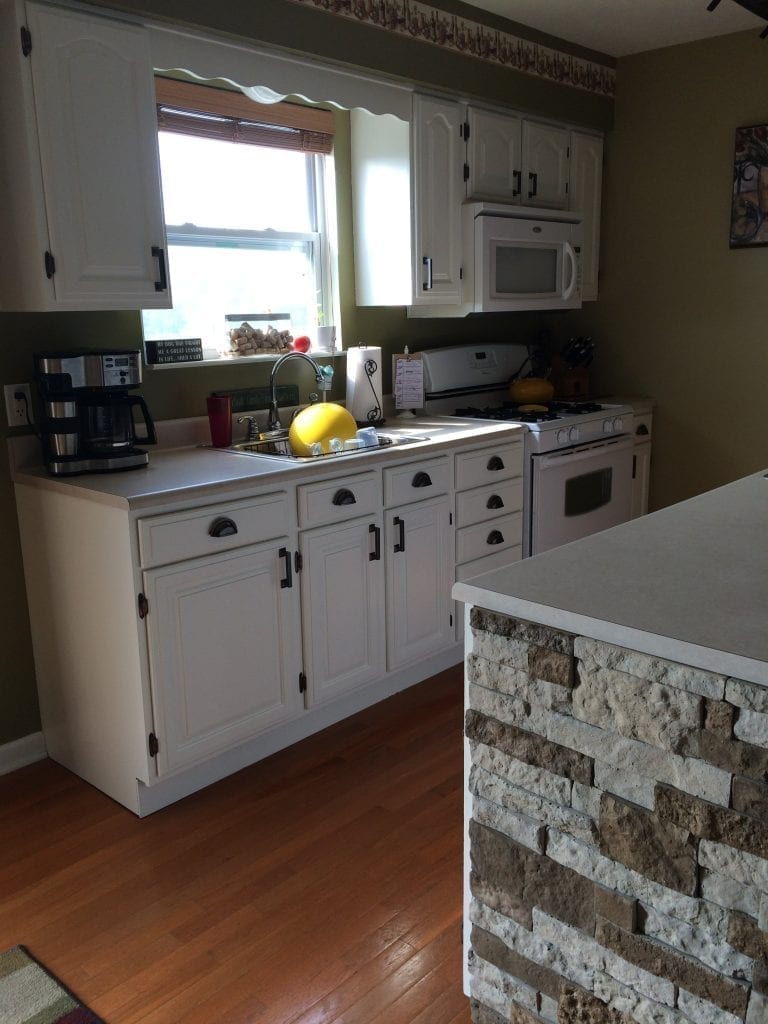 I hear you making fun of the WALL PAPER BORDER we put on the bulkhead above the cabinets. Scoff, I deserve it. Those bad boys were my choice about 7 years ago and I've hated them ever since. The long-term plan is to remove the decorative piece of wood by the window, then replace the border by extending the crown molding in our living room throughout the kitchen. Long-term means don't hold your breath.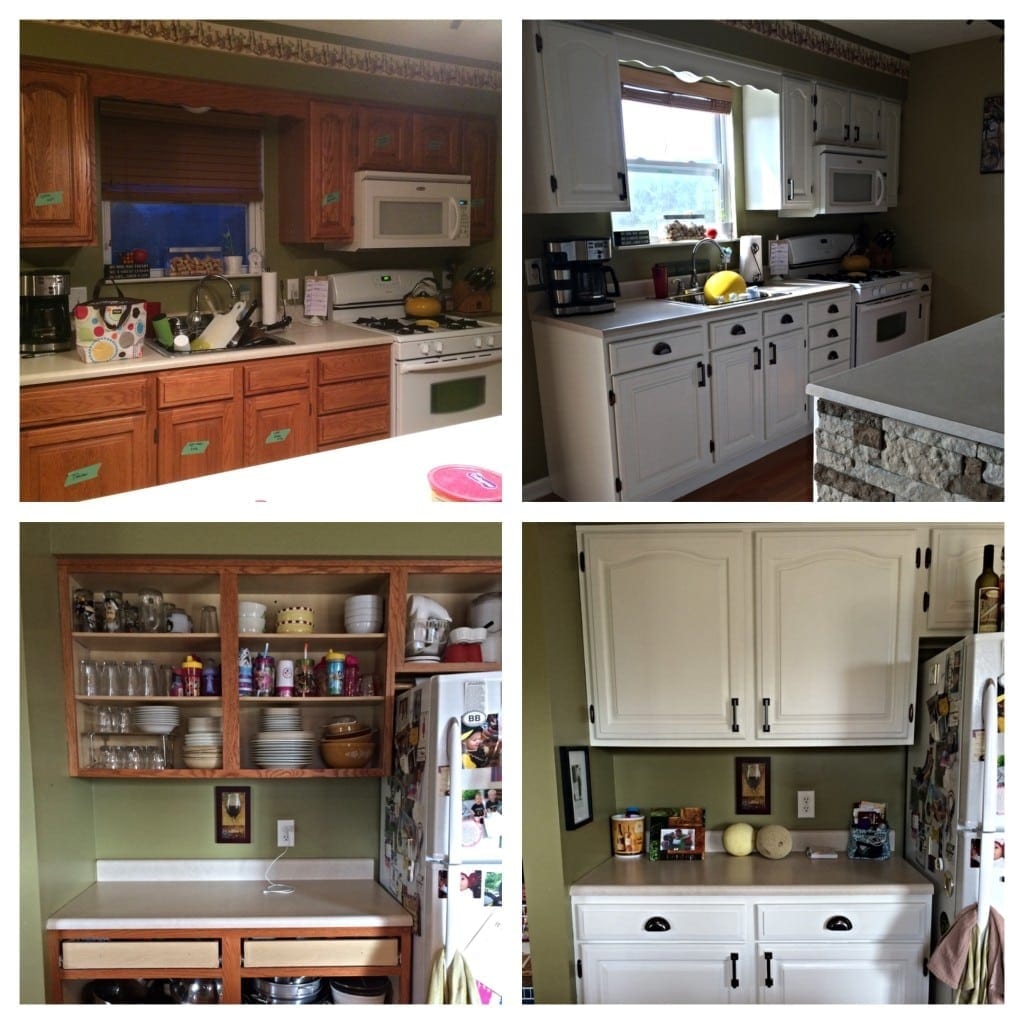 We had been wanting to add hardware to the cabinets, and we finally got the chance. We chose two different pulls and replaced all the hinges. At first I thought the hinges were a waste of time and money.
NO.
Such a little detail really does make a big difference, and I'm glad we forked over the extra dinero so everything matched.
One thing to note about the drawer pulls: I thought they were going to be flush against the drawers, but there's actually a pretty big gap:
At first I was like, "Uhhhhh…no," but they've since grown on me. Let this be a lesson to us all: some things are best purchased in person rather than online. Duly noted.
Since I work from home, I'm in this space an awful lot, and I'm so happy with how it turned out. I still have grand ideas to change and upgrade more (counter tops, anyone?!), but until we hit the lottery, I've been told to SIMMA DAHN NAH!
EDITED 2/16/2016:
I'm proud to report the wallpaper border is now a thing of the past. The same handy neighbor who helped paint the cabinets extended the living room crown molding into the kitchen and I couldn't be happier! I totally underestimated how hot precise cuts and angles are.
For your convenience, and my budget, I shopped around for everything; links below will take you to our choices.
Home Depot, Hickory Hardware collection:
Cabinet handles: Studio Collection 96 mm Oil-Rubbed Bronze Cabinet Pull
Drawer pulls: Williamsburg 3 in. Oil-Rubbed Bronze Highlighted Cup Pull
Lowes:
Hinges: Style Selections 2-Pack 2-3/4-in x 1-3/4-in Aged Bronze Surface Self-Closing Flush Cabinet Hinge
Paint: HGTV Sherwin Williams Dover White in semi-gloss
Though we got ours for free, you can buy Air Stone products at Lowes!
Let me know if you have questions about anything we did, and if you have pictures of your own before and after DIY projects, link me! Maybe Chip and Joanna will hear us if we ALL call them.