I wake up, the 3 and 5 year-olds wake up. Someone yells out breakfast requests like I'm a short-order cook, the dogs have to go out. Breakfast served, the baby's babbling upstairs in her crib, I've yet to brush my teeth. I throw a load of darks in (invariably forgetting them in the washer until later in the evening), splash some water on my face–AKA: A Mom Shower–, and change and dress the baby.
We head back downstairs where the 5-year-old is requesting second breakfast, the dog is trying to eat the 3-year-old's leftover raisins, and the clock is taunting me with 15 minutes left before we have to get out the door or the world explodes.
At least that's what it feels like will happen.
Mornings are super crazy in our house, and my kids aren't even in school yet! I don't know what I'll do when the bus, instead of me, is responsible for transporting my little pals, but I know that our schedule won't have near the flexibility that it does now. My Type A personality and I thought it would be a stellar idea to get into a morning routine now rather than later, to kind of absorb some of the early AM shock that will undoubtedly slap us in the face come Kindergarten. (WAAAAAAA! Kindergarten!) Fortunately, these 5 tips to organizing my morning have helped tremendously, and will hopefully work for you, too!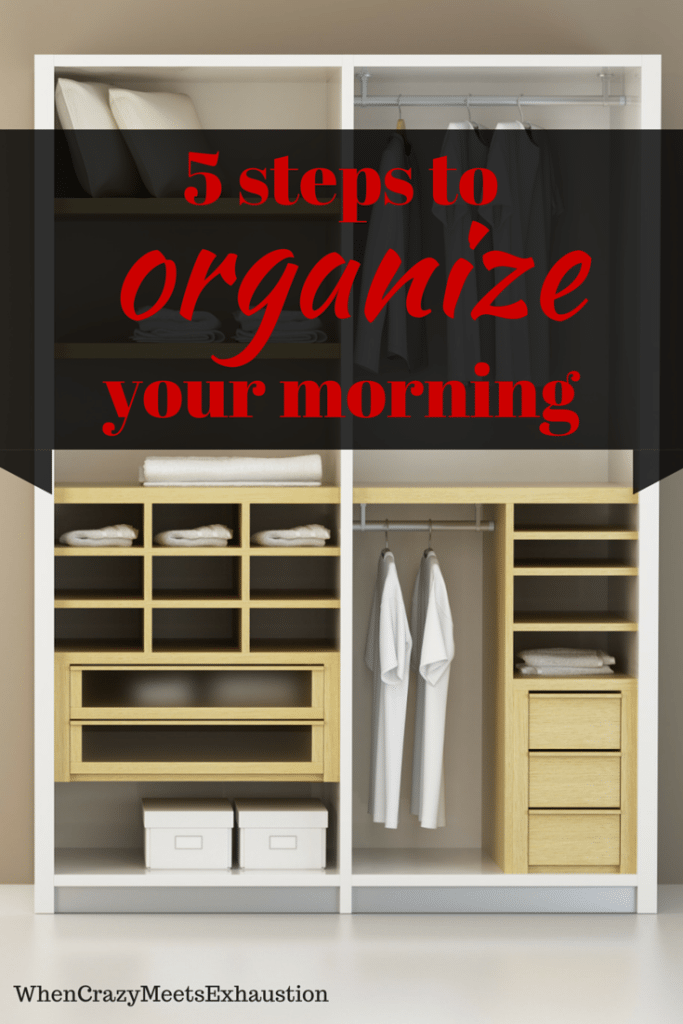 1.
Prepare the Night Before

:

Pack lunches, lay out and iron clothes, put all school work in book bags the night before. There is no better way to smother a morning with anxiety and stress than to rush around right before leaving the house. Did you forget something? Will you worry about it until you've reached your destination? STOP IT! Prepare the night before and maybe you'll earn yourself an extra minute of quietly sipping your coffee at the kitchen table. Hilarious, right? You know a dog is gonna barf or the kids are going to get all WWF and start pummeling each other, so there goes that, but stay positive. Prepare!
2.
Organize High Traffic Areas

:

In the mornings, one of the most densely populated areas in our house is the kids' bathroom. There are four people (3.5 if we're being realistic about the baby) stuffed into one bathroom, all brushing teeth, doing hair, and other morning things at the same time in the same small space. It used to be a free-for-all until I got smart and stopped obsessing over aesthetics. Now I don't care about a bit of clutter on the countertops; if the kids' can reach their toothbrushes, leave them in a cup on the counter! Whatever they need and can use is within their reach, and although it doesn't always look so pretty (toothpaste on the walls, anyone?), it allows them to be independent and frees up my hands to do other important morning things. Like blow raspberries on the baby's belly. Essential.
3.
Stick to a Coming Home Routine

:

This may sound strange seeing as how we're talking about leaving the house, but what you do with your stuff when you come home makes a difference. I used to fling my keys onto the kitchen counter, drop my purse and diaper bag on the floor, and hang my coat on the back of a chair. My kids did the same: shoes somewhere, coats somewhere else. Then I started getting really stressed (read: ticked) when I couldn't find my keys. My husband was always looking for them and in the time it took us to locate them, we could've been in the car and halfway down the road. I used to be super organized (thanks, childbirth), and wanted to regain a sense of order if only that meant putting my dang keys in the same spot every day. Same with the kids' shoes and coats. Enter: IKEA's PS Shoe and Coat Rack. It's adorable, functional, and everything is at eye level for my kiddos.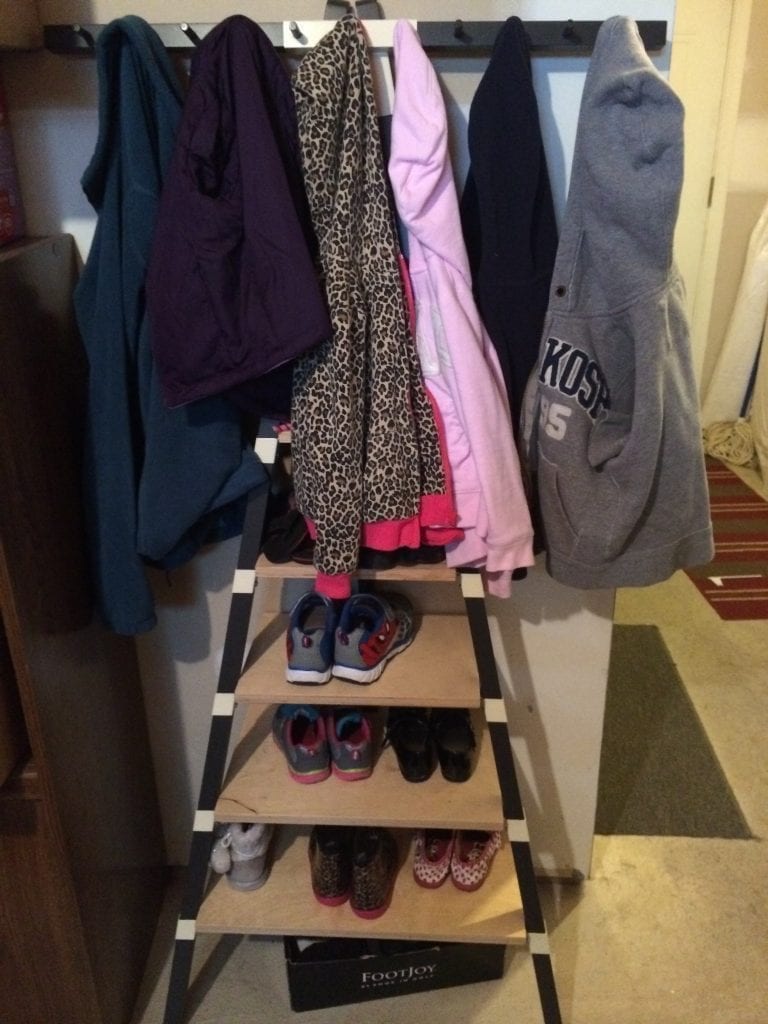 4.
Everyone Helps

:

Even though my kidlets are little, they've still gotta earn their keep. My 5-year-old is responsible for letting the dogs out in the mornings, and my 3-year-old's job is to put breakfast plates in the sink. They're small tasks, but helpful nonetheless. And the look of pride on my kids' faces when I commend them on a job well done is the best.
5.
Wake Up Earlier

:

This one is hard, so don't throw something at me. If you can swing it, wake up earlier than everyone else. Get your "you" time in, whether that means reading, exercising, or sitting like a zombie until your internal clock catches up. Whatever it is for you, take the time to do it. My husband wakes up at 4:45 to fit exercise and school work into his day; that way, he doesn't have to do those things when he comes home and he can give the kids his attention. I'm not as willing of a participant in the early mornings, though I have been waking up before my troops to work-out. I hate to admit it, because I feel like I'm a traitor to sleep, but I am a happier Mom when I've had some me time, even if that means snagging it at 5:30 AM.

Good luck with your morning routine, and remember: when you need some extra pep in your step, Kahlua in the coffee.

I was compensated to participate in Ikea's national "The First :59" campaign; the ideas and opinions in this post are all mine.