Every parent worries they could potentially raise an a-hole. It's true–ask any of us. Our fear of adding to the already overflowing pool of a-holes is palpable. It's up there with the fear that our children divulge embarrassing secrets to their teachers then we have to look those teachers in the face at conferences and worry if they know we maybe possibly probably screamed the F-word that one day a big spider scared the bejeezus out of us and the kids overheard and were all OOOOOH MUMMY SAID A BAAAAAD WORD!
Where was I?
Ahhhh, yes. A-holes. Parents strive to raise human beings who are generally nice people. The thing is, though, we can't be sure we're doing a good job until our kids are, like, 18-years-old which is a really long time to get any return on our investment. That's why I was so proud when my 3-year-old accounced she wants to donate some of her toys to kids who needs them.
Technically, she said she wants to "doNATE" them because she's puts the emphasis on the wrong syllable and it's my favorite thing ever. At any rate, the little tyke gets it–she understands the importance of giving!! So please excuse me while I pop my collar and enjoy this #MomWin for a moment…
*basks in glory*
*8-year-old farts in church*
*back to reality*
So if I Shall Not Raise A-holes is also among your parenting commandments, let's talk about how to make it happen.
412 Food Rescue, a Pittsburgh-based organization that refuses to let good food go to waste, is a great place to start. You should absolutely download their Food Rescue app so you and your family are connected to the organization and able to pitch in where you can. The app is available for iTunes/iPhones and Googleplay/Android.
Here are three more realistic ways you and the fam can help:
'DoNATE' to 412 Food Rescue
By donating to 412 Food Rescue, you ensure that good food is reaching individuals and families in our community. There's a variety of ways to help:
Make a monetary donation
Ask friends and family to donate in your name
Host a fundraiser / raise money online or in person (such as at a holiday party or similar event with friends, family, coworkers, or similar group) on behalf of 412 Food Rescue
Donate your time and volunteer with the organization, which brings me to…
Be a #FoodRescueHero
The holiday season is often a time to reflect on what we are most grateful for and a lot of us resolve to do better, to do more. You can make a difference by joining 412 Food Rescue to spread joy, comfort, and sustenance to those who need it most. Sign up to deliver food:
Family rescues – kids home for the holidays? Want to take part in a meaningful activity together that benefits our community? Download the 412 Food Rescue Hero app today to explore real-time rescue opportunities.
Already an experienced #FoodRescueHero? Take the next step and commit to rescuing on a regular basis. There will be a growing number of available rescues this holiday season and into the new year. Email Mel at volunteer@412foodrescue.org if you can help!
Share this "6 Ways to Volunteer" graphic! Throw it on Facebook, share it on Twitter–the more eyes we get on this thing, the more bellies we can fill!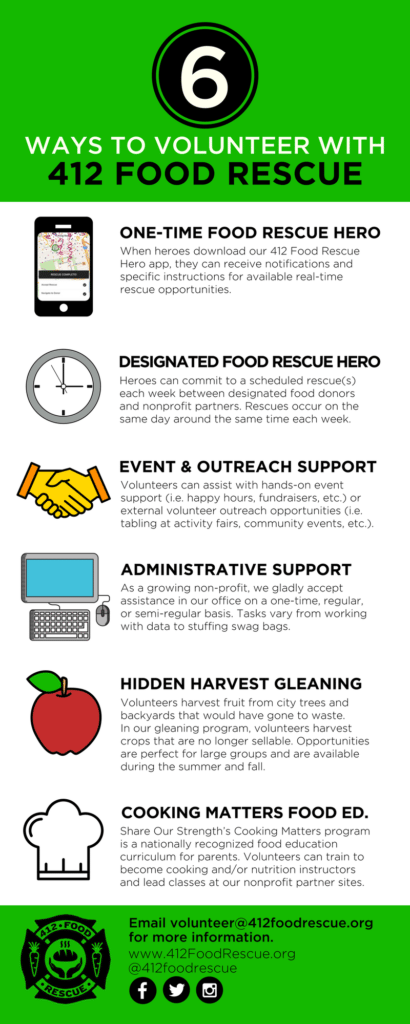 Help end food waste this season
For many of us, the holidays are a time of abundance. To be more thoughtful this season, we can take these steps to reduce food waste:
At the grocery store

Be like Santa: make a list and stick to it (I do this religiously and almost always stay on budget–another perk of sticking to the list!)
Buy fresh veggies that you know you'll use. When cooking, use them first, then supplement with frozen veggies so you know they won't go to waste if you can't get to them right away (this also saves you money!)
Before you go to a bulk-discount kind of store, ask yourself if you really need that 5 pound bag of whatever. More isn't always better.
Only buy food you know you will eat.

At Home

Commit to using everything up in the fridge before refilling.
If you take home leftovers from a restaurant, actually eat them!
If a recipe says it serves four, but there are only two people, halve every ingredient. And if it makes leftovers, eat them!
Only cut fruits and veggies right before you cook or eat them.
Freeze fresh meat unless you plan to use it within a couple of days.
PRO TIPS:

Remove rotten apples right away! They're contagious–they make all other fruits go bad!
Do not wash grapes or other fruits until you are ready to eat them.
Sour milk can be used in recipes for baked goods and cottage cheese.
To revive limp broccoli or greens, plunge them into an ice bath.
If you accidentally crack an egg, don't pitch it! If you use it within two days, it's A-OK!
For more tips on preserving food, check out 412 Food Rescue – facts from savethefood.com. This is a sponsored post, one I'm proud to be a part of. Now go, download that app!