This here is a sponsored post, but I am in love with the product and you could win a free somethin' somethin'. We all win.
My handsome husband recently turned 35. I also celebrated the 12th anniversary of my 21st birthday, but let's focus on how my husband is almost 40. Apparently, though, he doesn't look a day over 18, which is what some of the cougars tell him, but regardless of their come-on's (Mom, I'm looking at you), he is officially halfway to what many refer to as "Over the Hill."
That got me thinking: I've spent about 12 of those 35 years with him. I know I had a life and other boyfriends before him, but, much like life before children, I don't clearly remember how I spent my time without him. Spring breaks and heart breaks a'plenty, but he was there when I graduated from college; he celebrated my first job with me; I helped him find his first house. Seems like we've been a part of one another's lives for a lot longer than 12 years.
When we first started dating, money was scarce for me. A recent college grad and still living at home with my parents, I was broke as a joke. Those were the days that I wrote him poems as birthday gifts or created coupon books for Christmas presents. I toiled on the computer for hours to perfect the wording and match correlating images all to make a coupon the size of a business card that promised him sexy time.
Since my crafty days, various schools have hired me to instill knowledge and confidence into today's youth (I have since apologized), which means I have had a regular paycheck since then. I moved away from the personalized promises and toward elaborate dinners or golf trips as gifts. Bigger is better, right?
Negative.
I missed the personal touch of the coupons, and I think my husband missed the invitation to demand things from me with a simple cashing-in of said coupons. But I was busy, man. Two kids and a full-time job on my plate, and there was just no time to create little love slips for my man.
Wrong.
Enter: Datevitation.com, the web's first online platform to create a custom love coupon book. Well, they claim they were first, but we all know a poorer me invented this shizz!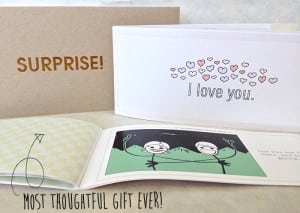 Talk about customization and time-saving: I went to their site, picked the dates, and then personalized the wording just as I used to for my coupon books of yesteryear. Voila!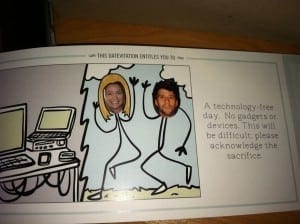 I chose just a handful, but Dateviation's library contains over 500 date ideas ranging from skydiving to stargazing to steamy adult-only activities. Oh la la! You can see that I've smacked our faces onto the characters' in the coupon book, and you can, too! Now that's just good fun.
What I really loved is that there is an option to make books for friends, parents, and even our kids. So not everything has to be about the spouses or fun date ideas.
These bad boys make AWESOME stocking stuffers or "just because" gifts, and I'm hooking you up TWICE. Books normally start at $25, but because I love you, if you use the code  'CRAZYEXHAUSTION'  you'll get $10 off your purchase PLUS free shipping . I'm not good at math, but that's a total value of $13.50. Saving money makes my heart happy. That means you can create a one-of-a-kind gift for someone you love starting at just $15!
You're welcome.
The second hook-up comes in the form of a raffle. Enter below BEFORE December 6th for your chance to win a FREE coupon book. Again, me and the math aren't friends, but free = zero money. Boom.
P.S. The order cut-off date for guaranteed delivery by Christmas is December 13, so make sure to get your order in before then!
a Rafflecopter giveaway

GOOD LUCK!