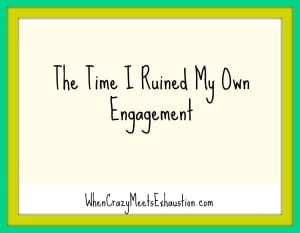 A few days before Christmas in 2004, my then-boyfriend, Zach, took me to a Christmas lights display. As you may recall, I'm cuckoo for Christmas, so the venue? Perfection. The icing on the cake was that a portion of the entrance fee went to local animal shelters. Since I like dogs more than most people, that was such a clutch move on my man's part.
Everything was beautiful. There was a fresh blanket of snow and the shimmering lights reflected off of it like a mirror. It was cold, blustery. Everyone was bundled in their hats and scarves, huddling together for warmth or just because. My nose was dripping just enough to necessitate a wipe or snort so that I looked like a full-fledged coke addict. Which was quite romantic.
After walking around gloved hand in gloved hand, gnawing on some fudge, the chill finally seeped into my bones. I was ready to get on the road, but Zach had to use the bathroom first, which turned out to be code for mentally preparing himself for the big proposal. He left me warming myself by the fire pit, surrounded by small children who were constantly cautioned by their parents to not fall in. Oh, the romance just kept building.
By the time Zach returned, sixteen hours later, the falling temperatures had left me one frozen bitch.
Where have you been?!
Uh…there was a line. 
That was some line.
Wanna do one more lap before we leave?
NO!!!!! I'm freezing. Please, let's just go.
So, we left. We were barely out of the parking lot when Zach presented me with a box:
I actually went to the gift shop. That's what took me so long.
The small white bag with ribbon handles looked a little too extravagant for a gift shop, but it didn't register. Not until I opened the box, saw the ring, and yelled:
THIS IS NOT FROM THE GIFT SHOP!!
Captain Obvious right here.
Zach pulled over, looked me in the face, and said:
I was hoping you would want to be my wife?
Of course I said hells yeah. And then we went home to make a new memory.
Not that kind of memory. But the kind where our dog ate my grandma's Christmas gift: a jumbo-sized Hershey's Bar that I had forgotten was wrapped and sitting under the tree.
Naturally, I freaked out. Zach and I stood on the porch in the frigid night air while our mutt ran around the back yard like a toddler on a sugar high. During some downtime, Zach tried to gag her with a plastic spoon in hopes of getting the chocolate to come back up. As one would expect, the spoon broke, she made it her new, jagged chew toy, and I freaked out some more.
I called our vet on his emergency line at 11:30 at night, rambling about chocolate–SO MUCH CHOCOLATE–and pointy plastic. While a lovely man, he spoke broken English and was quite difficult to understand in person let alone over the phone. What I did surmise from our conversation was the following:
Hydrogen peroxide…induce vomiting…could die…
Okay, got it. Make my dog puke by force-feeding her hydrogen peroxide or, on the very night that I got engaged to my one true love, my dog will die an untimely and chocolaty death.
Awesome.
One of the more important bits of information that I did not get from our vet was the amount of hydrogen peroxide required to make the dog upchuck. So we pried open her mouth and dumped half a friggin' bottle of the stuff down her throat. It worked.
And it worked some more.
And then some more.
My new fiancé and I spent the remainder of the evening acting as the parents we would become 5 years later: keeping watch over our first baby, a half black lab, half German Shepherd, and aiming her vomit onto the tiled kitchen floor or, if really on our A-game, we managed to get her outside. Vomit-covered snow; that's how we did Christmas that year. Also with a gorgeous diamond ring on my fat little finger and more love in my heart that I thought was humanly possible. So I ruined the official proposal and the dog ruined our carpet. At least it makes for a good story. Oh, and a good marriage. So there's that, too.