I've been known to throw a thing or two when I'm angry.
There, I said it. 
I also use curse words to express said anger.
Whew, that feels better.
When a couple of loose sperm deemed me responsible for two small humans who've since renamed me "Mom," I thought it best to try and curb my 'tude lest they (the humans, not the sperm) begin emulating my anger management skills, or lack thereof.
I'm not saying I was destroying property or dropping eff bombs day in and day out, but I recognized my kids' growling and grunting as a sign that there may have been a poop to be had, but also this: the way I react to life's challenges is the way they will learn to react. Guess who makes weird guttural noises when she's frustrated…
Unfortunately for everyone, my husband is the chiller of our dynamic duo, but he doesn't get near the amount of face-time as I do with the kids. So, I generally blame myself when the boy yells DAMMIT or the girl fires a shoe across the room.
Mommy guilt blows.
I took it upon myself to self-medicate. No, not with the leftover Vicodin from my c-section; with patience. You can read about my Lenten Appeal here.
I gotta tell ya, pals, it's been WORKING! Let me clarify: I still react with sarcasm and/or anger in certain situations, but I have become acutely aware of my physical and verbal reactions, and have worked really hard at maintaining a sense of calm in the face of a bossy three-year-old and his clingy counterpart. I'm pretty proud of myself, too, because this mental grind is no joke. It's so much easier to just throw my hands up and yell FUCK IT (<—- I think that's my first official eff bomb on my blog. You're witnessing history. You're welcome.), than to breathe in, and take a second to analyze the situation for what it is: a fleeting moment of irritation that, when gone, is forgotten as well. I kept telling myself:
My kids will be better for it.
My husband will be better for it.
My blood pressure will be better for it.
Now, I'm a passionate person by nature. That doesn't mean I'm all sexified; it means I'm crazy. Ask the peoples on my block (I'm listening to "No Diggity" courtesy of Spotify, please excuse the colloquialism), my happiness is genuine, but so is my oh-no-you-di'int'ness.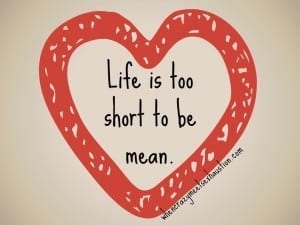 Life is too short to be mean.
That's why I've no room in my overflowing heart for intolerance or hatred or downright mean-spirited people. This includes, but is not limited to, my priest who pretty much lost all of my respect last week, those who stand in the way of another's happiness or right to marry, blogholes, jerkoffs who can't use a turn signal, and anyone who hurts a child. The spectrum is broad, people.
Interaction with the aforementioned may still elicit boiling blood and/or a blown proverbial top, but because of my conscious decision to harness the good and block the bad (thank you, Happy Gilmore), this Lent has been a success.
To all of you non-Catholics: Lent isn't over until Easter Sunday, so there is more than enough time for me to break a window or get arrested.