If you want a how-to manual for trouble-free parenting, one that offers guidance and advice from other Moms, I Just Want to Pee Alone is not the book for you.
The honest, hilarious, and sometimes poignant ladies in this Momthology aren't trying to tell us how to parent; they are holding our hands and laughing with us as we wade through the swirling waters of Motherhood. Admitting that they, too, have failed at Pinterest crafting and have also experienced sidewalk rage while driving their strollers, these Moms make us feel normal. And I don't know about you, but I need a little more normal in my day.
After spending only three days in the hospital with my first-born, I vividly remember looking down at him as we were wheeled out to the car thinking, I can't believe these doctors are letting me take this human home! I walked around in a fog for the first few weeks, loving on my baby, but also looking over my shoulder, waiting for someone to call me out for being completely unqualified. If the other moms of baby boys knew to cover the peeper during a diaper change as to not be accosted by pee, no one gave me that memo.
The weeks turned to months, and the months to years, and each time I got used to his routine, the little turd would switch it up on me. Add a second child, a diva that rivaled Mariah Carey, and I was shit out of luck. I was drowning, man. I needed a community of other moms who had taken a shot of urine to the eye and wanted to laugh about it.
Listen, parenting is the toughest job we'll ever have, and if we can't find the levity in it, we will be buried under a pile of responsibility, expectations, and tears.
That is what I Just Want to Pee Alone is about.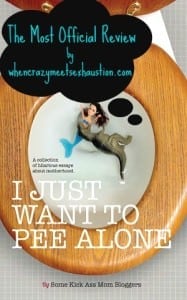 (Links to all authors and their respective blogs below)
If the high schooler who delivered your baby accidentally sewed you a second vagina, you're not alone. Susan McLean can relate.
Did you breastfeed, hate it, but are crazy enough to do it again? It's okay–you're allowed! And Cloudy, with a Chance of Wine's Dani Ryan shares her honest experiences, judgement-free.
Ever watch your father fold the laundry on your mom's dead body? No?! Allow Meredith Spidel of The Mom of the Year to explain.
Confessions of a Corn Fed Girl explains the cosmic consequences of Karma, including but not limited to, back fat, pimples, and Disney's Cars.
A fellow Oversharer, Amy from Funny is Family, let her friends feel on her boobs. Enough said.
Need a soundtrack to your post-baby sex life? Michelle Newman of You're My Favorite Today is happy to add some tunes to your playlist.
If you have more than one kid, it's safe to say they are polar opposites. Robyn Welling dishes on the differences between her three pregnancies and deliveries, never losing sight of what's really important: the hospital pudding.
What Mom doesn't need her own personal assistant?! Kim Forde's "Wanted" outlines the necessary qualifications of the sucker applicant who is to become The Mom Assistant.
Kerry Rossow reminds us to love our bodies and to be naked as much as possible, especially before our "boobs [go] from a 34B to a 36Long."
Momaical's Tracy Winslow acknowledges the importance of instilling an  "enviable lexicon" into our kids, if only to avoid having to say the word penis. (Not that you've asked my opinion, but it's my review so lay off: this is one of my FAVORITES!!!!!)
Jen, the genius behind the book and her blog People I Want to Punch in the Throat, is self-admittedly "… a funny, negative, bitchy type of person. I write about stuff that we all do that pisses us all off. If you don't have a sense of humor, then this isn't the place for you."  The same can be said for I Just Want to Pee Alone; while there are a few stories that will leaving you reaching for the Kleenex, for the most part, you're going to be reaching for your grandma's Depends. You will laugh. You will snort. You will nod your head like YES! That happened to me, too! Jen and the other moms are crazy about their kids, but they don't get caught up in the world of competitive parenting. And that's what makes them, and their stories, real.
There are so many more ridiculously entertaining gems in this book, but my daughter is currently washing her hands in the toilet, so I gotta run. But before I go, let me tell ya how you can get your toilet-water-free hands on copy of I Just Want to Pee Alone.
Duh, go to a bookstore, or…
Below are links and instructions (that I borrowed from Jen–thanks, Jen) for downloading I Just Want to Pee Alone on whatever fancy device you have. So, there's no excuse. Go get your copy. Seriously, get outta here.
KINDLE – CLICK HERE.
AMAZON PAPERBACK BOOK DELIVERED TO YOUR DOOR – CLICK HERE.
APPLE – Buy it at iTunes.
NOOK – B&N is taking its sweet time. In the meantime, you can get it from Smashwords. Just follow the instructions for NOOK. CLICK HERE.
KOBO AND SONY READER – CLICK HERE.
Much like the aforementioned list of instructions, I have borrowed the following from Jen, who borrowed it from Karen at Baby Sideburns. Sharing is caring unless it's plagiarism, in which case, it's not cool. So cite your sources, people, mmmkay?
RachRiot

Momaical

Snarkfest
Ninja Mom

Honest Mom

HouseTalkN
Naps Happen
My Real Life
Frugalista Blog

Baby Sideburns

Funny is Family

My Life and Kids

Mom's New Stage

Toulouse & Tonic

Random Handprints
Nurse Mommy Laughs

Suburban Snapshots

Four Plus an Angel

The Dose of Reality

Kelley's Break Room
The Mom of the Year

Life on Peanut Layne

Hollow Tree Ventures

The Fordeville Diaries
Binkies and Briefcases

Let Me Start By Saying

Bad Parenting Moments

Insane in the Mom Brain

Rants From Mommyland

You're My Favorite Today

Confessions of a Cornfed Girl

Cloudy, With a Chance of Wine

People I Want to Punch in the Throat

The Divine Secrets of a Domestic Diva

You Know it Happens at Your House Too

I Love Them Most When They're Sleeping

The Underachiever's Guide to Being a Domestic Goddess