"I participated in an Influencer Activation Program on behalf of Mom Central Consulting for Sprint's Samsung Galaxy S 5 Sport. I received a sample device to facilitate this review and a promotional item to thank me for participating."
My brother's cellphone broke, and because I am the best sister in the history of sisters (he's on board with it, trust me), I accompanied him to get a new one.
Something important to note about my family: what we lack in patience, we also lack in height. So you can imagine how swimmingly our shopping experience was going when, after waiting for assistance for 30 minutes with my fussy infant in tow, a man who came up to my shoulders finally asked if he could help us.
Yes, sir, please do.
As my brother is explaining what he needs, our pal Napoleon basically admits he knows next to nothing and asks that we wait for the next available sales rep.
Sure, no problem. I'll just take this here crying baby and wheel her around your store at warp speed and pray that she falls asleep while you collect a paycheck for being useless. My brother's head is about to explode, and I think the miniature salesman can see he's in a code red situation, so he starts chatting us up. As we're discussing data plans, my brother offhandedly mentions that he got rid of Facebook because it was such a time sucker.
For those of you applauding his anti-Facebook campaign, please ask him how much time he spends on TMZ.com.
Anyway, it is then that the vertically challenged employee tells us he's a body builder (of course he is) and he has to have access to Facebook because "people want to see my progress pictures, and you've got to give the people what they want."
What I wanted to say: I'll tell ya what I want, Tiny Tim. I want you to shut your yapper, roll down your sleeves, and get us a go*damn phone before I wipe my baby's dirty diaper all over your iPhone display case.
What I did say: We should've gone to a Sprint store.
I've always received exceptional customer service at a Sprint Store. What's more is that I think Sprint is, like, the only company that still offers unlimited data. When my brother found out that in upgrading to a new phone, he would either have to pay full-price ($750!) if he wanted to keep his unlimited data plan with his current company OR buy the phone at the sale price ($50!) and willingly opt out of the unlimited plan, I thought he was going to freak the freak out. I was poised and ready to record and post it to YouTube; our parents would have been so proud. Instead, I spoke up: GET A PLAN WITH SPRINT. And he did. Because "he's a good boy and he listens." –Grandma
What did he accomplish by switching to Sprint? Saving a ton o' money and choosing from a variety of phones. The phone I suggested was the Samsung Galaxy S 5 Sport. After spending some quality time with mine, I am amazed at all it can do. As I'm trying to find my way back to post-baby body confidence, I'm impressed with what a team player the Samsung Galaxy S 5 Sport is. Look at everything this phone has to offer:
Sprint Fit LiveSM delivers instant access to favorite health and activity apps from the active wallpaper or the full screen experience to tailor workouts, music and healthy living content to fitness interests and routine
MapMyFitness uses GPS to track all fitness activities, and records workout details, including duration, distance, pace, speed, elevation, calories burned and route traveled on an interactive map
Activity Zone offers the ability to open active lifestyle features, including a Barometer, Compass, Flashlight and Stopwatch, from a single screen
S Health™1, an integrated mobile health platform to access health info, map out your workouts and make healthier eating choices, even measure your heart rate when touching the back of Galaxy S 5 Sport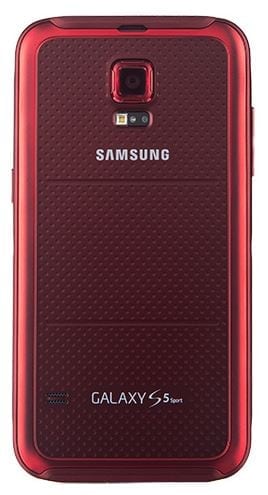 Sprint Fit Live is really cool. It's basically a personal trainer that doesn't get all up in your face and spit-scream for you to KEEP PUSHING!
Key features of Sprint Fit Live include the ability to:
Track, monitor, and share workout activity with 12 months of free MapMyFitness MVP, which includes premium content such as customized audio coaching, training plans, live tracking and more. MapMyFitness is a wholly-owned subsidiary of Under Armour, a leading performance and innovation brand.
Access Spotify Workout playlists with free Spotify premium for six months for customers who are on Sprint Framily plans or three months for other Sprint customers.
Live the Healthy Lifestyle by receiving updated smart, contextual health and fitness content.
Customize the look and feel of fitness tracking, education, music and healthy living content displayed on the wallpaper or full screen experience.
For a limited time only, customers who purchase Samsung Galaxy S 5 Sport will get $50 off Samsung Gear Fit to help achieve health and fitness goals by tracking steps and monitoring heart rate.
I like saving money, don't you?
While working out and being a healthier gal is certainly a priority right now (always?), I am still a work-at-home mom who needs a phone that allows me to be productive on the run. <— see what I did there? On the RUN? Oh, I slay myself.
The Samsung Galaxy S 5 Sport didn't fall short of my expectations. With its fancy capabilities and additional technological terminology that I don't understand yet rely on every day, this phone is super fast. I was able to read and share documents, pictures, and information with Quick Connect, and thanks to Multi Window™2, I was able to toggle between apps without having to close another or open a new page. As much as I like saving money, I like saving time even more. If I haven't already mentioned the whole patience thing, allow me to remind you: I HAVE NONE.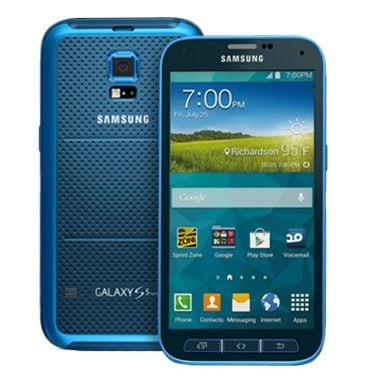 Other cool features that help me document my kids' days and make life simpler for us are: the dual cameras; Studio, a complete photo and video editing suite; Google Play™ with more than 1 million apps, millions of songs and books, and thousands of movies; Samsung Smart Remote and the built-in IR blaster, the Samsung Galaxy S 5 Sport functions as a remote control for home theater equipment; and Air View™ lets you hover your finger over photos, files, links and text for an instant preview. It's like my phone is my computer. Oh, because it is.
Sprint is really doing us a solid by looking out for our health and partnering with Under Armor. I'm a huge fan of the Sprint network, too, as my monthly bill doesn't change one cent, and any time I have needed help or had questions, a Sprint sales rep has come to my rescue. Without showing me his mini-muscles and trying to get me to like his body building Facebook page.