I wrote this post a few weeks ago, but got lucky when Jenn's Theme Thursday prompt was concerts. So I'm recycling. Saving the earth, one blog post at a time.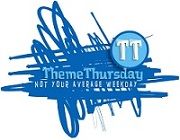 Where: A third-grade classroom
When: 1989
Why: Valentine's Day Extravaganza
There we were, decorating our shoe boxes with pictures of Edward Furlong and The New Kids On the Block. My man, Jordan Knight, was the focal point of my artistic creation, as Joey was much too "baby" for my taste, but I wasn't quite bad ass enough for Donnie. Although, I would later come to lust after his younger brother's "Good Vibrations" and Calvin Kleins. Holy Moses and the Red Sea that body. Mmmmmmmmm. Also in the unforeseeable future, I would fall head over heels for his legit Boston accent in The Departed.
Excuse me a moment, I have to find a cool cloth for my forehead…
Okay.
I was in the third grade when I began my love affair with NKOTB; those boys were my first ever concert (thanks, Mom!), and last night I got to relive that part of my childhood.
Where: Pittsburgh, PA
When: 2013
Why: Because we're awesome
Two of my college roommates and my BFF celebrated 25 years of so-so music with some yummy Sangria, the kind of laughing that doubles as an ab work-out, and some weird ass food.
I'm disappointed that I didn't have time to crimp my hair or grab something neon to wear, but my girls did me proud.
Throwback t-shirt and hot pink. Well done, ladies!
One of my favorite bands from the 90s, Boyz II Men, opened the concert and I'm proud to say that I remember every word to every song. And I proved it by serenading those around me. They loved it.
98 Degrees performed. No one cares. Let's move on.
There we were, waiting for NKOTB to take the stage, when what to my wondering eyes should appear, but a man in a sweater vest offering to sit us near…er. My man James  upgraded our seats and BOOM! just like that, we were a stone's throw away from the big screen and the stage!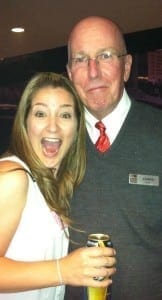 And then it was time.
Time, ladies and gentleman, to scream sing along, dance like a fool, and muffle my embarrassment for Joey when he dropped to his knees and dedicated "Please Don't Go Girl" to "every single one" of us. I guess I am growing up. Sigh.
The Kids' sexy gyrations that once elicited screams from my adolescent self kinda made me cringe; that, coupled with the fact that the strobe light had me on the verge of a seizure, I felt "old" for a split second. And then the screen zeroed in on some adoring fans who were rocking out whilst plugging their ears. I couldn't help but find the irony in it; our collective hope was to revive our childhood for just one night, but does our childhood have to be so loud?!
I shook it off by dancing to "Hangin' Tough." I am tough enough.
Jordan dazzled us with his falsetto cover of Prince's "Kiss."
Danny's (remember him?!) steroid use allowed him a brief break dancing interlude.
Jonathan has a beer belly and I admire that about him.
Donnie served as the ringleader, but I couldn't get his creepy character from The Sixth Sense outta my mind.
Joey still sounds good and gurrrrl he look GOOD, too!
I imagine there were quite a few women who left the concert feeling hot and bothered. And that's why I have to give this guy props:
The only dude in the place, but you know he's gettin' the good stuff when he gets home. Well played, sir. Well played.
I had forgotten how much I love going to concerts, especially with my girls, and last night was not only hilariously nostalgic for us, but so much damn fun. If you haven't  spent quality time with your pals lately, please get off of your computer and GO! RUN! It just may be the best cure for raging PMS or an overwhelming day on the job. And even though I didn't return home with the skin or figure of my former self, I definitely recaptured some of that youthful glow that is only found in the company of good friends.