Remember the time my pal Dani from Cloudy, With a Chance of Wine misplaced her tampon? Well, Allison, today's Oversharer, hasn't technically lost hers; it's just not where she left it. Thank you, childbirth, for today's story.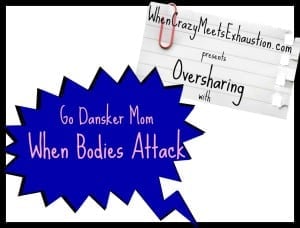 I teach group fitness, which means that I am in front of a lot of folks.  I absolutely love it.  I get on the microphone and yell at people what to do.  AND THEY DO IT.  I don't have to threaten with them with Time Outs or bribe with Goldfish!  Be still my heart.
One of the classes I taught for years was a high impact cardio class (for CRAZY PEOPLE) called BodyAttack.  It is one of those classes where you do tuck jumps and air jacks and feel like you want to die.  All while smiling because you like it.
BodyAttack was great until I had my first son.  I came back to teach Attack about 3 months after he was born.
Moms, you know how this story goes.  My very first class back I did a jumping jack 6 minutes in and peed my pants.  Full out peed.  Not a trickle.  It was a big old "I give up" pee.
My bladder had aged 80+ years in 9 mos of pregnancy and 12 hours of labor.
I was shocked.  I didn't read about THAT anywhere in my What to Expect the First Year.  There was no chapter on publicly peeing yourself on stage while 30 people looked up at you.  Yes, up.  They all had a perfect crotch shot.  Thank God I had on black shorts.
Since I was determined to resume the life I had pre-baby (ha!) I was going to keep teaching.  I consulted with a girlfriend of mine.  She recommended I wear a pantyliner.  You know, to catch the pee.  I have to say this solution actually worked!
But holey guacamole Skippyjon that smelled horrific.  TERRIBLE.
There is a reason why right after the Caveman invented the wheel the Cavewoman invented the tampon.  Scratch that – pretty sure that Cavewoman came up with the Big T before the wheel was around.  Because we totally would have thought of that stupid round thing if we hadn't been preoccupied with plugging up and other personal hygiene concerns.
So for the first couple of months of teaching I would run to the bathroom after class, before anyone could have a chance to get close or talk to me.  People must have thought I had serious issues.  (Which of course I do…I was teaching BodyAttack 3 months after a baby for crying out loud…)
Yet I adjusted to that by doing kegels like it would save me from having to watch Kristen Bell in another movie EVER AGAIN.  Eventually I got to where I still peed a little when I taught but not enough to need a pantyliner.
Then came the time for my first period post-baby.  I stuck a tampon in (for the first time ever actually feeling thankful for those) and ran my post-partum, sleep deprived, menstruating self to teach my Attack class.
Friends.  My tampon came out mid-class.
If peeing myself in front of my class hadn't been mortifying enough, I could not IMAGINE their reaction if a tampon had fallen – THUD –   on the floor.  But I promise that thing was all the way out of the canal that had pushed an 8 lb baby and was moving towards the edge of my undies.
I spent about 2.2 seconds seriously debating the options in my mind.  WHAT ARE THE OPTIONS!?  NONE, I tell you, NONE.
I demurely excused myself to the bathroom while I kept them running in place.
Oh alas, this was not the end.
I idiotically kept the microphone attached to my head and ON while I went to the locker room.  And guess what??  That mother-effer worked from the locker room!
I don't know what the class heard, or what they thought they heard, but it couldn't have been pleasant.  I continued on dumbly until someone told me at the end of class.  I turned scarlet, didn't press for details, and ran out.
After Baby 2, I felt God was telling me that BodyAttack was not necessary.  If my hooha couldn't hold me together after Baby 1, Baby 2 wasn't going to be a joyride either.  It clearly was not important that I do 50+ plyometric lunges on Wednesday mornings any more.
I still do teach (nothing that requires me to go spread eagle and jump). I also try to do yoga.
And I will be dedicating my next yoga practice to the Cavewoman, her invention of the tampon, and to all the women out there who go through mortifyingly embarrassing situations in the name of child-birth.  You are not alone.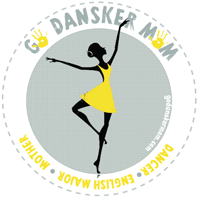 Allison is a freelance writer who lives in Chapel Hill, NC. She speaks most freely at Go Dansker Mom but has quite a few other writing projects going (read as: she frequently feels completely overwhelmed but figures that's normal for a parent).  She and her husband have a 4 year old boy and a 19 month old boy so she spends a lot of time yelling, frantically, "BAD IDEA." She wouldn't have it any other way. Catch more of her motherly musings and feminine faux pas on Facebook, Twitter, and Instagram.