Happy Monday, pals!
I'm out of the office this week doing grown-up things like building sandcastles and ignoring calories, but I've left you in good hands. I've got three fantabulous ladies lined up to entertain you in my absence, and we're kicking off the week with one of my faves. Do you know Menopausal Mother? If you answered no to that question, I feel bad for you. You're really missing out on a hilarious piece of arse. Marcia is Oversharing today; could your week start any better than that?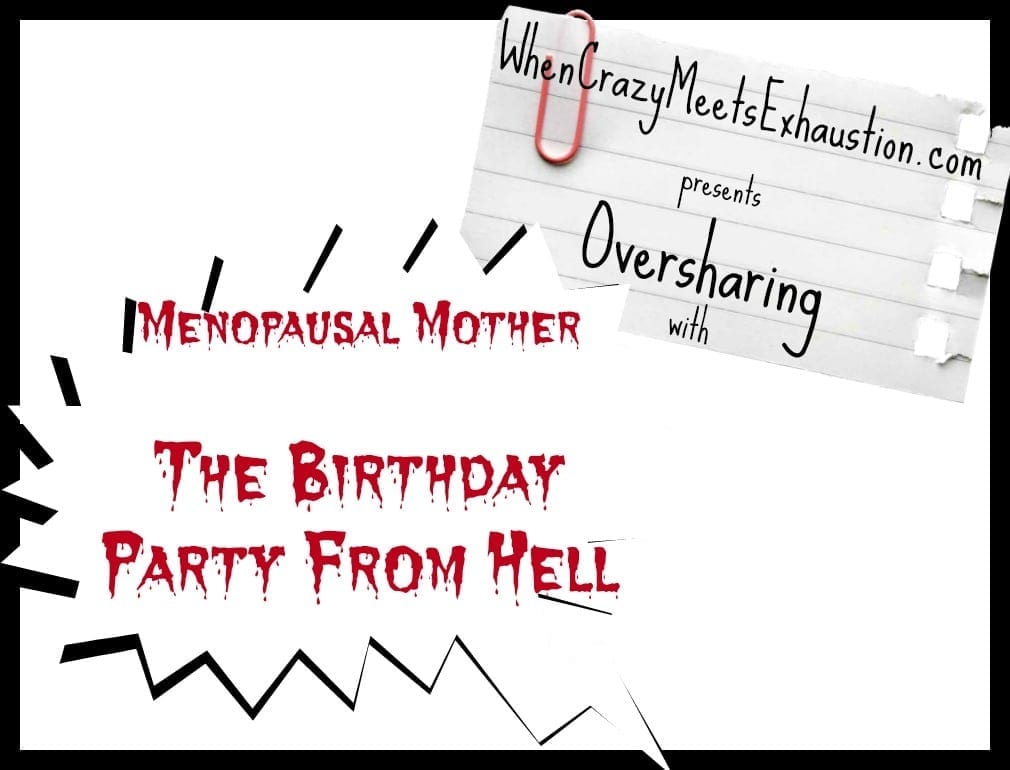 We planned it for months. It was to be the birthday party to end all parties. I bought a beautiful, white silk pantsuit with lace and hand sewn seed pearls on the front for the momentous occasion. The bar, disc jockey and baby sitter had all been reserved, along with a food and decorating committee.
On THE BIG DAY, my brother surprised me with a bottle of Dom Perignon ( nectar of the gods) and my husband had a brand, spanking new minivan delivered to our home. It was the perfect day….and I don't do well with perfection. Because somehow I find a way to screw it up.
Two hours before the party started, The Hubs was in the driveway signing the papers with the car salesman. The cold bottle of Dom was calling my name from the refrigerator. I drank the first glass while I finished putting on my makeup. I drank the second (and third) while I was curling my hair. By the time I was pouring my fourth, The Hubs finished the deal and handed me the keys to my new birthday present. I didn't eat before the party because I'd been dieting so that I wouldn't look like the Michelin Man in my white pantsuit. I think you know where I'm going with this: champagne + empty stomach = TROUBLE.
By the time we arrived at the club, my nerves kicked in at the prospect of hosting a party for 50 people. I quickly marched up to the bar to place my order. My brain started screaming, "NOOO!" the minute my mouth shouted ,"Sex On The Beach!" I NEVER drank that cocktail combination! Someone slipped the bartender a few extra bills to make the drink stronger for the birthday girl. Yeah, like I needed that. I pinched my nose and chugged the drink to calm my nervous excitement.
Oh vodka, you fickle bitch, convincing women they can move like a pole dancer on the floor to any pulsating beat from a DJ's sound system. The siren song of alcohol warped my perception, leading me to believe I was as sexy as Cat Woman in a snug, white pantsuit. I sidled up to every male in the room (including the janitor and a skitterish waiter) like a wolf in heat. The Hubs was busy playing host and didn't seem to mind that his wife was quickly turning into a party train wreck.
That evening, 20 years ago, is still a blur to me. I remember stumbling through some horrid line dances and stepping on many toes. I never got to blow out the candles or taste the birthday cake because I was too busy ralphing up Sex On The Beach in the toilet. My beautiful, white pantsuit turned into a Jackson Pollock painting with red cranberry juice splatters all over the fabric. I DO remember my sister and my best friend holding my hair out of my face so that I wouldn't wake the next morning with puke-encrusted strands. It took several men to carry me down a flight of stairs to the minivan and believe me, this scene was nothing like Madonna's "Material Girl" music video where all the male dancers are carrying the sexy, writhing singer down the stairs. Oh, I was writhing all right; writhing in agony because my stomach had not finished giving up the ghost.
I learned the next day that everyone happily carried on without me and (thankfully) no lap dances were performed. After I woke from my alcohol induced coma with a headache reminiscent of electro shock therapy, I crawled to the phone to start my long list of apologies to the guests.
Moral of the story: tequila might make a woman's clothes fall off, but Dom makes me dumb and vodka makes me vampy. Next time I'll wear camo to the party to hide my upchuck imperfections.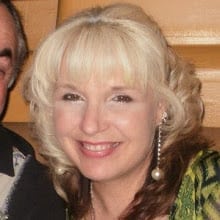 Marcia Kester Doyle is the author of the humorous blog Menopausal Mother where she muses on the good, the bad and the ugly side of menopausal mayhem. Give her some wine and a jar of Nutella and she'll be your best friend. Or at least your Facebook pal.