Today's Oversharing is from Pursuit of Normal's Vicky. She's waxing (tee hee) philosophical on a topic Kim discussed earlier this month; these crazy ladies are willing to put their hoohas on the line, er, table for the sake of swimsuit season and blog fodder, and for that, I commend them.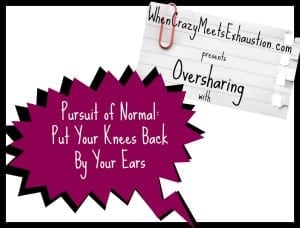 There have been a few times in my life when I've heard the phrase, "Put your knees back by your ears." I will say, however, that two of those times babies suddenly appeared.  Well, I wouldn't say "suddenly." There was a bit of work involved beyond using my forearms as hooks.  There might have some pushing and grunting on my part.  But within a few hours, there were babies.
So when I was once again lying flat on a bed and again heard "Put your knees back by your ears," my first response was, "Um, I'm not going to leave here with a newborn am I?"  I was assured I would not.  "No, no babies. It just makes it easier for me to reach all your nooks and crannies."  Oddly enough I found that less horrifying than the idea of a baby.
I'll bet you're wondering how I ended up counting the tiles on the ceiling while performing some yet to be named yoga pose, right? It all began with chicken dinos.  If I had a dime for every time I've said that phrase I'd be a rich woman. You too? I thought so.
My BFF and I were standing in my kitchen preparing lunch for the kids one afternoon when she turned to me while distributing grapes on each plate and asked, "Have you ever had a bikini wax?" I should tell you that I have a bit of a hair issue.  As my husband loses it from his head, it seems to somehow grow like wild flowers on my face, arms and places that really shouldn't have hair.  But I had to answer honestly and tell her that I had yet to have that part of my body waxed.  Ironically, though I had recently heard on the radio that Americans spend more money on hair removal than any other country in the world! It think it's safe to assume I am a large contributor to that statistic.
After hearing this info I did a bunch of research.  Translation: I Googled it. And lo and behold, it's true. We Americans are a hairy lot and spend a lot of time and money mowing our body lawns. There is an extensive variety of hair removal options out there for us wooly mammoth types: waxing, sugaring, threading, laser, creams, plucking, and even a few that I think would have taken me to "other sites" that were not for my innocent eyes. That's when I discovered the Brazilian wax.  Simply put, it's a very thorough bikini wax.  And when I say "very thorough" I'm talking, "Hey look! I'm 11 years old again" kind of thorough.  You get the picture.  And if you don't get the picture, go to YouTube.  I'm constantly amazed what people will put on the internet… says the girl writing about waxing her intimates.
Back to me and BFF in the kitchen, it was decided that we were going to do this. Why, you ask? I'd say it was a little bit of curiosity and a lotta bit of "this would be great for my blog."  I'll do anything for material.  I'm an intelligent woman, although you might be doubting that at this point, and I had to make sure I was prepped and ready. So I did my homework. Before: let the hair grow long, but not too long and do not exfoliate 24 hours prior to procedure.  No problem.  Let's move on to aftercare: Take ibuprofen- makes sense.  Purchase numbing gel- uh, ok.  Wait 2-3 days for swelling to subside- WTW?! Swelling? Why would there be swelling? But the appointment was set, promises had been made and there was no going back.
So on waxing day I arrived at BFF's house, where her husband proceeded to roll his eyes and say, "You two need your own reality show." Which by the way is an idea that I have not completely tabled… And off we went to the spa for our first Brazilian wax and that was how I found myself flat on my back with my knees by my ears having my nooks and crannies explored by someone who was not a doctor.
Oh, and the other times I heard the phrase "put your knees back by your ears"… I'm not going to tell you about those.  I do have a little bit of decorum.
Vicky is a Southern California mom trying to grow up herself while raising 2 boys and a husband.  You can find her looking for confirmation that she's "normal" on her blog The Pursuit of Normal, sharing her family's random thoughts on Facebook and desperately trying to edit herself down to 140 characters or less on Twitter.