elI love to say today's Oversharer's name aloud: Bongiorno! Bongiorno! BONGIORNO! And then eat a pound of pasta. My carb addiction is clearly my problem, but as you will soon learn, I am not alone in my affinity for good eats. Creator and writer of the wildly popular blog, Let Me Start By Saying, the talented Kim Bongiorno is visiting today to let us in on her little secret: when it comes to bagels, her philosophy is go big or go home.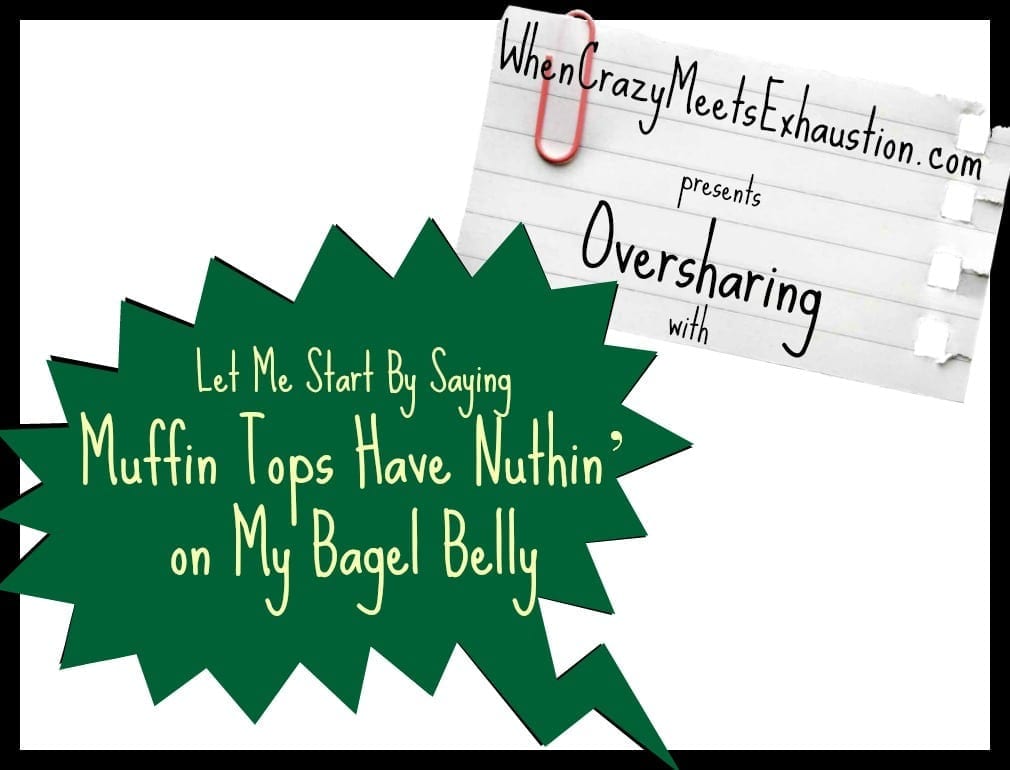 I have always loved bagels.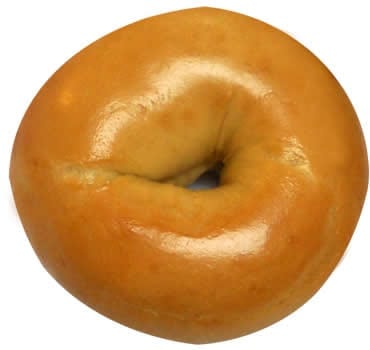 From back in my childhood when Mom would make me cinnamon raisin bagels grilled in butter then oooooozing with melty peanut butter, to my days working on the Upper West Side of Manhattan where part of my job was going to the Jewish deli* for iced coffees and bagels for the office, I have had a serious love for their round, chewy perfection.
* I have never walked past an old Jewish man or woman in NYC who didn't start yelling at me, insisting I am "Too skinny! Oy!" and need to eat a bagel immediately.  This is why I love New York.  And Jewish people.
I got pregnant with my son while I worked there, and am pretty surprised he did not come out of my womb holding a plain bagel, toasted, with extra butter.
My OB was horrified a bit concerned about how fat I got I added a few pounds to my figure, and requested I get back in shape so I didn't accidentally get harpooned for health reasons.
This meant no more bagels.
*sob*
I worked hard and got in shape, and in a whirlwind got pregnant with my daughter when my son was 13 months old.  I knew that in order to not horrify worry my OB again, bagels were no longer a part of my life.
So I avoided them during the pregnancy, and after.  I thought I was doing okay in the weight department.
Then I looked down.
And saw that my belly looked like a bagel.
I expected the Muffin Top.
But a Bagel Belly?
What the hell!?
It was as if all extra fat in my abdomen decided to gather for a group discussion around my belly button.  Not up high, not down low…right in the middle.  Both confused and a little freaked out by what happened to my body after 2 babies, I got into a healthy routine at the gym.  I got fit, shrank the Bagel, and managed to be a good role model for my kids in the meantime.
I balanced exercise and eating right, which allowed me to get back to eating warm toasty bagels.  Ahhh….
Then, um, I got busy and tired and sick this winter.  And I tend to not obsess about weight, as long as my clothes fit.
So the Bagel?
Is back.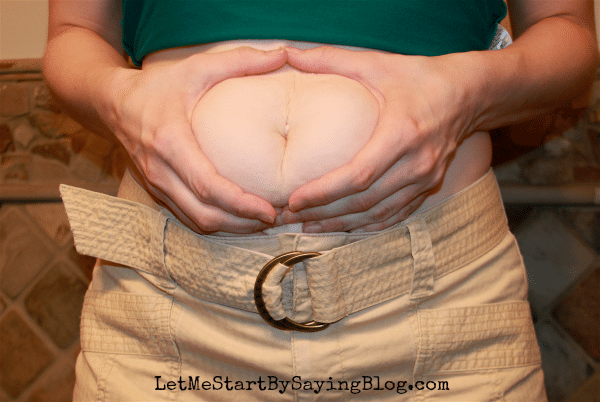 That sneaky bastard!
Unlike the glossy golden firm bagel, my Bagel Belly protrudes as a cellulitey jiggly "O", making my belly button appear cavernous.  All my shirts are now way too tight, since the Belly Bagel is basically the size of one of my (deflated saggy but strategically rolled-up into a fabulous bra) boobs.
This is not a good look on me.
Dressing around a Bagel Belly is tricky.  Harder than a Muffin Top, for sure.  I have one of those, too, and can successfully camouflage that part of the Bakery sprouting in my Midsection.
The fact of the matter is, if I want to fit into my clothes, not have this odd abdominal protrusion waving "Oh! Hello!" to people as I walk by, and make a healthier example for my children, I have to start working out again.
Or stop eating bagels.
Hm.
I think we all know that I'd rather have a bagel in my belly than as a belly.
So back to the gym I go…
This was originally posted as Muffin Tops Have Nuthin' on My Bagel Belly on July 15, 2011 by Kim Bongiorno on Let Me Start By Saying, and is protected by copyright.
Kim Bongiorno is an author, blogger and freelance writer. Known best for her award-winning blog LetMeStartBySaying, she is also a weekly columnist for InThePowderRoom, writes for various other publications, and is a 2013 BlogHer Voice of the Year. Her books can be found on Amazon.com. Follow her hilarity on Facebook and Twitter!
Editor's note: Kim's latest book, "You Have Lipstick on Your Teeth," is a compilation piece that I am going to review this week. It made me laugh, cry, and then be all, "you talk about masturbation with your grandma?!" That'll make more sense later. Promise.