When Jacoba, fellow Familes in the Looper, originally published this story on her blog, I went straight to her house, pounded on her kitchen window, and pleaded with her to Overshare it here with you. Right, so what really happened was I just emailed her, but if she lived near me, I would have taken the more dramatic route and gone to her house. On a completely unrelated note, have you ever wondered what people must think when they stumble upon my blog on Oversharing days? "When Tampons Go Missing;" "Naked at the YMCA;" "The Day I Had Balls."
Aaaaaanyway, the lovely Jacoba might have gonorrhea. But I'll let her explain.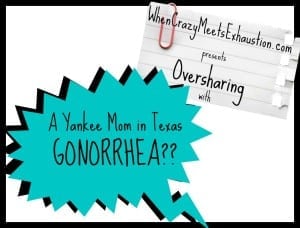 Back when I was a mass of dividing cells in my mother's womb, I somehow managed to draw the "Dorky Medical Affliction" card. In case you're unaware (because you're the douchebag who drew the "Perfectly Sculpted Abs" card), my stupid card is a freaking circus to have in my hand. When life throws appendicitis at me, my DMA card ups the ante by slapping me with the inability to pee for an extra four days…for no reason other than to entertain the doctors who consult with laughing geriatric specialists because no one under 90 ever gets urinary retention. When my doctor feels cysts on my ovaries and calls me in for an ultrasound, my DMA card suddenly laughs in my face when the ultrasound tech discovers the "cysts" are poop. Yes, poop. From eating massive amounts of sushi at a buffet two days earlier.
So when my arm suddenly went numb while driving, was I necessarily surprised? Nope. No more than when the next morning I got out of bed and collapsed on the floor in groin pain. Or when, later that afternoon, my ankle swelled, turned a mottled purple-pink, and felt like one bajillion snake fangs were administering an IV venom straight into my bone marrow.
ME, typing:  Numb arm, kicked in the imaginary cojones pain, old man gout ankle.
WebMD:  You are dying.
ME:  I knew it!
WebMD:  Or you have gout.
ME:  That would be so nerdy. Figures.
WebMD:  Or you have a blood clot.
ME:  Ooo, I like that one! Let's go with that one!
In the doctor's office.
DOCTOR:  WOW. Your ankle is…quite large…and purple. You say it's painful?
ME:  Yes. I think I have a blood clot.
DOCTOR:  Hahaha! No my dear. I think it might be gout. Let's do some blood work today and we'll look at it again tomorrow.
The next day.
DOCTOR:  It's looking a little worse today, huh? Well, it's not gout.
ME:  I think it's a blood clot.
DOCTOR:  Um, NO. I'd like to test for Lyme Disease. And lead poisoning.
The next day.
DOCTOR:  Okay, I've talked with some colleagues and I'm pretty sure I know what it is.
ME:  A blood clot?
DOCTOR:  NO. Not a blood clot. I'm just sorry I didn't recognize it right away – I don't see it too often.
ME, now scared:  ….yes?…
DOCTOR:  Well, I don't know how to say this…
ME:  …??…
DOCTOR:  I'm about 98% certain you have…
ME:  …??????…
DOCTOR:  …Well, you have gonorrhea.
ME, stupefied:  …!!!!!…
DOCTOR, uncomfortable:  ….
ME:  GONORRHEA? Like, The Clap??
DOCTOR:  Yes. I'm fairly certain.
ME:  But WebMD didn't say anything like that!! GONORRHEA??
DOCTOR:  Other than your husband, have you had…relations…with anyone else?
ME:  NO!! See? I think it's a blood clot – there's no way I could have gotten it.
DOCTOR:  Unless your husband…
ME:  hahahaha! NO. hahahaha!
DOCTOR:  I'm serious. It must be your husband. You need to talk to him.
ME:  hahahaha!
DOCTOR, looking at me pointedly:  ……
ME:  There is no way.
DOCTOR, her look turning to pity:  …….
ME:  I mean, I'm fairly certain. He would never… right?…
And THAT'S how you end up having an uncomfortable conversation with your husband (who may or may not get really angry that you're questioning his fidelity…and then who turns around and starts wondering why you have gonorrhea since he obviously wasn't the one to cheat).
That's also how you end up explaining to curious (and maybe unbelieving) family and friends that you must have contracted gonorrhea from sitting in some STD-ridden tube while floating down an STD-infested river the weekend before.
That's also how you end up thinking you maybe should have brought a towel to sit on while reclining on a good friend's couch because you can tell she's super uncomfortable that you might be leaving weird hoo-ha germs all over her furniture (but she's way too nice to do anything other than lightly joke about it).
And then, when the long-awaited gonorrhea test comes back NEGATIVE, and you go to the real hospital, and you get an ultrasound to check out your veins, and then you go to a specialist who diagnoses you WITH A BLOOD CLOT…
…well, the only thing people tend to remember is that you had a gonorrhea foot.
And actually had the nerve to question your husband's fidelity.
And tried to blame an STD on a gross river tube.
And then probably contaminated your friend's couch.
They don't remember that you and WebMD were smarter than your doctor and that you actually never had gonorrhea in the first place. Stupid DMA card.
Jacoba Alderink, a born-and-bred Midwesterner with degrees in English and art secondary education, resides in Texas with her quirky husband and two underwear-clad kids. A stay-at-home mom and part-time homeschool teacher, she blogs at A Yankee Mom in Texas, littering her unseemly confessions and absurd musings with sub-par illustrations and pointless observations. When she's not writing, she's either failing miserably as a parent or cleaning up the cat vomit piles drying randomly around her house. Find her on Facebook!