I would make a real shitty lawyer; it's 4am and I'm awake, heart bleeding over the George Zimmerman verdict. Maybe one day I'll learn to shake these kinds of injustices off with a shrug of the shoulders, but today is not that day.
Most believe Zimmerman was found not guilty because there wasn't enough evidence to prove otherwise. Here is all the evidence I need:
He killed a kid. 
Do I believe that he had malice in his heart, and sought out a young man in the name of racism and hate?
Not necessarily.
Do I believe he planned to intentionally murder?
No.
What I do believe–and what is FACT–is that, as per Florida's Stand Your Ground Law, an armed Zimmerman took it upon himself to play guard dog and approached/followed/encountered Martin by choice. 
If I see a person I deem "suspicious," I stay away from him/her because I am afraid.
Unless, of course, I have my gun and state law to protect me.
There are consequences for our actions; even my two-year-old knows that. But today, a jury of our peers has allowed Zimmerman to walk away with a "My bad" and not so much as a manslaughter conviction.
"Innocent until proven guilty."  

"Too many loopholes."

"So many unanswered questions."
No one asked for my opinion, but it's my blog so you're going to get it: a jury of our peers, the American justice system, has failed us today.
And it's not the first time:
OJ Simpson
Tom Robinson
Sure, that last one is but a character from To Kill a Mockingbird, but it serves as a metaphor of how prejudice infiltrates the justice system.
And infiltrate it did, friends. Which is why this case garnered more attention than other murder trials.
"Monday morning quarterbacks" are claiming that the media blew up this case for the sake of ratings. Apparently a Mexican killing a black kid makes for stellar news. I certainly see the manipulation; from the very beginning, the media portrayed Trayvon as a gangster, bad student, gold-teeth-wearing, pot smoking no good kid. The hype got so out of hand that my friggin' priest started perpetuating that image of Trayvon.
So we should applaud the system for "working" in spite of this? 
Strip away the media influence, and ignore the fact that Trayvon was an African American. At the end of the day, and especially at the end of the trial, what more do we need to know than a grown man killed a child?! A child who was walking alone at night and was probably pretty afraid when a big dude rolled up on him in the rain.
What is the difference between driving a car while under the influence and carrying a gun and provoking a situation where you have to use it?
Oh yeah, the latter is legal.
George Zimmerman is guilty. He may not have planned to kill, but he is guilty. He had the right to carry a gun and use it in self-defense, but he purposely instigated the need for said defense. What happened today set a very basic precedence, at least in Florida: a person can incite another to the point of violence, and when, for lack of a better phrase at 4 in the morning, shit gets real, it's completely reasonable to end it with a gun.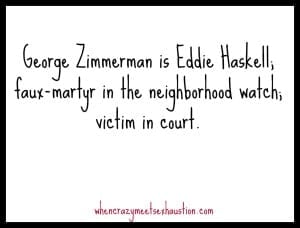 George Zimmerman is Eddie Haskell; faux-martyr in the neighborhood watch; victim in court.
Even though he walks free today, I have faith in another kind of justice system. In a different jury. Call it karma, call it Judgement Day, but Zimmerman can't wash off this stain.