My head almost exploded yesterday. I turned a color of red that caught my son's attention and clenched my teeth until my brain hurt. My Lenten promise to live life more gracefully and with more patience was tested. I failed the test big time.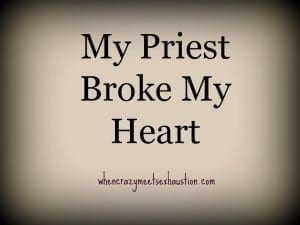 I'm getting ahead of myself. It bears mentioning that I intended to write my most official review of I Just Want to Pee Alone instead of this rant, but it just couldn't be done. This got in the way:
Here is what set me off. You'll see that the link takes you to a page that now differentiates between the rumor and the truth; when I received a copy of the email and picture, it was shared as truth. There was no disclaimer, no rumor. It was sent with the intent to make people believe that what they were reading was fact. Now, go. Read. I'll go reheat my coffee for the fourth time while you do.
…….
You back? Good, now let's talk.
Supposedly, this is a conservative message about how the liberal media spins stories. That's not what I see. I see an ulterior motive. Anyway, I don't know who composed the original message, but I received it from my priest. He often emails the entire congregation, and once before he sent something about education that I found offensive. I let him know, he explained how he interpreted the message, and we hugged it out and moved on. But now? To say that I am unhappy would be the understatement of the century. To say that I am offended, livid, disappointed, and sad is just a start.
Let's look at the facts:
1. Trayvon Martin is dead.
2. It's George Zimmerman's fault.
3. A mother is without her child.
4. The picture of the "17-year-old" Trayvon is actually The Game, a rapper from California.
What wasn't included in the copy you read was this little diddy:
"A citizen who shirks his duty to contribute to the security of his or her community is little better than the criminal who threatens it."
Wanna know how I interpret the aforementioned statement? It's saying that Trayvon was a criminal. Why? Because he was black? Because he had gotten into trouble a few times? Because he had tattoos? I don't give a flying fart if Trayvon was rude, inked up, or got suspended from school. If that's what makes a person a criminal, well hell, cuff me. I've been called a bitch since I was 3, I have a tramp stamp, and I was caught shoplifting in junior high. Tell my kids I love them.
"A citizen who shirks his duty to contribute to the security of his or her community is little better than the criminal who threatens it."
Know what else that little statement means to me? It's a pass for George Zimmerman. It's permitting, justifying even, his killing an innocent child. He took it upon himself to protect a community and we are supposed to be really grateful that he did. As long as people like him are doing it, we don't have to. Our sons, fathers, husbands don't have to. Well done, George Zimmerman, you overzealous, gun-toting, wanna-be nightwatchman murderer. Thank you for your contribution.
I understand that there are some brain dead people living among us, ones who forward ridiculous emails such as this to their friends, and they all have a good laugh and a "ah HA!" moment now that they feel they have cause to openly hate this dead kid–thank GOD! I heard he smoked weed!–, and I know I can't change them. They are entitled to their opinions and they can openly be buttholes if they want. That does not change the fact that I am absolutely disgusted that anyone, let alone a PRIEST, would even entertain the idea of spreading such vileness. I thought Christianity was all about forgiveness, acceptance?
I also thought maybe I was overreacting; I have a tendency to let my passion (crazy?) control me, so I freaked out on Facebook and my pals responded. They, too, were offended. I called my mom, my most honest critic, and she assured me that I wasn't out of line:
You should write to your priest and tell him how you feel.
I already did.
Of course you did.
I fired off this email to my priest, the man who blessed my marriage and baptized my kids:
Hi, Father,
I just received your e-mail about Trayvon Martin, and I'm not sure who sent it to you, but whomever it is has, unfortunately, grotesquely misrepresented that poor child. The picture at the top is a well-known rapper, The Game, not Trayvon, who was shot and killed by an overzealous wanna-be neighborhood watchman. I feel like this message is a blatant lie and, in my personal opinion, openly spreads hate and racism. 
I'm sad that you forwarded this email on to so many of us because regardless of what kind of kid Trayvon was, a mother is without her son, and that's sad regardless of tattoos or skin color.
Thanks for hearing me out,
Steph
It's not my best work, but I think I got my point across. I've yet to hear back.
I am Catholic, but this is not about Catholicism.
At the core of what's really bothering me is that anyone, especially a person who is the mouthpiece for a group of people, one who represents the values and beliefs of these people, wouldn't look at that email and just think: "Who cares?" So what if Trayvon's mother gave the press an old picture of him? My son will be 17 one day and I guarantee you that my eyes will always see the little boy, not the budding teenager.
A mother's eyes love, and it's about damn time more of us start seeing things with the same eyes.
So tell me, free of judgement, what are your thoughts? This is a safe place to share; I promise to lay the smack down on anyone who can't have a respectful discussion, regardless of opinion.