I've never published twice in one day, but because today is special, I'm breaking all the rules. Today is four years since one of my very favorite people left our family and went, we hope, to Heaven.
My grandma. Man, was she cray. And I loved her for it. I loved her even when I took a new boyfriend to meet her and she warned him: "You better keep it in your pants." Awesome, right?
I have so many memories swishing around in my head; I want to write them down so I never forget them. They're pretty random and in no particular order, but they definitely represent my nutty ol' Gram.
I never once saw my grandma cry, despite the way-too-early loss of her true love, my grandfather. She was a strong woman, emotionally and physically. In her prime, I would go so far as to say I was frightened of her. As she aged, she didn't cease frightening me; she just couldn't do steps any more, and I knew I was safe on the second floor.
When she babysat me and my brother, she used to tell our friends they had to pay to use our bathroom.  "That'll be a quarter a flush!" Everyone knew how to push her buttons and used the toilet more often than necessary, all just to get her to yell "GET OUT! O-U-T-E!" Spelling went out the window when grandma was angry.
She used to go out dancing, and every Saturday before she left, I would do her make-up. Bless her wrinkled face, each time I swiped the eye shadow across her lids, the loose skin slid over to her temple. Much like a typewriter's platen (and yes I had to look that up), I would have to gently nudge the skin back into place.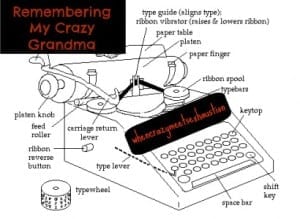 She sharted constantly. And it was BAD. You did not want to find yourself walking behind her.
I was her first grandchild, therefore, I was the favorite. She actually called me #1. She also called me mouthy and headstrong, but I prefer to focus on the positive.
My brother went through a string of bad break-ups and Grandma was so upset that he wasn't in a relationship, planning his wedding with the woman of his dreams. Because she was constantly harping on him about it, I may have told her that he was gay. She may have died believing that. (Side note: my brother will argue that he was the favorite; I counter with: it was sympathy because she thought he would be alone forever).
The moment Zach and I found out we were pregnant, we told everyone right away. At that time, my gram was in an assisted living facility, and we drove to see her. I sat down on the bed beside her and said, "Gram, we have some news!" Without batting an eye, she said, "Oh, yes, you're pregnant." My husband and I were stunned! How the heck did she know?! She actually prophesied that the baby would be a little girl, and I carried to term thinking I was having me a Mia Rose. Unfortunately, she died before my son was born. I should have expected a boy, though; she also predicted my brother would become President, so…
A dinky fair came to town one summer, and Grandma let me bring a friend, Nikki. It was assumed my grandma was treating us, but when, a week later, she began asking 10-year-old Nikki where her $5 was, I begged my mom to just give Gram money so she would lay off my friend. She got downright mafia when it came to her money, yet…
She would pay her grandkids for doing well in school. She said it was our job to get good grades. Her going rate was $20 per A. Not too shabby, I-can't-afford-Nikki's-fair-ticket.
Since she lost her husband so early, Grandma eventually started dating again. Her lovah (eww), JP, was this sweet old man who eventually succumbed to dementia. Poor guy bought Easter cards on our birthdays and forgot to put sugar in his pies. Yoi.
My grandmother was the only person I've ever known to brake going uphill. Once, as we were coasting at a cool 15 MPH downhill, she informed me that she had cataracts and it was increasingly difficult for her to see. As we crossed a bridge, I wondered if I should unbuckle and prepare to dive into the waters below.
The telephone was Gram's friend. She called my mom approximately 34 times a day which, coincidentally, is the same number of times my mother calls me per day. If the answering machine picked up, Gram's creaky voice would yell into it: "Louise? Louise? Pick up. Pick up. Pick up." If my mom didn't return her call within 5 minutes, Gram would call again. Same voice. Same message.
Speaking of phones, one night Gram was cold and because she was getting up there in age, she didn't get around as easily. Naturally, she dialed 911 and asked the operator to please come to her apartment and turn up the heat.
More phone fun: I could set my clock to her calls; she ring-a-ding-dinged me every day at the exact same time, asking the exact same question: "Hiya, Steph, how was your day?" She never listened to my response, and I know this because I tested her once: "Good, Gram. Today was busy student teaching. I had sex with the principal. I'm going to teach the class tomorrow!" And she would always answer back with a: "Uh huh. That's so nice." HA!!!
Before she moved to assisted living, we would take dinner to my grandma at least once a week. She loved barbecue chicken pizza and chicken wings. Even more, she loved having us all around her table.
Gram called a spade a spade. Unfortunately, it wasn't always very nice: "Your friend really put on weight." Note: my friend was standing behind Gram when she said that. But because we knew we could always count on her honesty, we made a game out of it: "Gram, if you had to describe us in one word, what would it be?"
My dad: feisty
My mom: lazy
My brother: perfect (she felt bad for him, remember?)
Me: lippy
She liked to help. Once, my brother's friend needed his pants sewed and she insisted he just take them off right then and there so she could fix'em up. Because she liked to help. Stop thinking things about my dead grandmother.
As the years gained on her, her memory slowly left her. Either that or she just straight-up lied. She told everyone in town that my brother was an attorney. Some days he was also the mayor; other days he was in the FBI. Truth be told: he was a freshman in college.
Technology boggled her mind. I recorded her favorite song, "The Rose," and that song ONLY, on the front and the back of a cassette tape for her. She could never remember how to rewind or flip the tape, and inevitably called me or my brother to come down and "fix her music." She gave us cold hard cash for doing things like that and turning up the volume on her TV. My dad's head about exploded when we came home $50 richer.
Speaking of my dad, man did she hate him! To clarify, she hated him when he and my mom first started dating. He's Italian, my gram was Slovak and "those kinds" didn't mingle in her day. She offered to send my mom on a round trip to Europe if she didn't marry my dad! Bahahaha!!
To this day, no can come close to her raisin-filled cookies, and I suspect no one will ever come close to giving me so many memories. She put the "fun" in dysfunctional, and to do right by her, the good Lord gave our family one last gift before burying Gram: a priest with a lisp to see her off, or whatever it's called. Now, now, don't think we're all horrible for laughing at a lisp; we were laughing at a million other things, too: the priest couldn't remember my mom's name, but when he did say it, the "S" in Louise was exaggerated. He could not open the Holy Water, I believe he dropped it once, and he stuttered every so slightly. By the time we were ready to put Gram in the ground, we all had tears streaming down our faces because of laughter. And that's how Gram would have wanted it.