It started when I was pretty young. I didn't understand the shame or have words for the feelings of inadequacy. No one said anything, or even indicated they knew I had a problem, but slowly, certain things gave me pause. One memory stands out:
On a hot summer day, my Mom calls me and my brother in for lunch. I don't even taste the peanut butter and jelly, throwing it in my face hole as quickly as I could because MY FRIENDS ARE WAITING, MOM! Barely out the screen door, and this wave of must have more hits me. I didn't even feel it coming; I just knew I had to have it. Suddenly, my friends became secondary; this crazy urgency set in. With Ninja-like stealth, I creep back into the kitchen, quietly open our snack drawer and swipe an extra Oatmeal Cream. In a frenetic rush, I unwrap it then stuff its plastic wrapper deep into the garbage can, concealing it so no one could do the quick math and see it was my third that day.
I shove the whole thing in my mouth, not savoring one crumb, and feel relief the second it's down my gullet.
Rejoining my friends, I feel a little powerful because I had a secret!, but I mostly feel ashamed because holy hell what was wrong with me?!
Today, I'm the girl who's out to dinner planning what she'll order for dessert. I'm the Mom absentmindedly plucking goodies from her kids' Valentine's stash just because it's there. I'm the emotional eater who's mad at the world and the only solution is to eat cake. All the cake. I'm also the chick at your party declining your sweets because to indulge in public almost feels dirty. "Who me? No, no! I don't do cupcakes, but thank you for asking." Shame is weird.
Hello, I'm Stephanie and I'm an addict. I'm addicted to sugar and it is out of control.
I'm sure some of you are giggling. I agree, it's a little silly to imagine an addict's drug of choice as a cookie, but I also hope someone reading this recognizes themselves in my crazy and wants to learn more.
I never anticipated the all the health issues I'd encounter because of my affinity for Oatmeal Creams. Over time, my activity level began to rival that of my grandma's. "I'm a young exhausted mom!" I justified as I traded yoga and spinning classes for whatever was possible via exercise equipment for the elderly. My energy continued plummeting and the "seated workouts" at Grandma's assisted living facility started looking more and more tempting…
I've already had my gallbladder out and have been experiencing ongoing digestive issues for ten years! Multiple tests and doctors and medicine and special diets and procedures have done nothing to pinpoint THE problem. I am OVER feeling like crap. Pun intended. I'm done staking out the closest restrooms, anticipating needing them immediately after I eat. I'm so sick of feeling sick! And I wouldn't hate it if I dropped a few pounds. That's why when I met Susan Ceklosky at the MomCon, a Pittsburgh conference for women, this past November, I knew it was a sign.
Susan's approach to getting healthy is different from everyone else I've worked with before, including my doctors': she combines clean eating and regular exercise with a positive mentality.
For the first time ever, I'm not disregarding my feelings as a part of what makes me healthy. Yeah, I'm trying to simmer down with sugar and amp up the exercise, but I'm also paying attention to what makes me so ravenous. How a dozen donuts makes me want to eat them all. Myself. At warp speed. In one sitting. I mean, that ain't normal, right?!
Fortunately, I do have a little self-control. I've yet to fully succumb to the incessant cravings, but to be quite honest, had I not been dealing with health issues, I probably wouldn't have asked for Susan's help. I would've continued on my fondant-covered road to self destruction. Sound dramatic? You're right: it's not meth, it's "just" sugar, but "just" sugar has ruled my life long enough.
It has been about a month since I first begged Susan to FIX ME, WOMAN!, and so far, I can see the following changes in myself:
I'm drinking a ton of water. Sure, I'm peeing more, but my skin is brighter and I'm not as crazy hungry as I used to think I was. (Turns out I was thirsty.)
I'm down 6 pounds! Nothing earth-shattering…yet. But still, YAY!
I'm accountable to someone other than myself, which works for a head case like me. Always the teacher's pet, I never want to disappoint the person helping me. Knowing I have to share my successes and setbacks with Susan makes me work harder because I love me a sincere "GREAT JOB!" about as much as I love chocolate.
Gotta say I didn't see this one coming: I almost look forward to getting up and working out (thank you, YouTube videos).
I am far more aware of how I feel about my eating. Am I really hungry? Or is PMS the devil, luring me to all. the. food?
BIGGEST SUCCESS: My stomach trouble has all but disappeared, only to rear (see what I did there?) its ugly head if I eat something with too much sugar. *mind blown*
You guys, I'm on to something. I feel good. I feel healthy. And as Susan says, no food is worth messing that up. For the most part, the changes I've made are simple tweaks to my already existing routines, which have me hopeful that I'll be able to maintain them. I'm not putting fish oil on my salads (barf); I'm using less of a healthier ranch dressing. I'm not starving myself; I'm eating healthy snacks in between meals. I can do this!
Right?!
You can always reach out to Susan, just don't take her from me or I will cut you.
Because she's a giver, she's sharing her top 5 tips for losing weight and feeling great, and she has invited all of you to join our online community. Stop thinking "oh, another online group." Susan isn't obnoxious about it; she's not in-your-face with unrealistic expectations, showing off her abs to entice you. She understands some of us aren't looking to walk the runway in a two-piece; we just want more energy and to feel better. So, go! Meet me over there by clicking HERE.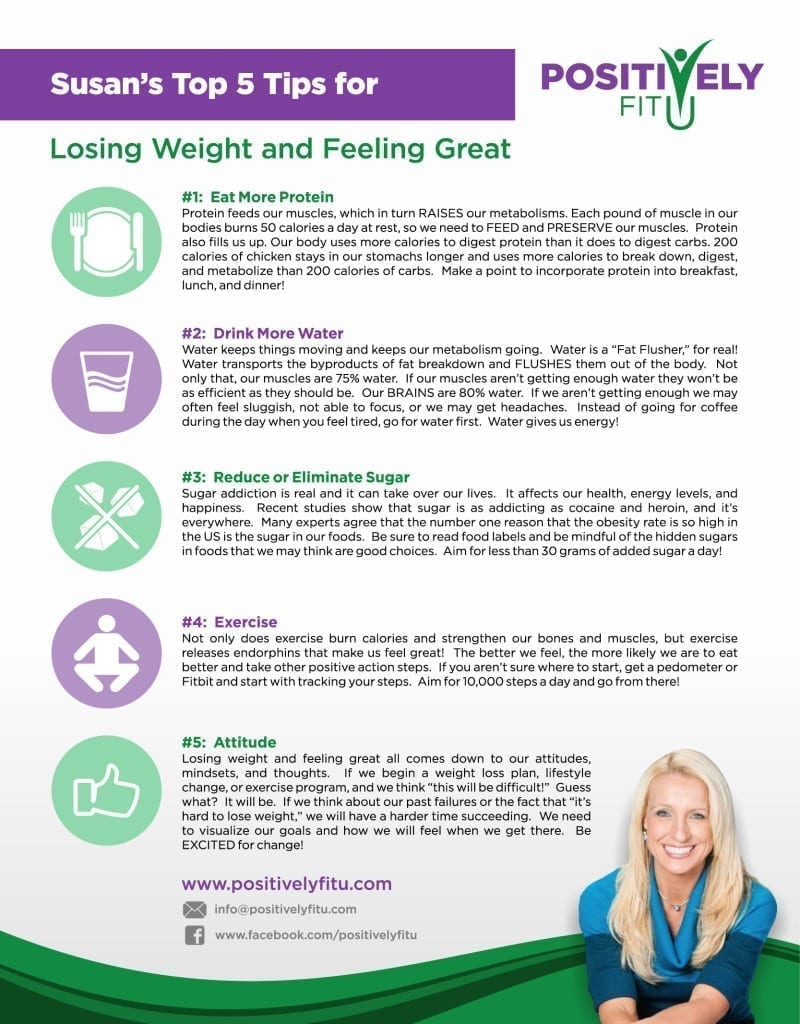 Susan Ceklosky is weight loss and nutrition coach, and the answer to my bowels. I mean, prayers. As the founder and owner of Positively Fit U, Susan is helping me and so many others to realize how good healthy can feel. Doesn't taste half bad either! Susan holds a bachelor's degree in nutrition from Penn State University where she minored in kinesiology, along with a certificate in weight management from the Cleveland Clinic. She recently became an author, writing a chapter in a just released book called "Inspire! Women's Stories of Accomplishment, Encouragement and Influence."