Yes, hello! I did a very professional adult thing and got to travel for work. On an airplane. All by myself. To those of you rolling your eyes because omg so what?, move along. This story is for those of us who hear the phrase "flying solo" and immediately began sweating. This is also for anyone who is excitedly assuming (correctly) I embarrassed myself at least twice.
I didn't expect (or want) to travel for work. In fact, I politely declined my supervisor's initial ask to fly to Baton Rouge. Then my supervisor left for a week's vacation and her boss voluntold me to go, but in a very endearing, "you can do this!" kind of way. It would mean finally getting to meet the educators with whom I've been working for seven years…Hesitation turned to excitement and–wait. I'm getting ahead of myself. Let's begin with the banana-chewing.
I arrive at the airport unscathed and, surprisingly, don't get lost. My gate is nearly empty and I'm thrilled with the peace and quiet. Until a gentleman sits in the seat right next to me, so close our legs touch. Please recall the "nearly empty" part and ask the same question I asked myself: "WTF?"
He then peels and begins lip-smack-chewing a banana mere inches from my face. This forces me to make a decision: do I get up and walk a few laps or attack this man? Getting arrested on company time is frowned upon. Probably. So I choose walking. Bye, banana man.
On the flight, I am gifted the window seat, despite my fellow passenger's ticket clearly stating that seat is his. The kind man opts to sit in the middle, which is flabbergasting because who wants to sit next to two strangers when you could just sit next to one?! My husband later assures me it's because middle-seat-man was hoping I would have his children.
Middle-seat-man does talk an awful lot, but when mentions he already has four kids, I'm convinced he doesn't want more from me. He's also very kind when, too enthralled with an episode of Schitt's Creek, I startle loudly upon wheels touching runaway. In my defense, it was foggy and landing was bumpy! Regardless, my sudden gasp earns the attention of those around us and middle-seat-man tells me I'm welcome to put my head on his shoulder for comfort if I need to. Okay fine, husband. Shut up.
Everything else goes smoothly, and once checked in at the hotel, I go into business mode. Except I forgot to pack comfy pants so I'm walking around my hotel room pants-less, but otherwise: business mode.
I jump on a call with my colleagues to firm up plans for the following day, then call home and speak to the children who are quite inconvenienced by my absence. "You're not home to make dinners or get our snacks or pack lunches!" But they are happy to hear from me. My 8-year-old tells me to check the front pocket of my suitcase because she made me something. I find this: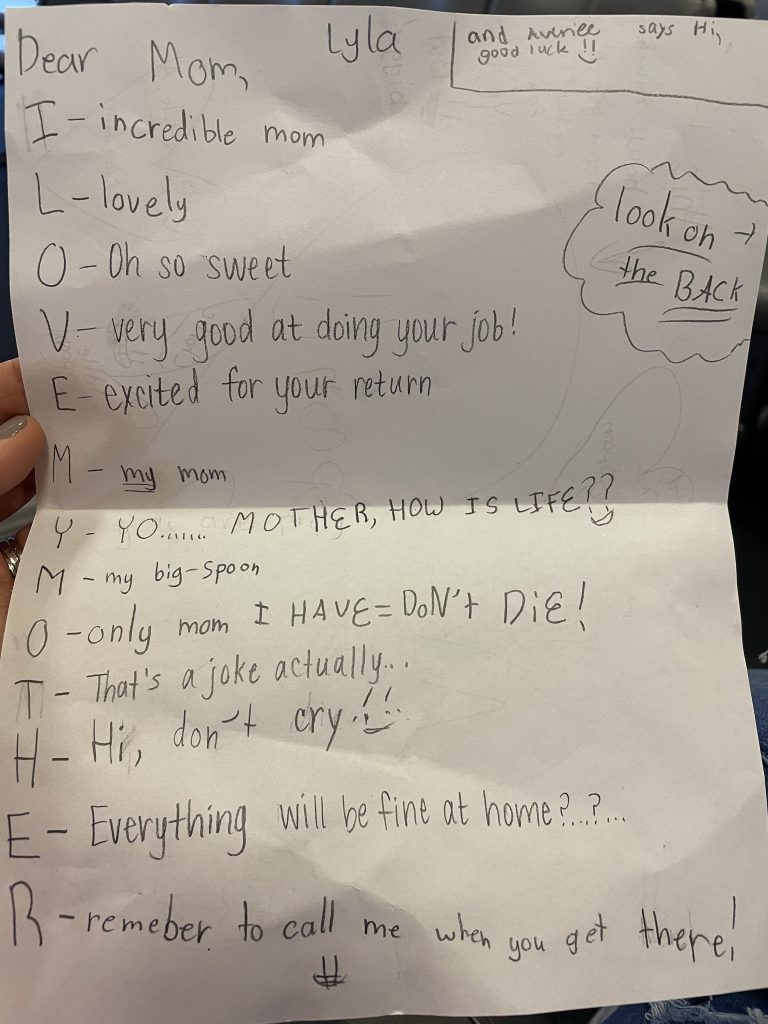 Update: I did not die. WINNING.
The next morning is a love fest of academic achievement and post-pandemic learning success. This is a big deal. The Louisiana Superintendent of Education is there to recognize our lil' virtual program. We have come such a long way! Look at us, making such a big difference for our students! I am moved to tears by it all. I force everyone to hug me. Being among colleagues again! Young faces full of potential! Hallways full of voices! I miss it, physically being there. I then recall how, just yesterday, I was able to take a meeting sans pants. I so appreciate my current, mostly-virtual gig.
Lunch is at a local seafood place where I pledge to try alligator. Sadly, they're fresh out of gator, so I get me some hushpuppies instead. I request to have them with my meal, but don't flinch when they're set down in front of me early. Extra butter? Yes, please! I dive into the plate of fried goodness with unabashed fervor. DELICIOUS, I ooze! When I offer some to the other five people at our table, most oblige. I then catch one of them whispering to the waitress. We make eye contact. The waitress reminds me my hushpuppies were coming with my meal. Apparently, I have just pounced on and given away the majority of the Director of the School's order. And double-dipped in his butter. Awesome.
There's more (forced) hugging as we say our goodbyes when I'm deposited once again at the smallest, most boring airport in the country. No offense, Baton Rouge, but damn. There are three hours until my flight, but I figure I'll use the time to catch up on emails and maybe read my book in peace.
Nope.
A woman sits directly behind me, despite an array of empty chairs, and begins scream-talking into her phone. Her call is on speaker, of course. There's a lot of shrieking and laughing, but because they're speaking another language, I'm not quite sure what they're saying. I am quite sure, however, it's unnecessary to be this close to me in an otherwise empty room whilst shrieking.
Again, I do a few laps. I find a rocking chair–a rocking chair!–that overlooks the runway. I treat myself to a latte and a new magazine and rock 'til I'm content. Dear Oprah, I love you, but $15 for your glossy pages is armed robbery.
When I return to the gate, the only person there is loud phone lady. We smile at one another and she approaches me with her plane ticket. She's asking me a question I don't understand because of our language barrier. She whips out Google translate and before I know it, Vietnamese is English and I confirm that she is, in fact, at the correct gate. She thanks me profusely.
I have this sappy full-circle moment where I'm overcome with gratitude for technology and the way it bridges gaps. My students are learning because of technology. Different cultures are communicating because of technology. I'm working without pants because of technology. Really, it's a thing of beauty. I'm starting to tear-up again when a young woman enters the gate, sits beside me, and ruins the moment by watching TikTok on volume 500. More laps it is.
Ice storms around the country mean delays and more delays. We leave Baton Rouge so late that I'm convinced I'll miss my connecting flight in Atlanta. When I ask a sweet flight attendant about it, she says I'll only have 20-minutes, but it can be done. It doesn't help that ATL is the busiest airport in the country, but she tells me exactly where to go and what to do ("walk down those escalators–don't just ride!") to help me move faster.
I sprint off that plane, destined for Gate 16. But wait. My app is telling me the flight is now leaving from Gate 23 and not for another four hours. I am now angry and cursing technology. WHO IS LYING TO ME? IS IT YOU, FLIGHT BOARD, OR THE APP? *shakes fists at technology* I continue sprinting toward Gate 16 just in case. I see it! "Pittsburgh, final boarding call!" I've made it! Except I haven't. Apparently, sometimes flights leave earlier than scheduled. Did you know that? I did not. I am now stuck for an extra four hours, putting my head-on-pillow arrival time home at 2AM. I am not happy, but resolve to make the best of the situation and order several vodka tonics. Please note: the company does not pay for these.
Finding a quiet-ish spot, I FaceTime the fam. I listen as my kids, who are getting ready for bed, sleepily regale me with stories of their day. We say our I-love-yous then I walk around until stores and restaurants begin closing. I'm antsy and tired when I collapse in the only cluster of empty seats left at my gate. Soon, though, a man three seats over, lies down bringing his Croc-clad feet dangerously and disgustingly close to me. I recall the banana chewer and am filled with anxiety, anticipating repeated grossness.
I begin the breathing exercises I typically reserve for when hurtling through the sky at 500MPH.
Deep breath in through the nose,
out through the mouth.
In through the—-what in the actual hell is that smell?
Croc guy shifts uncomfortably, and continues relieving himself of noxious gas. My gag reflex is triggered. I begin actively forcing air out of my nostrils. And just when I think this human being can't get any grosser, he tosses off his Crocs, proceeds to shove his legs through the arms of his jacket, bare friggin' feet poking out of the sleeves, toes brushing up against my leg.
This man makes it very difficult to not choose violence today.
I crush the empty paper coffee cup in my hand, pretending its Croc Man's head, and stalk over to the garbage. I slam the cup into the can, happier breathing in trash.
Fortunately, it's time to board. I patiently wait as everyone and their diamond and gold and priority status pass me. Finally, it's my non-diamond, no-gold, zero-priority turn. Happily, I swipe my phone over the barcode reader and am immediately asked to step out of line because my ticket isn't recognized.
Jesus, take the wheel.
Gatekeeper man informs me I am not properly checked-in. I inform him and everyone within earshot that this is false. Losing my cool just a bit, I promise the gatekeeper man in tones maybe a bit too loud: "This is my flight, sir. I have a seat." After much type-type-typing at his computer, he asks to see my ID. I am about to burst into exhausted tears. Type-type-type. "Oh, I see!" he exclaims. "Your first name isn't Jan!"
Me: No. It is not.
Gatekeeper man: Your first name is Stephanie!
Me: Correct.
GM: Your last name begins with Jan, but it's not your first name!
Me: *looks around for someone to hold my hoops*
GM: You do have a seat, there it is!
Gatekeeper man swipes my ticket and yells cheerfully in my face, "Welcome aboard!" unaware of how close he came to his untimely demise.
More reruns of Schitt's Creek lull me in and out of sleep until finally touching down in Pittsburgh. The shuttle to my car is quick and I'm grateful, mostly because I'm still dressed for 70-degree Baton Rouge weather.
My hour drive home is thankfully uneventful. The house is quiet and everyone is asleep except for the dog who meets me at the top of the basement steps, tail whapping against the wall with excitement. She howls when I begin my ascent which is sweet of her. I appreciate the extra effort.
Flicking on the kitchen light, my eyes are accosted by what appears to the aftermath of a police raid. Countertops strewn with dishes and water bottles and lunchboxes and crumbs. Open cabinet doors and drawers. I trip over the stool I use to reach anything taller than 5-foot because someone has left it in the middle of the kitchen floor. The living room isn't much better with pillows and blankets and hoodies and I don't know what else tossed all over the floor. I notice the birthday gift my youngest was to have given her friend two days ago is in the same spot as when I left. Maybe not a police raid after all…
Beside the gift, a to-do list she made for me with a handful of pressing action items such as "make my bed." I'd washed her sheets before leaving, assuming one or a combination of the other four people in the house could handle putting them back on her bed. I assumed incorrectly.
I follow the trail of literal dirt, abandoned socks, and uncoupled shoes up the stairs. Because I'm a glutton for punishment, I peek in at the bathroom garbage cans. Overflowing, naturally. Tomorrow is garbage day. No one cares. Welcome home.
In the morning, I'm greeted with hugs and kisses and sincere squeals of "we're so happy you're home!" I'm presented a vase of yellow tulips and I forget about the mess. When my 13-year-old son hugs me, though, I can't help but wrinkle my nose. "Yeah, you stink," I tell him. "Oh, I think I forgot to shower last night," he offers. "Weren't you playing basketball for, like, four hours at the YMCA?" I venture. He shrugs. My 11-year-old announces I must do her laundry in the span of 20-minutes because she will literally die if she can't wear her favorite leggings today.
Yes. Welcome home indeed.