Many chapters in my life have already closed. The teenage years, college, dating, the pre-kids days. Sometimes I grow nostalgic and a little part of me yearns to reopen a chapter or two (smooth 21-year-old skin, I'm lookin' at you), but for the most part, I'm quite content to be standing in the shoes I am today.
With the exception of my wedding day.
If I could get married over and over again, I'd do it. Wait. Let me clarify that: if I could put my one and only wedding day on repeat, I'd do it. With the same guy…Lest the husband reads this and becomes concerned.

Our wedding day was pure magic. Surrounded by love, celebrating love, SO MUCH LOVE. At one point, my Godfather handed us a bottle of champagne and ushered us outside, advising we "Take a few minutes to enjoy each other. Slow the day down." If not for that snippet of time away from the excitement, I don't think I would've talked to my husband at our own reception! Photographs and memories and stories shared have become our very favorite things. The memories are still fresh, even though they're more than ten-years-old.
That chapter of our lives–wedding season–has long since been closed, with the occasional nuptials sprinkling our summers. Most of our friends got married around the same time, and started having kids around the same time. For about two years, we were inundated with bachelor parties and showers and weddings and new babies AND I LOVED IT! I still love celebrating those special milestones with our special people, and IKEA has made it easier than ever with a new Gift Registry.
What?
YES.

IKEA now has a gift registry you can use for upcoming weddings, babies (waaaah–okay, that's another chapter I'd like to leave open please), a new home, graduation or any other occasion you can think of! Perhaps for purchasing a thoughtful gift for your favorite blogger. I don't know. Just spitballing here.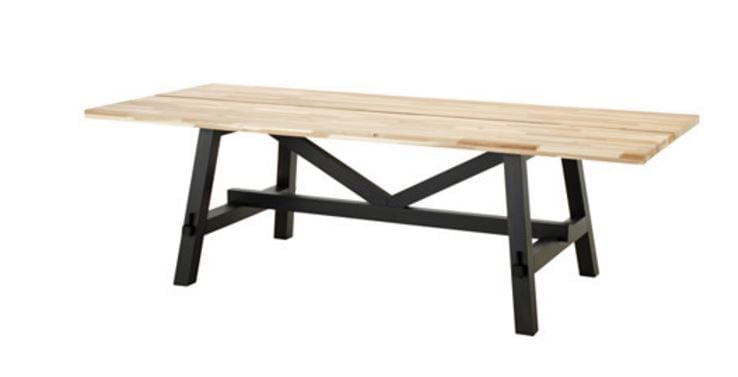 The IKEA gift registry allows you to register for all in-store and online items, so get to IKEA-USA.com or stop in at the store to get started on your gift registry. If you download the IKEA Gift Registry App (available for Apple and Android), you can easily add items to your registry while in the store and to obsessively check which gifts have already been purchased not that I've ever done that before you can't prove it.
AND GET THIS: You can even register for big ticket items such as your dream kitchen! Friends and relatives can choose to purchase the item, send you a gift card for the item, or "chip in" for more expensive items. OMG it's like you're registering to be on an episode of HGTV's Fixer Upper or something!!!
I'm verklempt. Talk amongst yourselves. I'll give you a topic.
The Pittsburgh Bridal Show and Women's Expo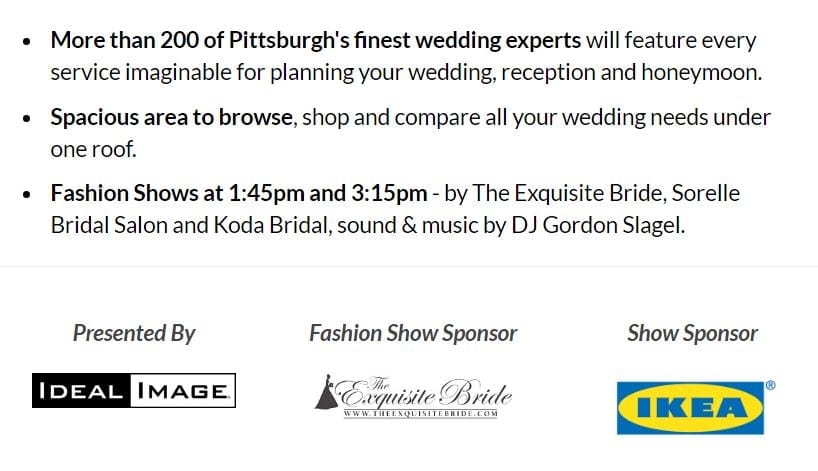 On Saturday March 26th at the David L. Lawrence Convention Center from noon – 4:30pm, brides-to-be will be scouring the Convention Center for photographers, decor inspiration, a chance to win FREE STUFFFFFF (by now you know we yell that like Oprah). I went to a bridal show when I was newly engaged and I promise you young hearts: they're worth it! You make great connections and have fun. Some of them give you chocolate and champagne (truth). Great way to spend an afternoon with your wedding posse. DO IT. GO! You don't even have an excuse not to because…
IKEA and I are giving away 3 sets of 4 tickets!
That means 12 of you will be attending the show fo' freeeeeeee! (if you didn't yell it, just leave now. I'll wait).
You can enter the giveaway multiple ways every day until Monday, March 20, 2017. Not a lot of time–get to it!:
Comment on this blog post below
Comment on this blog post on Facebook
Retweet THIS tweet
The #Pittsburgh @bridalshowpgh is 3/26 from noon-4:30 at the Convention Center. Win tix from @CrazyExhaustion now! https://t.co/yvGRxeqVYI

— CrazyExhaustion (@CrazyExhaustion) March 15, 2017
Winners will be chosen on 3/20/2017 and notified by email and/or via the appropriate social media channel. Winners will have 24-hours to claim their prize or another winner will be chosen. Tickets will be mailed directly to winners. I said winners a whole bunch in this paragraph.
So before you and your pals close your wedding chapter, go have a blast at the Bridal Show on IKEA's dime. And don't forget to register for…whatever! with IKEA's new gift registry!
This post was sponsored by IKEA who helped me turn my hot mess of a bedroom into a place I'm proud to show off…to my kids? Anyway, here's the post about that…