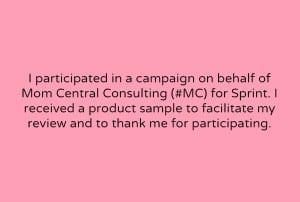 Flip flops strewn about the house, less socks in the laundry, an over-abundance of sunblock being slathered all over the pastiest kid in America, AKA: my son can only mean one thing: summer is upon us. The warm air and sunny skies bring back memories of the first summer I had my driver's license. Freedom was driving with the windows down and the music up. Music has always been part of the backdrop of my life, and despite my kids trying to ruin our jams (ENOUGH of the Frozen soundtrack, PLEASE! Unless it's Olaf's song because that's just a fantastic, summery tune…), the husband and I do slip in some Michael Jackson or Rolling Stones every once in a while.
The year our oldest daughter was born, we put in a pool and a deck. We envisioned many lazy summer afternoons spent there as a family, and we were right. After, of course, we dragged our huge 3-disc CD changer stereo out of the basement and onto the patio. The ancient CD player would, on average, scratch and eat at least one of the CDs, and my husband would curse my Justin Timberlake CD for being the only one in rotation. We ended up running back and forth to change the CDs and adjust the volume because where oh where is the remote? But after that, we would be ready to roll with some warm weather melodies. No, wait. We also had to position the two over-sized speakers outside, do a rain dance around the antenna if we hoped to listen to the Pirates game on the radio, and then run like the dickens if it started to storm lest the whole shebang get ruined.
Sigh.
A few months ago, though, that whole mess was fixed thanks to Mom Central and Sprint. I was given an HTC One (M8) Harman/Kardon Edition phone as part of my very prestigious (stop laughing) role as a Sprint Ambassador. Not only did I get my grubby little hands on this AMAZING phone, but a big ol' package showed up at my door with a Harman Kardon Onyx Studio. Let me explain in pictures.
This: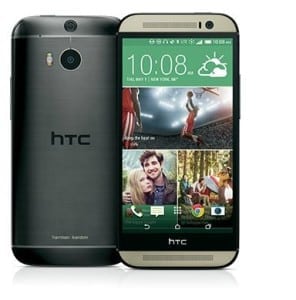 Plus this: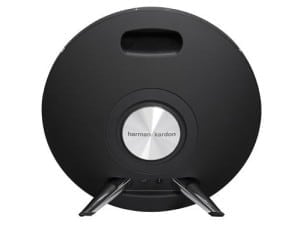 Equals sweet moves like this:
I can really tell a difference in the quality of sound, and the fact that it's coming from a phone connected by Bluetooth still rocks my technologically-challenged world. The kids, as you see, love it. And what an improvement than our original set-up for summer tunes! The days of changing a CD are over, and I realize I'm about a decade behind the streaming-music times, but the Spotify catalog of sweet beats is my new BFF. I can find any artist, any song. I've created playlists, uploaded tracks to the phone and shared them with my pals, AND there are no annoying ads that interrupt our dance parties.
Normally a lover of the HTC One's competition, I've got to give this phone props: the camera and screen are incomparable. I've never taken such crisp pictures with my previous smartphone, and the duo feature is super cool. It allows me to take a picture of my fat face AND of my adorable kids all at the same time! It's like I'm documenting their memories and my reaction to them all in one click. AWESOME!
We went to an amusement park over the weekend and I was able to get clear-as-a-bell pictures of them in motion; I can barely do this using an actual camera, people. So I don't know if the HTC One just makes me a better photographer or if it's just that easy to use. I can take continuous shots and then choose the best. I don't see anything fuzzy, nothing blurry, just two cuties giggling like goofballs on The Whip: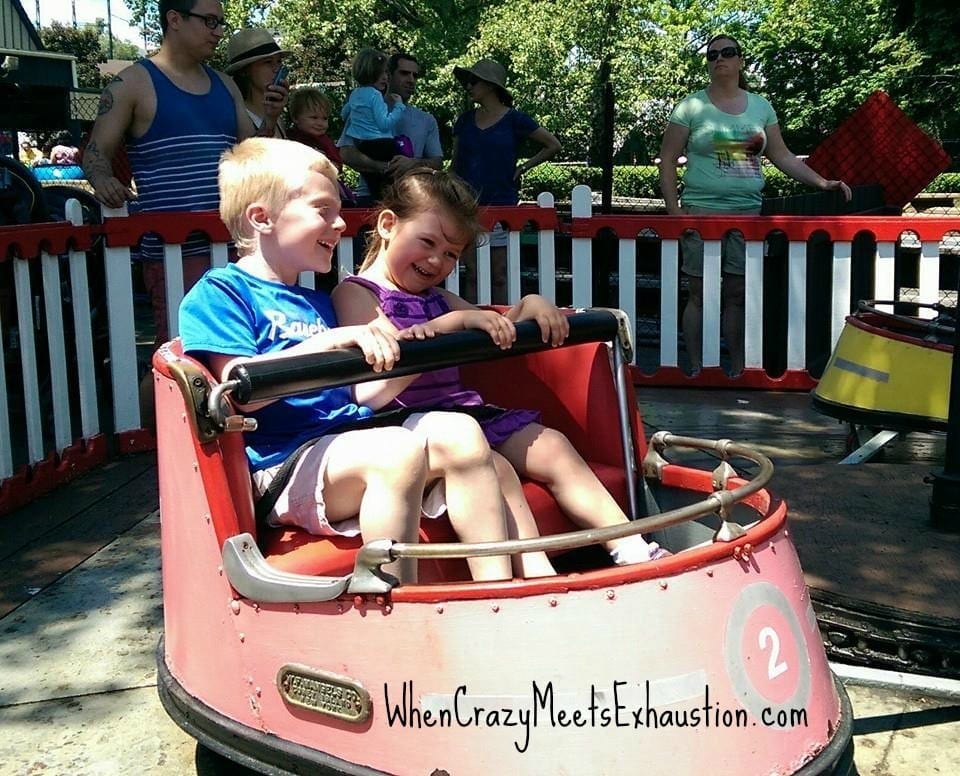 And this is so clear I can see the kids' hair follicles:
The HD screen, the ridiculous-in-a-good-way camera, the fact that it slides right into my back pocket make the HTC One (M8) Harman/Kardon Edition phone A-OK in my book. The quality sound and the easily portable Harman Kardon Onyx Studio make it the best thing to ever happen to our summer jam sessions. Now, if you'll excuse me, we dance.