If you've been reading me for the last year or so, you know my almost 20-month-old daughter has had her fair share of issues. A short stint at Children's Hospital in Pittsburgh where she staved off dehydration led to a plethora of testing and worry, including concerns that those holes in her heart hadn't closed, and an eventual diagnosis of a sensory processing disorder. Therapists could see the light at the end of the SPD tunnel, but also cautioned us that early childhood intervention could last the span of our girl's toddler years. We prepared ourselves for years of in-home therapy, but hoped for the best.
In the beginning, she screamed for the full 60 minute sessions, and I cried in another room, listening powerlessly as a stranger tortured my baby. I had planned on participating, but it quickly became evident that my daughter, much like her big brother, performed better without the Mommy crutch to fall back on.
Then one day she didn't cry. And she started swallowing her food. She was excited about eating. One of her occupational therapy goals read, "she will enjoy mealtime with her family," and I remember sitting around our dining room table on a random Wednesday evening with the realization that my baby had attained this goal well up in my eyes. Over the next few months, she started feeding herself and she eventually morphed from the kid who refused food to the kid who couldn't get enough. She was dismissed from occupational and nutritional therapy after 7 months.
***
The groans were audible when I forced everyone to pose for our first family of 5 Christmas photo, but I expertly exploited their kindness by scheduling the shoot on my birthday weekend. You can't say no to the birthday girl–it's a rule. The second the kids plopped down in front of the lens, the baby began to fuss. The older kids, memories of a chronically upset baby sister still fresh in their brains, started to tense up. Here we go again we all thought but didn't verbalize. Then this amazing thing happened.
The set designer handed each kid a cookie.
A few short months ago, that cookie would've sent the baby into a tailspin from which she couldn't recover. Shrieks and "No's!" and sobs and frazzled parents and helpless siblings. But now? That cookie is progress. It is hope. It is happy, grateful parents and relaxed, joyful kids. It's not just a cookie, and it's not just a card. And you may not know it to look at the picture, but we sure do.
From our family to yours, may your days be filled with cookies.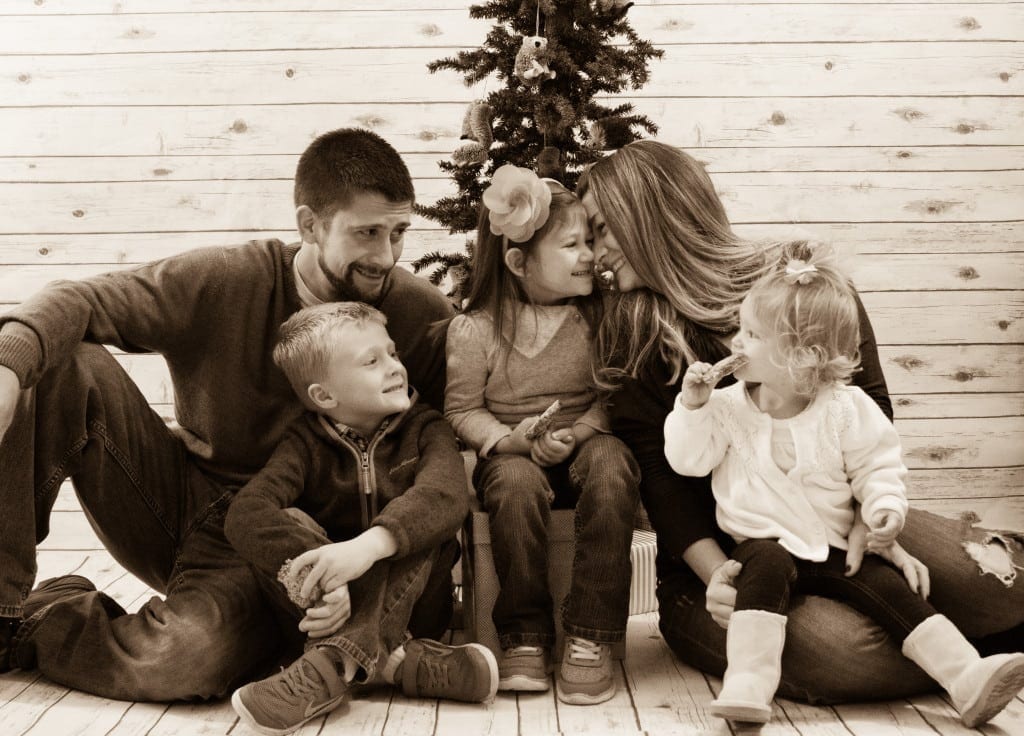 Can I come home with you?